Cruise Lines Vacations
What You Need To Know For Great Vacation At Sea
Cruise lines vacations are very popular holiday choice. Here you will find cruise travel tips that help you to find the ideal family cruise vacation, advice on where you can go on a cruise and how to find cheap cruises. Additionally we offer practical cruise travel tips, such as how much to tip, what to pack, and advice on cruise travel insurances.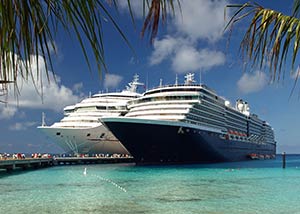 Crusing - Amazing Livestyle At Sea
When we think of cruises, most of us first think about luxury holiday in exotic locations, like the Caribbean or Antarctica.
Where there is plenty to eat and drink, something going on all the time, people to meet and new sights to see every day. The most complicated decision you face is what cocktail to have before dinner.
Though this is simplifying things, you can say that this is what cruising is all about. Cruising is a lifestyle and quite amazing lifestyle when you think about it.
Who Goes On Cruise Lines Vacations?
The typical cruise passenger does not exist, despite popular misconception. Cruising appeals to wide range of people, so you are likely to find all kind of people on board any cruise ship. There are likely to people in all age groups and social standings. There are likely to families, groups, couples and singles. And almost certainly, there will be people of different nationalities.
Some cruise companies aim their cruises towards special group of travelers, e.g. family cruises, single cruises, gay cruises, etc. In those cases, you will find less diversity of people on board, like you would if you went on any group vacation appealing to special type of travelers.
Cruises are though not for everyone. However, the high proportion of cruise passengers that repeat the experience is a clear testimony that most people enjoy their cruise experience. Amazingly high proportions of cruise passengers are seasoned cruisers. The sociable atmosphere and sense of occasion lures them back again and again.
Family Cruise Vacation
Family cruise vacations are getting increasingly popular and there are many options available. Our Guide To Family Cruise Vacation explores what you should have in mind when choosing your family cruise vacation.
Your children age is an important factor, as different age groups have different holiday needs. You need to make sure that the onboard amenities and lands excursions are suitable for your children's age, ability and interest.
Some cruise lines target the family cruise market more than others do. We have a look at those cruise companies that are generally considered as some of the Best Cruise Lines For Families.
For many families Disney Cruises are the ultimate family adventure. You will be experiencing the same quality magical experience as at Disney World... only this time the fairytale happens at sea.
Where Can You Go On Cruise Lines Vacations?
You can go on a cruise anywhere you want since cruise ships sail all the oceans of the world. You can visit exotic warm islands in the Pacific Ocean or the Caribbean Sea. You can visit cultural and historical sites in the Mediterranean.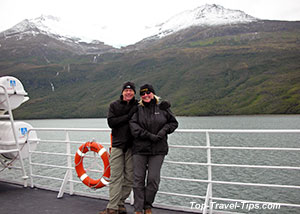 Top Travel Tips Owners On Wildlife Cruise
In South America On Board Australis
You can go on wildlife adventures in Galapagos or Madagascar. You can even dress warmly and head north to see the aurora borealis (the northern lights).
Alaska Cruise Vacation is getting increasingly popular choice as Alaska offers something entirely different.
The Alaskan nature is breathtaking and the wildlife abundant... there are few as unspoiled places left in our world.
You will though need to dress the part and our Alaska Cruise Packing List will help you to do exactly that.
The world is your oyster... you can even go on cruise around the world.
Practical Cruise Travel Tips
You will find practical cruise travel tips for first time cruisers and seasoned cruisers as like in this section.
We explore the big question... are Cruises Really For Everyone? Why do people go on cruise vacations and why should almost everyone be able to find something that fits their interests, budget and schedule.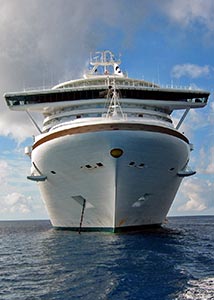 Remember To Pack
Everything You Need For Your Cruise
Our Cruise Tipping Guidelines gives an overview of the cruise lines tipping policies for some of the main international cruise companies. Essential read for any new cruisers. It is also very helpful when comparing different cruise companies and their prices.
Cruising is in many ways different from other vacations. It is important to remember to pack everything you need as the nearest shop can be, literally, miles away. Most cruise ship stock variety of necessities but they tend to cost considerable more than if you buy them in a land based shop.
Our Cruise Packing Tips and our free and printable Cruise Packing List will reduce the risk of you forgetting any necessities.
Special Cruise Travel Insurance is also vital, as the nearest hospital can be far away and very costly to get there in an emergency. Having no, or inadequate travel insurance could have devastating financial impact for you and your family. Do not risk it.
How To Find The Cheapest Cruise Prices
Cruises do not have to cost you a fortune - there are many discount cruises and offers available at any given moment.
You can usually get good discount cruises if you book early and there are cheap last minute cruises deals for those that are flexible. How To Find The Cheapest Cruise Prices is valuable read for anyone considering going on a cruise.
Cruise lines vacation offers amazing lifestyle at sea. You will be visiting new places, experiencing new things and meeting new people... even making friends for life.