Buy Travel Gear
What Is Practical And Essential To Buy?
To buy travel gear has never been easier, thanks to the internet.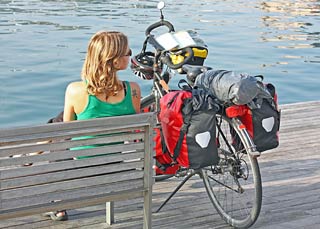 We have travel gear advice
and travel products reviews
However, choosing what to buy can be somewhat challenging, there are just so many great travel gears and travel gadgets available. This is what makes browsing for travel gear so much fun.
In this travel gear section we offer various advice and information about different types of specialized travel gear and gadgets, as well as gadget reviews and product references.
You will find advice on what is practical travel gear and what is essential travel gear.
Whatever you need for your travels but also things you do not necessarily need but you still might want to take with you.
Travel Articles In This Section
---
Practical Travel Gear
Golf Vacation
Beach Vacation
Why Buy Travel Gear?
Why Not Just Use What You Already Have?
What is the difference between travel gear and other gear? Why would you need special travel towel, travel barbeque, beach camera, or travel wallet? What is wrong with your "everyday" towel, barbeque, camera, and wallet?
There is nothing wrong with your "everyday" things but some of them might be unsuitable or impractical to take with you when travelling.
Your "everyday" towel might be bulky and take too much space in your bag, your barbeque is likely to be too big and heavy to move around a lot, your camera might be too expensive and sensitive for the beach environment, and your wallet might not big or secure enough.
Travel gear is designed for travelling, which makes it is more compact, lighter, and durable than similar "everyday" gear.
Buy Travel Gear
What Do You Really Need?
Some travel gear is necessary for your trip, what exactly is essential depends very much on the purpose of your trip. You will defiantly need a beach towel if you are going on a beach holiday, and tent and sleeping bag if you are going on a camping trip.
You might not necessarily need beach chair or snorkeling gear for your beach vacation but you might want to bring it with you anyway. Because the beach chair makes your holiday more comfortable and the snorkeling gear will make it more enjoyable.
That is why we shop for travel gear... it can make our vacation easier, safer, more comfortable and more enjoyable.
Buy Travel Gear For Different Types Of Travel
Travel gear is not only about what you need to take with you, it is also, about what you want to take with you. All travel gear and travel gadgets have purpose, it is either useful or fun.
Practical travel gear can make your travel safer and more comfortable, while other travel gear can make your travels more enjoyable. This section offers information, product and gadget review, and advice about all kinds of travel gear and travel gadgets.
Practical Travel Gear
We have chosen our favorite ten small practical travel gear items. It is a list of essential travel items, which you do not realize you need until you need them.
Beach Travel Gear
Our list of top 10 beach gear will guarantee a great day out at the beach.
Once you are there, ensure you capture all the fun moments with electronic gadgets and cameras that can resist sand and moisture. So do not forget to buy and bring your beach camera and waterproof gadgets with you.
Golf Travel Gear
If you are going on a golf vacation, you are likely to want to bring your own golf clubs with you. To protect them while travelling you need special travel bag. We advice on what to look out for when buying travel bags for golf clubs.
Travel Gifts Ideas
Travel gear is great gift for everyone that likes to travel. The occasion does not matter, travel gear are cool Christmas gifts and fun birthday gifts. As well as original gift for any special occasion or just great gift for someone you love that is going on a trip.
Product And Gadget Review
Top Travel Tips product and gadget reviews are always based on our personal experience. If we have not tried the product our self, then its buying guide not review.
Find out why we believe that anti bacterial micro fiber Travel Towels are the best choice for travelling.
If you dislike having to ask strangers to take photos for you... you do not have to anymore. The Pocket XShot camera extender will allow you to take the photos yourself. This is great little travel gadget for those travelling solo, as well as for those doing travel video blogs as it allows you to take videos from different angles.
If we need to bring towels on our journey, we always take anti bacterial microfiber travel towels with us when travelling, and we explain why we consider them such a great choice.
To buy travel gear and travel gadgets have never been easier... we hope you have fun browsing and find our advice useful.