Travel Health Advice
How To Stay Healthy While Travelling
The type of travel health advice you need depends mostly on your travel destination.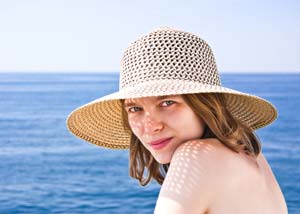 Practical health advice before you travel
We at Top Travel Tips offer you practical advice to consider before you go, such as when and why you need vaccinations.
In addition, what precautions you should take when you are travelling, e.g. why you should protect yourself from the sun, which travel precautions to take if you have diabetes, and the importance of packing first aid kits.
Travel Tips Articles In This Section
Health Advice Before You Go
Health Advice While Travelling
Health Advice For Diabetics
Before You Go
Research the health travel advice for your destination in your travel guide. You can also find links to useful travel health websites at the end of this article.
Make appointment with your doctor or health clinic to arrange the required vaccinations and immunizations. Do this as soon as possible, ideally at least 2 - 3 months before you travel and earlier if you are travelling for longer period.
Vaccinations protect you against many dangerous travel related infections, like typhoid, yellow fewer and hepatitis A. You cannot get vaccination for malaria disease so you must take extra precautions to prevent catching this deadly decease.
You might want to consult your doctor before travelling if:
If you are pregnant or have recently given birth
If you have a history of deep vein thrombosis
If you are taking hormonal medication
If you have cancer, heart problems or have recently had a surgery
If you suffer from any other medical condition you think might be affected by your travels
If you have an existing medical condition then you need to make extra preparations:
Research the local conditions and consider how they could affect you, i.e. the climate or the pollution level at your destination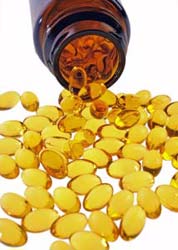 Existing medical conditions?
Get your doctors opinion how the trip might affect you and if you considered fit for travel
If you are on prescribed medication then ask your doctor for enough prescription medication to last you throughout your journey. Also make sure your medication is legal in the country you are travelling to - your embassy should be able to advice you in this respect
Always carry your doctor's letter with you as well as copy of any prescriptions
It is a good practice to learn the key words and phrases in the local language for your condition, your medication and for getting emergency help
Inform your travel insurance company about your condition - make sure they agree that you are fit for travel and that your insurance does cover you
Always take out adequate Travel Insurance and don't forget to read the small print. Saving money by not taking travel insurance is not real money saving, if something goes wrong you could end up seriously out of pocket - taking the risk is just not worth it.
First aid kit is like insurance, something we must have when travelling but with a bit of luck we will never have to use it. Sort out your first aid kit... it could literally save your life.
Diabetic Travel Health Advice
If you are diabetic, or know someone who is diabetic, you might want to read our diabetic travel tips articles. Your diabetes travels with you but there is no reason to let your diabetes stop you from travelling. You just need to plan your travels accordingly.
There are many travel aids for diabetics available that can make your travelling safer and more comfortable. Our diabetes travel supplies guide offers advice on diabetic travel kits, including how to store you insulin safely when travelling.
You can also download and print our free packing checklists for diabetics.
Health Advice When Travelling
Find out in advance the local emergency services numbers and the number of the local hospital.
When travelling in hot climates do not forget to drink plenty of water to avoid dehydration. Sun safety is important as overexposure to the sun results in sunburn, which can result in various short and long-term health problems. We explain why you should always take sun safety seriously when travelling.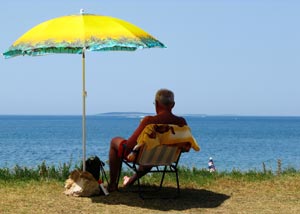 Have you read our sun safety tips?
Our sun safety tips will reduce your risk of developing any health problems related to overexposure to the sun and allow you to spend your time outdoors more safely.
Take care in the sun, look for shades, wear sun protection clothing, use high-factor sunscreen and avoid excessive sunbathing between 11 am - 3 pm.
Wearing special sun protection clothing is the best way to protect your skin. They not only protect your skin better than normal clothes, they also protect your skin better than sunscreen can.
Sunscreen still plays important role in your overall sun protection and you should always use sun block on any exposed skin. Our sun protection products guide offers advice about sun protection products and insect repellents that help you to fight the nasty bites, and dangerous burns, while on vacation.
On long-distance journeys, you need to take some precautions. Do not wear tight clothing or shoes while travelling. Do regular stretching exercises such as flexing and extending your ankles to avoid circulation problems. Walk around at regular intervals on long flights. Drink plenty of water on flights and avoid drinking too much alcohol.
You should take good care of what you eat and drink when travelling as so called "traveler's tumm" can seriously destroy an otherwise lovely holiday.
If applicable - always practice safe sex to reduce the risk of getting sexually transmitted disease - take condoms with you as quality varies in different countries.
Top Travel Health Advice Tips
If you are an EU or EEA citizen make sure you travel with a valid European Health Insurance Card (EHIC) to entitle you to free or discounted healthcare in other EU countries
Travel Health Advice
Useful Websites
The World Health Organization (WHO) website provides excellent travel health advice including:
Other popular health travel advice websites in the English speaking world include:
Useful Travel Health Advice Books
There several books available that cover travel health advice in details. Many are aimed at practicing professional. Below are few that we consider as useful further reading for general travelers:
Your Child Abroad: A Travel Health Guide
- This Bradt book is a good reference manual to take with you if you are travelling with children or infants. It gives you practical advice on how to avoid common illnesses like diarrhea and how to diagnose illnesses in young children.
Traveller's Good Health Guide
- This travel health advice book is aimed for those who will be travelling for longer periods, working abroad, or students taking a gap year to travel the world. The topics include malaria prevention, how to eat safely while travelling and how to recognize common diseases and what to do about them.