How To Find
The Cheapest Cruise Prices
Finding the cheapest cruise prices is a challenge. You can spend hours looking on the internet with limited luck. To make matters even more challenging the best cruise deal is not only about the cheapest price, it is also about securing the best dates, the best cabins and the best cruise ship possible. In this article, we offer practical tips on how you can find cheap last minute cruises and discount cruise vacations.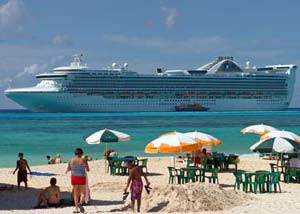 Look for early booking discounts
Cruises are popular form of vacation and the best cruise deals go quickly. You should therefore start your search well in advance.
The first step is to decide where you want to go and in what kind a style you like to travel. The next step is to do some research to get a feeling for the price range for what you are looking for.
Finally, set a realistic budget and search for the cheapest cruise prices you can find and book it.... then stop thinking about the price of your cruise vacation.
When You Book
Can Help You Get The Cheapest Cruise Prices
When looking for cheap cruise package it can matter when you book your cruise. However, not everyone agree when is the best time to book your discount cruise vacation. It can actually vary, as the cruise liners can offer various cheap cruise deals throughout the year, i.e. early bird discounts, cheap last minute cruises, seasonal sales, etc.
If you are travelling during high season then you might have no other option than to book well in advance, as popular cruises tend to sell out quickly (in general you should aim for 6 - 12 months in advance on cruises during peak periods).
Most cruise liners offer some form of early booking discounts. You of course have no guarantee that they will not offer better discounts at later stage. However, booking early has some additional benefits as you will have the first pick of everything, i.e. best chance to get your preferred ship, sailing date and cabin.
If you requirements are relatively flexible (e.g. about the departure dates or destination), or you are travelling outside peak periods, then you might be able to find some cheap last minute cruises.
Last minute, where cruises are concerned, tends to be after the cruise final payment deadline, which is usually 60 - 90 days before departure. The cruise liners might be offering unsold and cancelled spaces (those that only paid the deposits) as cheap last minute cruises in order to maximize the occupancy rate. This is however somewhat risky strategy, there might be no availability left or not what you were looking for.
Top Travel Tip - Cheapest Cruise Prices
Some luxury cruise lines increase their prices on regular basis throughout the year so if luxury cruise is on your holiday wish list, then booking early could be your best bet to secure as cheap cruise package as possible.
Generally the cruise lines and travel agents have the biggest sales in January and February, the so called Wave Season, so this can be the best time to get the best cheap cruise deals and cheap cruise packages. However, if the sales are not selling well, then the prices could go down even further after the Wave Season.
The conclusion... when you book can definitely help you get the cheapest cruise prices, but when is the best time to book can vary, e.g. on your cruise requirements.
When You Travel
Can Help You Get The Cheapest Cruise Prices
There is usually significant price difference if you are travelling during high season or not. The best chance to get cheap cruise deals off peak is in the year round destinations.
Destinations that operate only during part of the year tend to be in high season only, or with very short low or shoulder season. For example, the Alaska and Europe cruise season is only 5 - 6 months, meaning the off-season is only few weeks on either end of the short cruise season.
The biggest advantage for cruise operators is that they can move their cruise ships to where people want to go at any time. Clever repositioning of cruise ships means that low seasons are becoming shorter (and rarer), resulting in less off peak cheap cruise packages.
Your Cruise Requirement
Can Help You Get The Cheapest Cruise Prices
There is nothing wrong with having clear cruise requirements but you are likely to have to pay for them. The rule is simple, the more flexible your cruise requirements are, the better chance you have of securing cheap cruise package. You can be flexible about the destination, ports of calls, departure dates, length of the cruise, which cruise ship, which cabin or even about all aspects of your cruise.
Top Travel Tip - Cheapest Cruise Prices
If you are not planning to spend much time in your cabin then you might want to consider inside cabin. Inside cabins are always the cheapest - usually a lot cheaper. However, as there is no window then there is no daylight, but the low price should make up for it.
In general, cruise prices tend not to vary much from one seller to the next. More often than not, the difference between cruise deals lies in the included add-ons, rather than the actual cruise price itself.
These add-ons can be from complimentary Champagne, free spa treatments or land excursions. Onboard credit is also common add-on, i.e. you can put your credit towards a variety of onboard activities. Therefore, if you are not seeing differences in cruise fares, you might want to look for the add-ons to save money.
Top Travel Tip
If you are travelling in a group, you should always try to get a group discount. Also, always make sure you cruise quote includes port fees, taxes and fuel surcharges.
Where You Book
Can Help You Get The Cheapest Cruise Prices
Your best bet to find discount cruise vacation might be to check with the big travel sites. Due to their size, they have stronger negotiating power with the cruise lines than smaller travel sites.
The same applies for travel sites that specialize in cruises
. They tend to get better prices from the cruise lines than travel sites that do not specialize in cruise vacations.
Most on-line cruise sites offer you to speak directly to experienced cruise specialist or an agent. This can be helpful, as an experienced specialist will know how to get you the cheapest cruise prices available at any given time.
Top Travel Tip - Find Cheapest Cruise Prices
If you have to fly to get on your cruise ships, always start by checking if your cruise line offers any airfare promotions. These can be much better airfares than you could find on your own. Some cruise liners even offer free airfares on some of their cruises.
Ps. always take out adequate Cruise Travel Insurance. Most cruise liners require you to have one and it can save you substantial amount of money in case of emergency.