Alaska Cruise Packing List
What To Pack For Your Alaska Cruise Vacation?
Alaska cruise packing list is in many ways similar to other cruise packing lists. However, there are some differences; mainly you will need warmer clothes.
We have therefore adjusted our cruise packing list template to fit better for your Alaska cruise vacation.
At the end of this article you will find a download button to download a PDF version of our free packing list.
Why Use
Alaska Cruise Packing List?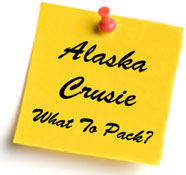 Going on a cruise is in many ways different from resort vacation. For example, there are no local supermarkets or shops if you need something.
Most Alaskan cruise lines stock variety of necessities but they tend to cost considerable more than if bought in a land based shop.
You might be able to get to the local shops during some shore visits but there is no guarantee that the local shops stocks what you are looking for. Anyway, you are likely to want to use your land excursions to explore your surroundings, not searching for supplies.
This is why Alaska cruise packing list is helpful when packing for your Alaska cruise vacation.
Alaska Cruise Packing List
Travel Documents & Travel Money
The travel documents you must remember to take with you include:
Travel tickets and booking confirmations
Passport and visas (if applicable)
Your Cruise Travel Insurance policy
Copy of doctor's prescriptions and list of all medicines you are taking (if applicable)
You will have to decide what kind of payment mode you are going to use on your cruise. Are you going to Buy Foreign Currency before you go and then how much. Cruise packing tips recommend not relying on only one payment mode, i.e. take some cash and at least two payment cards or any other payment mode combination that suits you best.
Cruise packing tips recommend making two photocopies of all your travel documents, as well as copy of your credit or debiting cards details:
Take one set with you but store it in a different place than the originals
Leave the other set with a friend or family member at home
Alaska Cruise Packing List
Clothes & Accessories
Alaska cruise vacation tends to be relatively informal though some cruises are more formal than others. Your Alaskan cruise lines should advice you about the cruise ship dress code policy when you buy your ticket.
Wearing Clothing Layers is by far the best way to dress in the Alaska climate. Wearing multiple layers of thin clothing keeps you warmer than if you are wearing few bulky clothes. You can also regulate your temperature by taking off or putting on layers of clothing.
Good fleece jacket, rain gear, and good Footwear is a must - light hiking boots are ideal choice of footwear for land excursions. It is also good idea to bring hat, gloves and scarves. Daypack and hiking pole is also a good idea for the Alaskan cruise packages land excursions.
Despite what many think low temperatures, 60 - 70 degrees Fahrenheit, or 15 - 21 Celsius in the height of summer... the weather can be really pleasant on a nice Alaskan summer day so bring some lighter clothes as well, that is if you travelling during high season.
The sun can be bright this far north and it lasts until late in the summer so bring good pair of sunglasses and sunscreen lotion.
For evenings, the dress code is usually smart casual but check the dress code with your Alaskan cruise lines.
Alaska Cruise Packing List
Electronics & Gadgets
Alaskan cruise packages offer many great photo opportunities. The landscape is very photogenic, as is the wildlife. You will not want to forget your camera, and if you enjoy taking photos then make sure you have enough photo storage (memory cards or portable storage device) with you. Our Digital Photography Basics offers good advice on how best to store your photos while travelling.
If you really like to take photos, then good zoom lens is a must and you are likely to be watching the wildlife mainly through it. If you do not have good zoom lens, you should bring good pair of binoculars with you, as you will be viewing the wildlife from some distance.
If you do not own a pair of binoculars, then you can buy one online at Sears. Look for binoculars with minimum 10 times zoom, ideally though with 16 times zoom which means the items look 16 times closer. Good binoculars should have variable dioptre settings to compensate for variable eye strength and with minimum 50mm lenses to ensure enough light.
Alaska Cruise Packing List
Toiletries & Health
You should bring your preferred toiletries with you. If you are travelling in June and July, make sure you bring insect repellent with you.
If you tend to suffer from motions sickness, you might want to consider taking some kind of motion sickness remedy. The sea can be rough at times, especially on the Gulf of Alaska route. Acupressure wristbands like Bioband are great drug and chemical free option for all travelers that suffer from motion sickness.
Alaska Cruise Packing List
Other Necessities
Other necessities on your packing list include guidebooks and maps of the area, as well as something to read in your leisure time. You might also want to bring notebook and pen, to keep track of your adventures.
We also remind you of some other items that can be nice to bring along with you. However, Top Travel Tips Alaska cruise packing list is for guidance only - you should add and delete items as applicable for your particular cruise.
Top Cruise Packing Tips
When you are on a cruise ship you eat at certain times, not necessarily when you are hungry. It is therefore good idea to have some snack in your cabin, something you can munch on if you feel hungry outside mealtimes.