Cruise Travel Tips
Are Cruises For Everyone?
Here you'll find practical cruise travel tips for first time cruisers and seasoned cruisers as like. Cruise lines have been marketing "cruises for everyone" and even cruises for "people who don't do cruises". So are cruises really for everyone?
Cruise Travel Tips
Why Cruise?
It is easy to understand why cruising is the preferred way of travelling for millions of people every year. Cruise Market Watch estimated 18.4 million passengers took cruise holiday in 2010.
Cruise ships have one big advantage over land based holiday resorts - they are mobile and therefore move around the globe with the seasons.
This means that if you take a cruise you are likely to be travelling during the optimal season for your destination.
It is relatively easy to stick to your travel budget as accommodation, meals, entertainment and majority of activities should be included in the price.
Some activities and land excursions might though be extra, as well as some or all drinks. Tipping is also likely to be extra, our cruise travel tips recommend you to check your Cruise Ship Tipping Policy prior to booking your cruise.
The opportunity to visit many places in relatively short period is the most appealing reason for many considering cruise vacation. Even though some passengers might prefer longer stops, few of us will ever have the opportunity to visit all the places cruise ship does otherwise.
Still you will only have to unpack once and you can settle comfortable in your accommodation despite visiting new destinations every day. Attractive thought for most travellers.
The land excursions are carefully planned so you can see the highlights of each destination in the shortest time. Most cruises allow some free time as well, for you to explore on your own.
Top Travel Tips offers guidance on how to find the Cheapest Cruise Prices. Cruise prices though tend not to vary much from one seller to the next. The difference between cruise deals usually lies in the included add-ons, rather than the actual cruise price itself.
At the end of each day, you will withdraw back to your floating vacation resort to enjoy gourmet cuisine and first class entertainment.
The amenities on board cruise ships do vary but most cruise lines have all the amenities you need on board, e.g. swimming pools, cinema, theatre, nightclubs and casino.
Most cruises offer varied activities and entertainments. Many cruise lines also offer great qualified guest speakers and even some interesting classes for their guests.
Cruise ships offer intimate environment for few days, you usually dine with the same people three times as day so cruises can be a great way to meet new people. Making new friends for life is not unheard of.
Cruise Travel Tips
Different Type Of Cruises
There are not only leisure holiday cruises available - there is great variety of cruises out there. There are adventure cruises, wildlife expedition cruises, cultural cruises, educational cruises... where there is water you are likely to find some form of cruises on offer.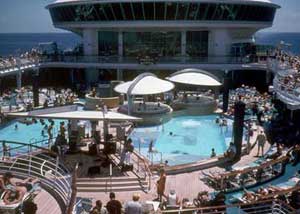 Cruises also don't have to cost you a fortune - there are many discount cruises and offers available.
You can usually get good discount cruises if you book early and you can find last minute cruises if you are flexible.
Cruises are popular with all age groups. There are many great romantic cruises available for romantic couples and newlyweds. Family cruise travelling is also getting more and more popular. Cruises are excellent option for senior travelers and there are cruises aimed for single travelers, gay travelers, handicapped travelers, etc.
You can take a cruise anywhere in the world with cruise lines like P&O cruises. There are "cold cruises" like Alaska, Antarctica and the Arctic. There are "warm cruises" like the Caribbean, the Mediterranean and the Pacific Ocean. There are "wildlife cruises", like Galapagos, The Amazon and the Great Barrier Reef. There are "nature cruises" like Patagonia coast and the Norwegian fjords, etc.
You can even do world explorer cruise - cruising around the world. Just to name few great options...
Cruise Travel Tips
So Are Cruises For Everyone?
No, very few things in life are for everyone and cruises are no exception. Some people find cruises restricting way of travelling, especially those used to travel independently and that like to explore things at their own pace.
However, there is still some misperception on cruising. Cruises come in "all shapes and sizes" now-a-days and cruise ships sail all the oceans in the world.
Cruising is maybe not for everyone but almost everyone should be able to find something that fits their interests, budget and schedule.
Some go reluctantly on their first cruise, often spurred on by cruise committed friends or family members. Most of them enjoy the experience and surprisingly high proportion of them goes again... and again. We have friends that are devoted cruisers and they insist that there is no way back after you have tried a proper cruise.
Ps. most cruise liners require all travelers to have valid Cruise Travel Insurance. See Top Travel Tips advice on the type of cover you should look for when buying your cruise insurance, and when and where to buy it.