Alaska Cruise Vacation
Experience Something Amazing
When we think about cruises, few of us think first about Alaska cruise vacation. Most of us tend to associate cruising with warm climate and sailing from one island to another, i.e. typical Caribbean or Mediterranean cruise. For sure, it is difficult to beat enchanting cruises like that but Alaska travel cruise just might.
Why Go On Alaska Cruise Vacation?
Alaska offers something entirely different. The nature is breathtaking and the wildlife abundant. Mountainous scenery, massive glaciers, rainforest mixed with Arctic tundra, midnight sun, more animals than people... there are few as unspoiled places left in our world.
View Towards The Tracy Arm Fjord In Alaska
You will not go on Alaska cruise vacation for the weather but there are so many other reasons for going.
There are amazing adventurous excursions on offer and interesting culture and history to discover.
You might be lucky enough to catch a glimpse of eagles hungrily surveying the coastline and humpback whales playing in the icy channels.
Alaska is a land of epic proportions, at 570,000 square miles (365 million acres) it is twice the size of Texas. The thousands of miles of scenic coastline makes cruising a great and convenient way to explore Alaska, i.e. combined with land excursions on the way.
If you want to experience something exceptional, then an Alaskan cruise packages might be something for you.
Best Time To Go
On Alaska Cruise Vacation
The northern location (climate and daylight hours) means Alaska cruise vacations are only during the summer months, i.e. from early May to mid September.
High season is during June to August. This is high summer in Alaska and the temperature as warm as they get, i.e. 60 - 70 degrees Fahrenheit (15 - 21 Celsius). The days are long and you will be experiencing the wonders of bright summer nights, truly amazing experience.
June To August Is The Best Time
To Spot Whales In Alaska
This is also good time in Alaska for the wildlife. The further into the summer you are, the better your changes of seeing wildlife on your expeditions. High season is also the best time for spotting humpback whales.
High season means this is also the busiest time for Alaska cruise vacation.
This means prices are higher and you might have to book well in advance to get the right Alaskan cruise packages. This can also mean congestions in the small town ports.
Most cruise ships depart close to weekends, Friday currently being the most popular departure date, closely followed by Saturday and then Sunday and Thursday. If you want to avoid the crowds as much as possible during high season, you might want to select cruise that departs on less busy days, i.e. beginning of the week.
Low season is May and September. The temperature is around 50 - 60 degrees Fahrenheit (10 - 15 Celsius). The weather can be unpredictable this time of the year, for example there is a real possibility of some snow. There is therefore greater chance of shore excursions being cancelled (especially boat and helicopters tours) and the Denali National Park has been known to close in September due to snow.
It does not matter when you go on Alaska cruise, you should always pack some warm clothes just in case. Dressing In Layers is the best way to stay warm and comfortable in cold climate.
There are however, some extra benefits to the low season months. Firstly, the prices are significantly lower during low season. This is the best time to find any discount Alaska cruises. There are also fewer crowds during these months, allowing you to get better feeling for the remoteness.
Furthermore, the waters tend to be somewhat calmer during this time of the year, making your time at sea more comfortable and in September, beautiful autumn colors enhance the landscape even further.
Typical Itinerary For Alaska Cruise Vacation
Alaska cruises usually depart from either Canada (Vancouver) or the USA (Seward or Whittier in Alaska, or Seattle and even San Francisco).
The Alaska travel cruise itinerary usually includes either cruising the Gulf of Alaska or the Inside Passage.
Inside Passage Cruise
Typical Inside Passage cruise is a 7 days roundtrip from Seattle or Vancouver, or 10 - 12 days from San Francisco. The itinerary varies a little between which cruise line you are going with and the time of year. However, typical Inside Passage cruise includes visits to Juneau, Skagway, Ketchikan and Victoria, B.C, complemented by the breathtaking scenery and glaciers of pristine Glacier Bay National Park.
Gulf Of Alaska
The typical Gulf Of Alaska itinerary is a seven-night one-way cruise between Seattle or Vancouver and Seward or Whittier (the two ports for Anchorage). Gulf of Alaska cruises normally explore the inside passage to Ketchikan, Juneau and Skagway, allowing you to witness the wonders of Glacier Bay National Park.
Gulf of Alaska cruise also gives you a second glacier viewing experience that includes either the 16 blue glaciers in College Fjord or massive Hubbard Glacier (depending on itinerary). As well as taking in the beauty of Prince William Sound.
Top Alaska Cruise Vacation Tips
The Gulf of Alaska cruises are one-way cruises, which mean you will have a choice between southbound and northbound itinerary. Each itinerary normally includes two glacier-viewing experiences. Northbound sailings usually include Glacier Bay and College Fjord while southbound departures highlight Glacier Bay and Hubbard Glacier.
Price vice, northbound glacier routes tend to be cheaper than southbound.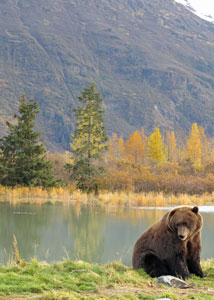 Consider Adding Visit To
The Denali National Park
For a total Alaskan adventure, you might want to combine Alaska cruise vacation with a land tour. You will have many options here, most cruise liners offer good selection on land tours at the beginning or end of their cruises.
For cruises that sail from Vancouver or Seattle, tour of the Canadian Rockies is a popular choice. The tours are usually between 4 - 7 nights and typical tour will take in beautiful, scenic areas such as Banff, Jasper, or Lake Louise, where you will travel though by snow coach or Rocky Mountaineer train.
Another popular add on tour is the Denali National Park. Typical tour is 4 - 6 nights in one of the world's most untouched destinations.
It exemplifies interior Alaska's character as one of the world's last great frontiers, its wilderness is largely unspoiled. Denali is well-known for its diversity of wildlife. There are 39 species of mammals, 167 species of birds, 10 species of fish, and one species of amphibian known in Denali.
When To Buy
Your Alaska Cruise Vacation?
Alaska cruise vacation is very popular and despite increased supply in recent years, popular sailing dates still tend to sell out months in advance (most popular dates in July and August typically sell out 8 to 9 months in advance).
Most cruise liners require that you have valid cruise travel insurance. See Top Travel Tips advice on the type of cover you should look for when buying Cruise Travel Insurance, when and where to buy.
The Gulf of Alaska southbound cruises tend to be the most popular and combining them with land tours to the interior of Alaska is in high demand. However, the space on the land tours is limited so if this is what you want to do, then you need to book early. If you want your choice of ship, sailing date, and tours, you should book your cruise and tours by December the latest.
Northbound Gulf of Alaska routes tend to be cheaper than the southbound and Inside Passage cruises tend to fill up at slower pace than the Gulf of Alaska cruises. You are most likely to find some discount Alaska cruises during the low season months, i.e. May or September. Sometimes there are cancellations and you might be lucky and get cheap last minute cruises.
>