Cruise Packing Tips
Cruise packing tips explores what to pack when going on a cruise vacation and offers handy cruise packing list template to assist you when packing your bags.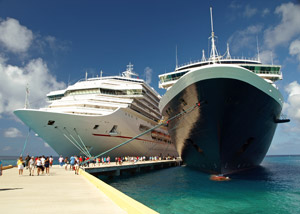 Use Our Cruise Packing List
To Pack For Your Cruise Vacation
Going on a cruise is different from resort vacation. There are no local supermarkets or shops if you need something.
Most cruise ship stock variety of necessities but they tend to cost considerable more than if bought in a land based shop.
You might be able to get to the local shops during some shore visits but there is no guarantee that the local shops stocks what you are looking for... and if they do, it could be even more expensive then on board.
This is why cruise packing lists are so important when packing for a cruise holiday.
Cruise Packing List
What to pack depends very much on your cruise destination and sometimes on the size of the ship you are travelling on. For example small cruise boat sailing around the Galapagos Islands might restrict your luggage to one piece per person so always check beforehand if there are any luggage restrictions.
These cruise packing tips and packing list are guidance only - you should add and delete items as applicable for your particular cruise. It is divided into five categories and you can download and print the cruise packing list template by clicking on the download button at the end of this article.
Cruise Packing Tips
Travel Documents And Travel Money
The travel documents you must remember to take with you include:
Travel tickets and booking confirmations
Passport and visa (if applicable)
Your Cruise Travel Insurance policy
Updated international vaccination card (if applicable)
Copy of doctor's prescriptions and list of all medicines you are taking (if applicable)
You also have to decide what kind of payment mode you are going to use on your cruise. Are you going to buy foreign currency before you go and then how much. Are you going to use credit card, traveler's cheques, or...
Cruise packing tips recommend not relying on only one payment mode when travelling, or like the saying goes - don't put all your eggs in one basket. Take some cash and at least two payment cards or any other payment mode combination that suits you best
Make two photocopies of all your travel documents, as well as copy of your credit or debit cards details and your traveler's cheques receipt if applicable:
Store one set of the photocopies in a different place than the originals
Leave the other set with a family member or friend at home, so in the unlikely event of losing both sets you still have access to a copy
Cruise Packing Tips
Clothes And Accessories
Which clothes and accessories to bring depends very much on your cruise destination, you need different set of attire if cruising the Caribbean or the North Sea. Some cruises are more formal then others but your cruise company should advice you about the cruise ship dress code policy when you buy your ticket.
Casual wear is usually worn during the day and smart casual or formal wear in the evenings.
Shorts and t-shirts are fine during the day on most cruises sailing in warm climate. Swimsuits should be worn in dedicated areas only - you should always cover up inside the ship. Warm outdoor clothing, fleece jackets and windproof jackets are acceptable day wear on colder climate cruises.
During the evenings the cruise ship dress code policy can vary between different cruise liners but the usual evening dress categories are:
Resort casual - are slacks and shirts for men and casual dresses or pant suits for women, jackets and ties are optional
Informal or smart casual - are jacket or sports jacket for men (tie is optional) and dress or dressy slacks for women
Formal - are tuxedo or business suit and tie for men and formal wear (usually dress) for women
Almost every cruise ship has alternative dining areas where the dress code is not followed but unless you know for sure that your cruise is very casual prepare for at least two evenings in more formal attire. So your clothes cruise packing list should include:
Good combination of casual day wear appropriate for the climate you travelling in
Sportswear and leisure wear as appropriate, i.e. swimming suits, gym wear, etc.
At least two sets of smart casual or formal evening wear
Night gowns and robe
Underwear and socks
Good shoes for all occasion, including elegant evening shoes if formal wear is requested
Hats or caps are essential, regardless of if you are cruising in hot or cold climate
Same applies to sunglasses, the sea reflects the sun no matter what the temperature is
Other accessories as appropriate, i.e. jewelry, ties, belts, purses, etc.
Packing Cubes And Organizers
Packing cubes and organizers are must have when it comes to packing your luggage. These products help you keeping your small items in order, such as underwear, socks and toiletries.
They ensure better use of the available space in your bags and can be used as the core when you bundle wrap your clothes (which is the best packing method).
Take a look at our Packing Cubes Review and find out more about the benfits of using them.
Cruise Packing Tips
Toiletries And Health
Your toiletries and health cruise packing list should include at least the following items:
Your preferred toiletries though you might want to transfer them into smaller containers for your trip, including (as applicable) shampoo, toothbrush, make-up, shaving equipment, feminine hygiene products, perfume, etc.
Hair dryer (but check first with the cruise liner if there is one in your cabin, many do)
Sunscreen lotion regardless of your cruise destination as the sea reflects the sun no matter what the temperature is
Antibacterial hand wipes are convenient to keep hands clean while travelling
Insect repellent (if applicable)
Malaria tablets if travelling in malaria infested area
If you suffer from motion sickness you remember to bring motion sickness remedies with you
Prescription and OTC (over the counter) medicines (if applicable)
Reading glasses, contact lenses and contact lenses cleaner (if applicable)
Cruise Packing Tips
Electronics And Gadgets
Your electronics and gadget cruise packing list could include some of the following items:
Cell phone and charger
Digital camera and / or camcorder with extra memory card and spare batteries
Battery charger for your camera and / or camcorder
Plug adaptor and converter (if different electrical standard on the ship)
Extension cord (some cabins have few electric outlets)
Alarm clock (you could also use your cell phone)
Binoculars are good idea on most cruises
Ipod or CD player with headphones to listen to music
Laptop and battery charger... but only if you really can't give it a break too (many ships now feature wireless connections)
Cruise Packing Tips
Other Necessities
Your other necessities cruise packing list could include some of the following items:
Guidebooks and maps
Books and / or magazines to read in your leisure time
TSA-approved luggage locks
Plastic ziploc bags
Folding knife
Sewing kit and scissors
Duct tape (for luggage repairs, waterproofing and holding things)
Notebook and pen
Small flashlight and / or night light
Watch... or do you really need it?
Actually yes... your watch will be handy to make sure you are not late back to your cruise ship at the end of any excursion on land.
Don't forget to download and print our free cruise packing list, just click on the button below.

Top Cruise Packing Tips
When you are on a cruise ship you eat at certain time, not necessarily when you are hungry. So it is really good idea to have some snack in your cabin, something you can munch on if you feel hungry outside mealtimes