Cruise Packing List
There Is Ocean Between You And The Next Shop
Cruise packing list is important when packing for a cruise holiday as going on a cruise is different from land-based vacation. If you forget something, there are no shops or local supermarkets close by.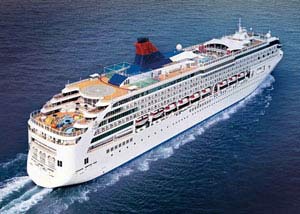 Packing List - Can Save You Money
Most cruise ship sells variety of necessities but they tend to cost considerable more than if bought elsewhere.
You might be able to get to the local shops during some shore visits but there is no guarantee that the local shops stocks what you are looking for... and if they do, it could be even more expensive then on board your cruise ship.
This is why using a packing list is so important when packing for a cruise holiday.
Your Cruise Packing List
Top Travel Tips has put together cruise holiday packing list for your guidance. At the end of this article, you can download our free packing list.
Travel Documents And Travel Money
Travel tickets and booking confirmations
Passport and visa (if applicable)
Updated international vaccination card (if applicable)
Travel money and Payment Cards
Money belt or wallet
Photocopy of all travel documents
Copy of doctor's prescriptions (if applicable)
List of all medicines you are taking (if applicable)
Clothes And Accessories
Combination of casual day wear
Sportswear and leisure wear as appropriate
At least two smart casual or formal evening wears
Night gowns and robe
Underwear and socks
Good Footwear for all occasion
Including formal shoes and sport shoes (if applicable)
Sunglasses
Other accessories as appropriate, i.e. jewelry, ties, etc.
Toiletries And Health
Your preferred toiletries
Hair dryer (if not in your cabin)
Sunscreen lotion
Antibacterial hand wipes
Insect repellent (if applicable)
Malaria tablets (if travelling in malaria infested area)
Prescription and OTC medicines (if applicable)
Reading glasses / contact lenses (if applicable)
Electronics And Gadgets
Mobile phone and charger
Digital camera with extra memory card and spare batteries
Camcorder with extra memory card and spare batteries
Battery charger for your camera and / or camcorder
Plug adaptor and converter (if different electrical standard)
Extension cord
Alarm clock (you could also use your mobile)
Binoculars
Ipod or CD player with headphones to listen to music
Laptop and charger
Other Necessities
Guidebooks, maps
Books / magazines to read in your leisure time
Plastic Ziploc bags
Folding knife
Sewing kit and scissors
Duct tape
Notebook and pen
Small flashlight and / or night light
Watch
Snack
Packing Cubes
Packing cubes can help you stay organized and save you time when packing your bags. They ensure better use of the available space in your bags and allow you to fit more in.
We own number of packing cubes so our Packing Cubes Review is based on our personal experience.
Top Travel Tips cruise holiday packing list is for guidance only - it is divided into five categories and you should add and delete items as applicable for your particular cruise. For your convenience, you can download and print our cruise packing list template by clicking the download button below. Note: You will need Adobe Reader to view the packing list.

For more information about why those items are on the packing list see our Cruise Packing Tips.