Business Travel Tips
Stay Productive While Travelling On Business
If you travel frequently on business, these business travel tips should help to make your journey as effortless as possible. Travelling on business is very different from going on vacation. Leisure travel is a pleasure while business travel is work.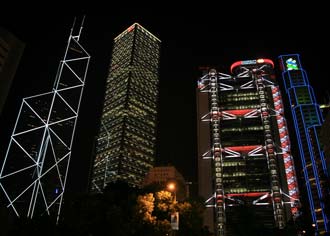 Hong Kong Offices At Night
That though does not mean that corporate travel cannot be enjoyable.
Business travelling can be very rewarding but it can also be tiring on the long run, especially for those that travel frequently on business.
It is therefore even more important to plan your corporate travel, to save you valuable time and make your travel as comfortable and enjoyable as possible. These business travel tips will help you to do precisely that.
Travel Tips Articles In This Section
Before You Go On Business Trip
Packing For Your Business Trip
Flying On Business
After Your Business Trip
Last But Not Least
Your Busy Business Travel Itinerary
Preparing business travel itinerary may seem like a waste of time but it isn't. Indeed good travel itinerary can save you time and as all good business people know, time is money. Your business travel itinerary will help you to stay focused and organized throughout your journey.
All business travel tips recommend preparing business travel itinerary for every business trip. Consolidate your itinerary in one easy to read document.
Take printed copies of all tickets and itineraries with you and keep them with your other travel documents in a special travel document holder. Keep your document holder in safe place at all times, so if anything get lost or stolen, you will still have all your important documents close at hand.
Business Travel Insurance
Your standard insurance policy might cover you when travelling abroad on business. However, you should never assume anything where insurance is concerned. Check your insurance policy carefully and do not forget to read the small print.
Your standard insurance policy is however unlikely to cover your business equipments or if someone needs to travel in your place for some reason. You need business travel insurance that covers both you and your company when travelling on business.
Packing For Your Business Trip
Packing for business trip is in principle the same as packing for your vacation. However, you are likely to be taking the same, or at least similar, things with you every time you travel on business. Business travel packing list is therefore good idea. It will save you some valuable time.
When travelling on business it is best to use carry-on luggage whenever you can. It saves you time as you will not have to check your bag in or wait for it at the other end. It also eliminates the risk of losing your luggage en-route, which can be very inconvenient when on tight schedule, like business people usually are.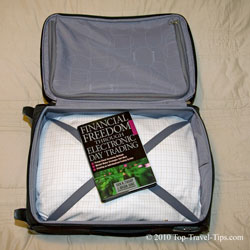 Neatly Packed Carryon Luggage
If you are travelling with suits, you might want to use garment carrier bag instead of wheeled trolley case. You are also likely to need to take laptop bag as well.
Always pack your bags strategically, it can save you valuable time and hassle when going through security.
All liquids must be in the right size of containers (less than 100 ml is the current regulation) and should be in separate clear plastic bag.
Keep your toiletry bag at the top of your carry-on for easy access. Make sure your laptop bag allows easy access to your laptop, as you will have to remove it from your bag when going through airport security.
Our Travel Packing Tips explain different packing methods that can be useful when packing for your business trip.
The Corporate Travelers Tools Of The Trade
The modern business traveler needs to take more than his business attire with him when travelling. Most corporate travelers travel with a small "mobile office" with them.
Therefore, when buying laptop, try to get as light laptop as you can. Netbooks are fast gaining popularity as they are designed for lightweight use such as computing, internet surfing and running web-bases applications.
Smart phones, like Blackberry or iPhone, are popular and can really make your work much easier when travelling. Bear in mind that you can save on hotel telephone fees and international roaming charges by using Skype or IP phones for your long distance calls.
Do not forget to charge all your electronic equipments before travelling and to pack necessary cables and chargers you need for your electronic travel accessories.
Flying On Business Travel Tips
Large proportion of corporate travel is by air and there are many things to consider before and during your flight.
Our flying on business travel tips include many practical tips that can make your business flight more comfortable and enjoyable. For example, what to have in mind when choosing airline, why you should avoid flight connections if you possibly can, why you should check in on-line, how to choose the best seat on the plane, how to beat jet-lag, and many more practical business travel tips.
What you wear when flying can really affect how comfortable you will feel during your flight. You might have to wear your business suits, e.g. if on short trip or travelling first class. Other times, you might want to wear your casual clothes when flying and change into the business gear when you arrive at your destination.
There are many products available that can help you to feel more comfortable during your flight. We have chosen our favorite in-flight comfort products for your convenience. Most of them are suitable for other mode of travels as well, like on car and train journeys.
If you want to freshen up on your flying etiquette have a look at our business class air travel etiquette tips.
During Your Business Trip
Our business travel tips emphasize the importance to try to stick to some kind of a routine while you are away, i.e. regarding food and exercise.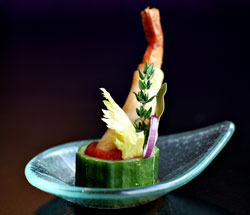 Try To Eat Healthy While
Travelling On Business
Travelling on business usually means you are dining out more often than normally.
You should enjoy that but still try to eat as healthily as you can. Ideally, you should stick to similar food and quantity as you are used to at home.
Try to fit some exercise routine into your business schedule. Most business hotels have small gyms for their guests but good brisk walk or run around the hotel can also do the trick.
There are also many excellent mobile exercise products available if you prefer to exercise in the privacy of your own room.
Always remember to stay in touch with your loved ones back home, it has never been easier or cheaper.
After Your Business Trip
When you are back from your business trip, you will have to get your travel expenses reimbursed. You must follow the local laws and regulations but you might find our general business travel expense guideline helpful.
You should also write business trip report after each business trip. Business trip reports are usually organized as memorandum, i.e. stating the purpose of the trip, where you went, whom you met, what you did, what you learned, what recommendations you have and which action you have, or will be, taking.
Your company might have standard format for business trip reports. If not, then our business trip report offers free sample business trip template that you can download.
Few More Business Travel Tips
When you are travelling there are many things you can control, like the above business travel tips demonstrate. The better prepared you are in advance - the more comfortable your corporate travels should be.
Understanding local customs and business etiquette is vital when doing business overseas. Our guideline to international business etiquette is helpful if you want to prepare yourself when working with business partners overseas.
We wish you a save journey and hope these business travel tips have helped to make your journey as effortless as possible.
Ps. Don't forget to check out our Top 10 Business Travel Tips.