Ski Trip Packing List
Stay Warm But Comfortable
Ski trip packing list is in many ways similar to other packing list for travel. However, you will need some specialized skiing equipments and warmer clothes. At the end of this article, you will find a download button to download a PDF version of our free ski vacation packing list.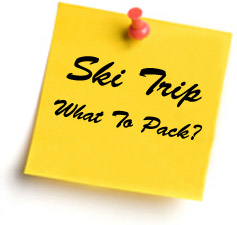 You will be spending your time outdoors in cold climate and be prepared for sudden changes in the weather.
Wearing the right skiing gear can literally save your life if the weather suddenly turns for the worse.
You also need to pack various ski clothes accessories, most of them are essential, like ski goggles, ski gloves, ski hats, etc.
Then you have the actual ski gear to consider, i.e. your skis, bindings, poles and ski boots. All this gear is bulky and has to be adequately protected while in transit.
Ski trip packing list will help you to stay organized when packing and minimize the risk of forgetting any vital or nice to have, items. At the end of this article, you will find a download button to download a PDF version of our free ski vacation packing list.
Ski Trip Packing List
Travel Documents And Travel Money
The travel documents you must remember to take with you include:
Travel tickets and booking confirmations
Passport and visas (if applicable)
Your Ski Holiday Insurance policy
Copy of doctor's prescriptions and list of all medicines you are taking (if applicable)
You will have to decide what kind of payment mode you are going to use on your skiing trip. Are you going to Buy Foreign Currency before you go and then how much? It is not advisable to rely on only one payment mode, i.e. take some cash and at least two payment cards or any other payment mode combination that suits you best.
It is also recommended to make two photocopies of all your travel documents, as well as copy of your credit or debit cards details. Take one set with you but store it in a different place than the originals and leave the other set with a friend or family member at home.
Ski Trip Packing List
Clothes And Accessories
You will need good specialized Skiing Clothes when going on a skiing holiday. You will need to pack good ski outerwear (ski jacket and ski pants), good quality middle layer (fleece), and enough suitable thermal base layers. In addition, you will need good ski boots, ski socks, ski gloves, goggles, ski hat or helmet and scarves.
Wearing Clothing Layers is by far the best way to dress in cold climate. Wearing multiple layers of thin clothing keeps you warmer than if you are wearing few bulky clothes. You can also regulate your temperature by taking off or putting on layers of clothing.
You will also need enough après-ski clothes, i.e. to wear after you have done your skiing for the day.
Ski Packing List For Travel
Ski Gear
You can either rent ski equipment or bring your own. The ski packing checklists includes skis or snowboards, ski poles, ski bindings, ski clips and any other ski gear you like to bring to make your time on the slopes more enjoyable.
Ski Trip Packing List
Electronics And Gadgets
Skiing holiday is great to get away from it all. However, most of us do travel with some electronics and gadgets now a day, e.g. cell phones.
Make sure your electronic equipments are suitable protective if you take them with you on the slopes, e.g. you phone and / or camera. If you do not have suitable protective cases, then look for padded sleeves and cases. Make sure you buy a phone case that protects the screen, because it can be damaged easily if you have a fall.
Ski Trip Packing List
Toiletries And Health
You should bring your preferred toiletries with you. Do not forget to bring special sunscreen lotion for high altitude as the sun can be quite unforgiving this high above sea level. Good lip salve with high SPF is also a good idea.
Bringing First Aid Kit makes perfect sense when travelling and not least when going on a skiing vacation. Skiing accidents can happen and having first aid kit on you can prove vital.
Ski Trip Packing List
Other Necessities
Other necessities on your ski packing checklists include books, snack and duct tape... can become handy if experiencing any problem with your Ski Luggage.
We also remind you of some other items that can be nice to bring along with you. However, Top Travel Tips ski vacation packing list is for guidance only - you should add and delete items as applicable for your particular trip.
For your convenience, you can download and print our ski trip packing list template by clicking the download button below. Note, you will need Adobe Reader to view the ski vacation packing list.