Why You Need
Ski Holiday Insurance
Comprehensive ski holiday insurance is highly recommended when going on a ski vacation. Skiing and snowboarding does involve some risk of injuries but no more than some other common sports and activities.
It can be very expensive to evacuate injured skier from a mountain, not least if helicopter or air ambulance has to be involved. Good holiday insurance skiing policy does not cost that much but can save you thousands of dollars if needed.
Ski Injury Statistic
Skiing and snowboarding are not as dangerous as many people fear and no more dangerous than many other high-energy participations sports. They do though require physical skills that people learn over time by practicing. Risk of injuries tends to be highest among those that are still inexperienced skiers, i.e. children, beginners on the slopes and elite competitors tend to be specific risk groups.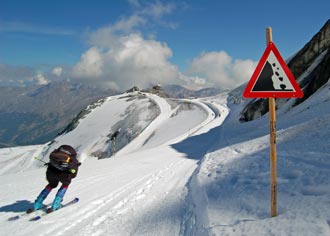 National Ski Areas Association (NSAA) provides ski injury statistic for the US. According to them 12.2 million people participated in skiing or snowboarding in 2004 on 56.9 millions days. Numbers of fatalities were 45, or 0.79 fatalities per millions of days of participation. The rate of serious injury in 2004/05 was .80 per million skier / snowboarder visits.
Fortunately most ski injuries are minor but most still need to be treated and there is cost involved (many ski resorts have only private health facilities on offer).
According to Directgov (the UK government's digital service for people in England and Wales) hundreds of British people are injured every year taking part in winter sports such as skiing and snowboarding.
Despite this, nearly third of people in the UK do not take out travel insurance for their ski vacation, in spite of the high cost if something goes wrong. The Cost Of Inadequate Ski Insurance Revealed offers some valuable insight into the cost involved if something goes wrong.
Why Special Winter Sports
And Ski Holiday Insurance
If you travel frequently, you might have annual travel insurance worldwide in place and it might include some degree of cover for skiing vacation. Usually fixed number of days for winter sport activities is included but do check what exactly is covered. For example, you might need extra cover if you want to ski off-piste.
Your annual travel insurance might also be stricter conditions about when and what you can claim, than if you had bought special winter sports travel insurance. For example, loss through theft could only be covered if the ski equipment were stolen while in use, i.e. not if they were stolen say from the hotel ski room.
This is why skiers should take on special winter sports travel insurance, i.e. insurance specifically designed to cover the risk related to skiing, snowboarding and other winter sports activities.
Single trip winter sports travel insurance are widely available and can cost less than adding extra cover to your existing insurance policy. Annual insurance ski travel policy might on the other hand work out cheapest if you are planning more than one ski vacation during the skiing season.
Top Ski Holiday Insurance Travel Tips
Always read the small print carefully. For example, many insurance companies now cover off-piste skiing but some require you to be with a qualified guide that knows the region in order to have your off-piste cover validated.
What Should Your
Ski Holiday Insurance Include?
What exactly you need your holiday insurance skiing policy to include depends on your skiing experience and behavior. For example, the more experienced skiers might require policy that covers them when skiing off-piste.
For most skiers and snowboarders comprehensive medical assistance on and off the slopes is the most important, as well as cover for the value or repair, of your own or hired winter sports equipment if it is lost, stolen or damaged during the trip.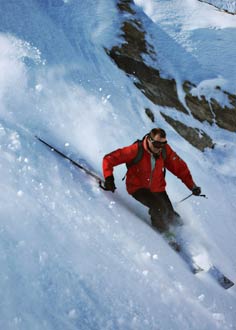 Additional useful insurance features include cover for the value of your ski school fees and lift pass in the event you are unable to ski due to accident or illness, or if your list pass is lost or stolen.
You might also want to consider cover for closed ski slopes due to lack of snow or bad weather conditions.
You should also consider cover for additional travel and accommodation costs in the event of delay in your outward or return journeys due to an avalanche or bad weather conditions.
If you have any pre existing medical condition then you must declare them and make sure your holiday insurance skiing policy covers them adequately.
Most winter sports travel insurances cover both skiing and snowboarding, but if you are undertaking some less common form of skiing or snowboarding, e.g. extreme skiing, freestyle skiing, glade skiing or ski jumping... make sure your ski holiday insurance covers you adequately.
By taking out a customized ski insurance policy, you will be paying for cover that you want instead of a cover for items you do not need.
Important, most skiing travel insurance policies require you to abide the International Ski Federation Code at all times.
Top Ski Holiday Insurance Travel Tips
The Ski Federation Code requires you to be in control, i.e. "skier or snowboarder must move in control. He must adapt his speed and manner of skiing or snowboarding to his personal ability and to the prevailing conditions of terrain, snow and weather as well as to the density of traffic."
Bear in mind that drinking alcohol when skiing can affect your control and could therefore invalidate your skiing insurance. Save alcohol consumption for the après-ski.
Cheap Ski Holiday Insurance
Good comprehensive ski holiday insurance does not have to cost you a fortune. However, you usually get what you pay for. Most cheap ski holiday insurances either exclude important features or have higher excess than those more expensive policies.
What is cheap ski holiday insurance at the end of the day is questionable. Saving few dollars, by excluding cover that could cost you a fortune might be false saving if something went wrong.
Top Ski Holiday Insurance Travel Tips
It is good practice to exchange one ski with your friends when leaving skis unattended during breaks as mismatched skis are practically worthless for thieves.
It is also good idea to ski with small backpack to carry emergency supply of snacks and drinks. Hydration and energy level can drop quickly and tiredness creep up on you... tired skier is more likely to make mistakes that could result in injuries.