Travelex Currency Services
Best Exchange Rates For Your Travel Money
Travelex currency services are not only convenient for buying and selling currency, they offer many other beneficial services, like money transfer and VAT Refund.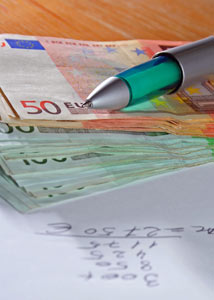 Secure The Currency Exchange
Rates Before You Travel
One of their most popular products these days is prepaid currency cards. These travel money cards are safe, easy to use and can save money when travelling abroad.
Experts have estimated that by securing your travel currency exchange rate in advance you will get on average between 5 to 8% better conversion rates on your travel money exchange.
Travelex currency services is not only convenient for buying and selling currency, they offer many other beneficial services like prepaid currency cards, travelers cheques, VAT refund, money transfer, insurance policies, cell phone hire, money transfer, etc.
What Is Travelex?
Travelex is the world largest global non bank whole sale foreign exchange supplier. Their core business is buying and selling currency but their services include much more than that.
Travelex trades in up to 80 currencies and has been operating for over 30 years. There are over 780 Travelex retail branches in airports and tourist locations in over 25 countries around the world.
Travelex also has partners in over 100 countries and 20.000 locations across the globe... hence being the world largest international non bank whole sale foreign exchange supplier.
Travelex customers are both private individuals as well as multinational companies.
Best Exchange Rates For Travel Money
Travelex core business is buying and selling currency and you can buy on-line commission free Best Price Currency Exchange With Travelex
.
Travelex currency converter
Check today's exchange rates
It is quick and easy and you can either get the foreign currency delivered to your home or work address or you can pick it up at the nearest Travelex branch or at the airport.
Use the currency converter on the left hand side and check todays best currency rates on offer from Travelex.
Travelex aim is to offer the best exchange rates for travel money and hence continuously monitors the currency exchange markets and their competitors.
This means Travelex currency services frequently adjust their rates, at least once every day... often more frequently.
Travelex currency services are so confident that their online rates can't be beaten that they offer online Price Promise. Simply contact them and they will refund you the difference if you could have found better rate elsewhere at that particular moment.
Prepaid Currency Cards
Prepaid currency cards are getting increasingly popular and understandably so. These travel money cards are safe, easy to use and can save money when travelling abroad.
Security
Prepaid currency card works just like your debit card, i.e. you are spending the money in your account. This is however separate account from your current account, making it safer to manage prepaid currency card through an internet connection abroad.
Prepaid currency cards are chip and PIN protected, giving you added security. Travelex also offers around the clock emergency assistance, which is beneficial if your card is lost or stolen.
Convenient And Easy To Manage
You preload your prepaid currency card in advance with the available currency of your choice. If you require more spending money, then it is easy to reload the card, e.g. by phone or on-line banking.
Travelex prepaid currency card offers free ATM withdrawals, which can save you substantial amount when travelling abroad. Some ATM operator may however charge you withdrawal fee, or set their own withdrawal limits but Travelex does not charge you a withdrawal fee on ATM transactions.
Every time you load or re-load your prepaid currency card, you can lock in the exchange rate. This makes it easier to budget your travel cost as the exchange rates can fluctuate greatly while you are on the road.
You can also keep track on your spending with the on-line balance checker but Travelex will also alert you by SMS when your balance is getting low.
Your Travelex travel money card is accepted at over 28.5 million merchants and ATMs worldwide.
You Save Money Too
Prepaid currency cards allow you to secure your currency exchange rate in advance. Travel experts have estimated that by doing so you get on average between 5 to 8% better currency conversion rates.
Prepaid Currency Cards are the new way to spend your cash abroad and it is easy to buy them on-line.
More Travelex Services
Travelex currency services offer various other services to its customers, including:
Travelex offers VAT Refund (sale tax) service to non-European visitors visiting countries within the European Union. The European Retail Export Scheme allows non European visitors to claim VAT Refund on the goods bought in the European Union
Money transfer between countries, i.e. send or receive money from abroad. This service is provided through Western Union
Travel insurance is offered in co-operation with Insure and Go
Travelex currency services also offers businesses various service, including Corporate Cash Passport that are ideal for employees that do not qualify for a corporate credit card
You can even rent cell phones through Travelex
Top Tips - Travelex Currency Services
Many people ask when the best time to buy currency. Unfortunately there is no way of knowing, currency exchange does fluctuate all the time. However, Travelex Travel Rate Tracker can help you to track these fluctuations.
The Travel Rate Tracker monitors all of Travelex foreign exchange rates on a daily basis and you can use the website graph functionality to see how your selected currency is performing over time. You can also sign up for free e-mail updates on the exchanges rates you are interested in.
Ps. there are many other things to consider to leaving your home for your journey. Our Pre Travel Tips go through all the things you must do before you travel.