Skiing Clothes
What To Wear When Skiing
Specialized skiing clothes are highly recommended if you are going skiing or snowboarding. The right skiwear will keep you warm and comfortable as well as protect you if you fall or have an accident.
You must be prepared for all kinds of weather conditions when going on a skiing vacation. The right ski clothes can literally save your life if the weather suddenly changes for the worse.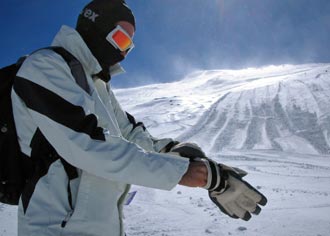 Make sure you got the right ski apparel
Ski apparel comes in different quality and prices. Avid skiers should buy the best quality skiwear they can afford.
Good quality ski clothes last you for a long time if you look after them properly. Look at your skiing clothes as an investment in the sport you love.
Those that are either beginners, or do not go that often skiing, could try to borrow or hire some of the ski equipments and clothes. The quality might be inferior and you are likely to have to buy some skiing clothes anyway.
Advertisment
What Skiing Clothes Do You Need?
Ski Suit
One-piece ski suit covers your whole body, i.e. snow cannot get up your back like when wearing separate ski jacket and ski pants. This is why they are popular Kids Ski Clothes.
Ski suit is not as multi functional as separate jacket and pants, i.e. you can take your ski jacket off if you get too hot, or you can use only the jacket, e.g. when not skiing.
Ski Jackets
Ski clothes are about dressing in layers and ski jacket is the top layer / outer layer and plays vital role as such in protecting you from the elements. Your ski jacket must be weatherproof, i.e. water, wind and snow proof, as well as breathable (allow moisture from your body to escape).
Your Ski Jacket should not be excessively bulky. Look for jacket with close fitting at the cuffs and neck (to keep the snow out). Other useful ski jacket features include high collar, hood and number of pockets.
Ski Pants
Ski pants, like ski jackets, should be wind and snow proof. Ski pants should keep you warm and dry, but they also play important role in protecting you if you fall. On the other hand, freedom of movement is also an important feature.
There are many different styles of ski pants available. You skiing experience, and what kind of skiing you like, could affect your choice of Ski Pants.
Under Layers
Ski jackets and ski pants are the outer skiing clothes layers but you will need to wear layers underneath them. The best way to control your temperature is to wear Clothing Layers, i.e. wearing few thin clothes is more efficient than wearing one thick garment.
The clothes in direct contact with your skin are the base layer. Thermal garments are the best base layer for cold climate. You should wear middle layer on top of your base layer. Fleece is great middle layer as it keeps you warm and transports moisture and excess heat away from your body.
Ski Boots
You will need well-fitted ski boots for skiing. Good well-fitted ski boots are vital, as you will be spending fair amount of time in them. Your ski boots should be comfortable and hold your foot, especially your heel, firmly in place. They must also be suitably rigid laterally to transmit movements of your legs into ski movements, but still allow some forward flex at the ankle.
You need good pair of après-ski boots to wear after you finished skiing for the day. Good après-ski boots have warm fleece liners and are water resistant with non-slip treads.
Ski Clothes Accessories
There are many useful Ski Clothes accessories available...
Ski Hats
Scientist may have debunked the myth that we lose most heat through our head. Wearing good ski hat is though still recommended when skiing.
Ski Helmets
Ski helmets are also getting more and more popular and not only for children. Head injuries are serious issue so wearing ski helmet is a smart choice. It is though important that it fits correctly, i.e. in order to protect you properly.
Ski Gloves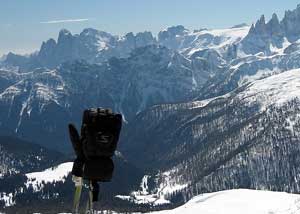 Ski Gloves Are Must
Good pair of ski gloves or mitts is vital when skiing, i.e. for warmth and better grip.
There are wide range of ski gloves and mitts available, offering different level of insulation, waterproofness and breathability.
New technologies have made keeping your hands warm easier than ever before.
Ski Neck Warmer And Scarves
Ski neck warmer is a clever way to keep the neck warm and prevent snow and cold going down the jacket. Scarves are also popular option.
Ski Eyewear
Sun and ski vacation means good eyewear is essential. Skiing sunglasses are great when not skiing but you should wear eye protection (goggles) at all times when skiing or snowboarding.
Ski Socks
Good ski socks absorb sweat and keep you feet warm when skiing. Your ski socks should ideally contain at least 40% wool.
Ankle Protectors and Wrist Guards
Ankle protectors protect against chafed ankles if the ski boots do not fit perfectly, while wrist guards are useful for snowboarders to help prevent injuries to wrists.
Sun Protection
Sun and ski is great combination for the perfect ski vacation. You must however take extra care in the high altitude sun as the UV radiation levels increases about 10% for every 1,000 meters (3,300 feet) in altitude.
Always wear special high altitude sun block; do not use the leftovers from last summer. Lip salve with SPF is also recommended.
Ski Lift Pass Holder
Small plastic holder for your ski lift pass, attached to your ski jacket, will keep your lift pass safe and immediately accessible.
Ski Clips
Ski clips are good for keeping your skis together, making it much easier to carry them.
Ski Daypack
Small ski daypack is useful to carry your belongings, like your sun protection, refreshments, extra layers of skiing clothes, etc.
Top Skiing Clothes Travel Tips
Skiing clothes are also excellent cold weather clothes, i.e. you can wear them just as well when not skiing and hence get more use out of them.
Where To Buy Online?
We at Top Travel Tips think that Sun & Ski is a good place to buy ski clothes online. They specialize in ski clothes and ski accessories. Check out Sun And Ski
ski clothes range today. You should find everything you need for your next ski vacation.
Ps. you also need good ski luggage for your skis and skiing accessories, see Top Travel Tips Ski Luggage Buying Guide for more information.