Product Review
Pocket XShot Camera Extender
Review date: 14th July 2011
I have to make a confession, I love travel gadgets. Actually, I love all gadgets so I was looking forward to try out the Pocket XShot camera extender, or camera on a stick like sometimes called.
We like to take lot of pictures when travelling and this little camera accessory is very handy when travelling. Not least if you are travelling on your own. You will not have to ask strangers to take the photos for you anymore, that is if someone is even around when you want to take a picture.
You can also be included in photos with others. Most of us will recognize viewing holiday snaps and realizing that someone is always missing from the photos. In the worst-case scenarios, there is no photo of the photographer, as he or she was always behind the camera. With the camera extender there is no need for anyone to be missing from the photos anymore.
Pocket XShot Product Description
The camera extender is lightweight, weighs about 5 oz (142 gr.) which is light. It feels very sturdy though. It is designed with compact cameras in mind, i.e. the max weight of the camera should not exceed 1.25 lb (570 gr.). This means you should not use it if you have an SLR camera or heavy compact camera.
You can also use it as a video extender, but most compact cameras come with video function as well. There are also many lightweight video cameras available, which would fit nicely on the Pocket XShot video extender.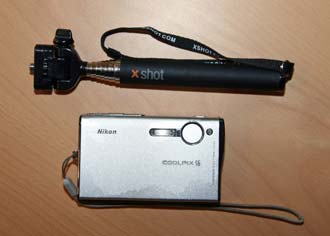 The extender is very compact
When the extender is closed, it is only 6.5" long (16.5 cm), but it extends to 30.5" (77.5 cm). That is long enough, otherwise you will have problem in reaching your camera when setting up the shot and your photos could be blurred due to camera shaking (see later).
The camera extender head has a spin knob to mount the camera to the extender. With the knob, it is easy to secure the camera in place, and the head rotates 180 degrees. You can lock the camera with a thumbscrew at desired angle. Being able to lock the camera at an angle is important in order to take proper pictures (see later).
The handle of the camera extender has nonslip grip and it fits nicely in your hand. It has also a lanyard, which you can attach to your hand when walking with the extender or when taking pictures.
Overall, the camera extender feels sturdy and it is easy to extend and close it.
How To Get The Photo Angle Right
Now to the most important thing, how to shoot good pictures with your camera attached to the extender. You will need to practice in order to get the angle right. The good thing is that digital pictures do not cost anything so you can practice a lot in order to master taking pictures with the extender.
This is actually important thing. You need to get the angle of the camera right otherwise, the picture will look wrong. We suggest you play or practice this at home before taking to the road with your camera extender. You do not want your arm to be part of the picture and you need to make sure you set the focus to be on yourself, and of course, you are in the picture.
Another important thing is to extend the arm enough from your body in order to capture yourself with some of the background visible. If you hold it to close, you end up with a passport photo of yourself. If you extend it too far from yourself, you risk having your outstretched arm as part of the picture.
How To Take Pictures With The Camera Extender
Timer Function
You need to use the timer function on your camera to take the picture. Most compact cameras have 2 or 3 options to set the time of the timer. Choose the one that suits you best, we found using 3 seconds to be enough.
The Picture Frame
When posing for the picture you do not see what you are pointing at, because the viewfinder is at the back of the camera and it is therefore pointing away from you. You will need to practice with the camera on the extender to get the "feel" for the right angle that includes you and some of the background in the picture.
Unless you own a compact camera, where you can rotate the viewfinder 90 degrees and thus be able to see at what you are pointing the camera.
Autofocus
All compact digital cameras have built in autofocus. This means that you must focus on the subject before taking the picture. You will need to be careful here. In order to get the focus right, you first need to set the timer function on your camera.
Then you need to extend the camera away from you and point it at yourself. Then press the shutter button with your free hand, pose and wait for the camera to take the picture. If you reduce or extend the distance of the camera from yourself after you set the focus, but before the camera have finished taking the picture, you will be out of focus.
When you take pictures of yourself and others that should be in it, try to make sure you get some of the background as well. What is involved here is to rotate the camera slightly to either side or up/down after you have set the autofocus.
This requires some practice in order to get it right. Too much rotation and you are not in the picture. Too little rotation and you are likely to end up with passport photo of yourself, which can be funny though.
Take Pictures In A Crowd
Or From An Extended Angle
One of the key benefits of having a camera extender like the XShot is that you can lift your camera higher up in order get a better view. This is very useful in crowded areas, like concerts, street parties, over high fences, etc. You simply set the timer, aim onto the subject and lift the arm up above the crowd to take the picture.
Just make sure you hold the camera extender firmly in order to avoid camera shaking, because when you stretch up your arm, with the extender fully extended, any minor shake of your hand will result in a shaken or blurred picture. This is very useful feature in my opinion.
The Results Of My Product Review Assignment
I decided to take the XShot camera extender out for a day trip to test it as if I were travelling with my camera and the extender.
I took the dogs with me on the product review assignment as I wanted to test if the extender would allow me to take a self-portrait with them... they tend to wander off while I am putting the timer on and running back to take my place in the picture when using tripod.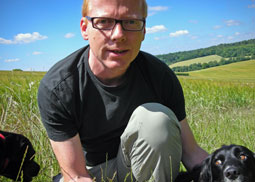 First try to get the angle right
mans best companion not sure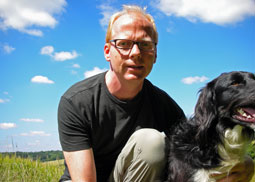 Second try to get the angle right
still not perfect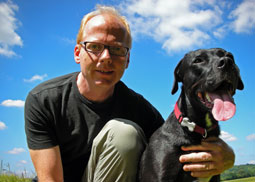 Angle right, new model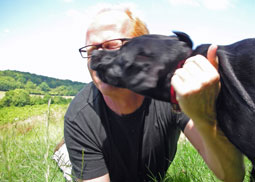 Angle right, new model had enough!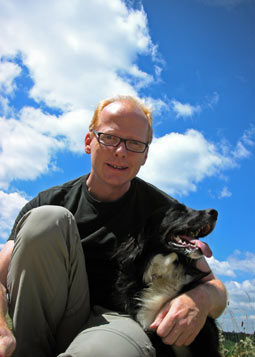 Easy to use once you master the angle
Easy to take portrait format as well
Video Blogging
Another great benefit of the XShot is to use it as video extender for video blogging. By simply attaching your video camera on the Pocket XShot camera extender, you can easily make video blogs. You can move around and make a video of yourself at the same time, just as if you had your own cameraman with you. Perfect.
Conclusion
So is it worth the price to own Pocket XShot camera extender? I think so. It is a neat little camera accessory. It is handy to carry with you and it will extend your range of photo and video opportunities. I will defiantly keep it in our camera accessory bag.
Pros
Lightweight, well built, sturdy
Easy to mount the camera on to it
Easy to rotate the camera adaptor with the camera in place
Easy to extend and close
You can also use it as video extender
Allows you to take photos that you would not be able to take without it
Cons
Simple guide on best ways to take pictures would be an advantage
You need to practice in order to get the camera angle right, but that is easy and fun and well worth it when you have mastered it
You can buy the Pocket XShot Selfie Stick
on-line at Amazon.