ECOdept Travel Towels - Review
Light, Quick Drying, Hygienic, Durable And Smart
We bought our first microfiber travel towels when we went on our around the world trip some years ago. We used them frequently during our trip, as well as on various occasions since and they have lasted us well.
We have used our microfiber towels when travelling off the beaten tracks, like hiking in the Amazon jungle or staying with local families in remote villages in SE-Asia. We have used them for a day out at the beach, and when bathing in rivers or lakes en-route.
We have used them on all our camping trips and we like to keep them in the car all the time, just in case. They have often been handy after sudden downpour as well as when we need to cool our down on hot summer days.
It's time to hand the old ones down to our dogs and get us new ones. And this time we decided to go for ECOdept travel towels. But first...
Why Microfiber Travel Towels?
Everyone that loves the outdoors and loves to travel should own a microfiber towel. They are the ideal travel accessory as they are lightweight, packable, ultra absorbent, quick drying, soft, hygienic, and durable.
Why ECOdept Travel Towels?
ECOdept microfiber journey towel fulfills all the above criteria and they are smart too.
We like the ECOdept color range very much but they come in three beautiful colors; foliage green, desert sand and slate grey.
What's more, ECOdept journey towel has some extra features that we have not come across before, like hanging hook for drying. But what we really loved is the corner zip pocket that is ideal for storing valuables and cell phone while you are enjoying the sun rays. Very clever.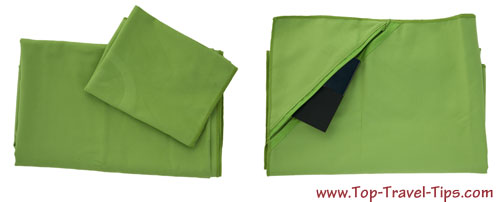 ECOdept travel towel also comes with matching hand towel (24" x 15"). This can be very handy, e.g. when camping and washing your hand then you don't have to use your bath towel. It is also the right size to bring to the gym for drying off sweat.
The ECOdept microfiber towel comes in a nice matching box, making it a great gift for anyone that loves the outdoors and travelling.
We also like the company logo "treading lightly in our world". Not only by designing products that are kind to the environment, but also by donating part of their profit to The Nature Conservancy, a leading conservation organization working around the world to protect ecologically important lands and waters for nature and people.
And as small business owners ourselves (and this has nothing to do with the towels) we like that this is a small independent company dedicated to their product.
But last but not least, we find ECOdept travel towels to be both excellent towels and excellent for travelling.

Size
ECOdept microfiber towel is good size (52" x 32" or 132 cm x 81 cm). This is an appropriate size for bathing towel for an adult in our opinion. The matching hand towel is also good size as well for its purpose (24" x 15" or 61 cm x 38 cm).
Lightweight
Microfiber towels are much lighter than cotton towels. Airlines are getting increasingly strict about luggage allowance, so this is great benefit. Most travel towels are at least three times lighter. Our new ECOdept journey towel weighs 8 oz (227 grams). While the standard cotton bath towels we normally use weigh around 1 lbs 7 oz (650 grams).
Packable
ECOdept journey towel comes in breathable waterproof bag for packing (it was much easier to get it back in the bag than we had anticipated). The mesh allows you to pack your towel while still damp, which great when on the move. They are very compact. We recon they take less than 20% of the space that similar sized cotton towel would.
Soft Touch
Towels made from microfiber are soft but they have very different feel from cotton towels. It can take a little while to get used to them, at least it did for us. However, when you get used to it, there is no turning back. Instead of rubbing the skin to dry it, you pat the towel against your skin. All moisture is absorbed almost instantly. This thin piece of clothing is extremely efficient in drying your skin − you kind of have to try it to believe it. Our new ECOdept travel towel is very soft and gentle on the skin.
Ultra Absorbent
Microfiber towels are much more absorbent than cotton towels and the ECOdept journey towel is super absorbent.
Quick Drying
ECOdept travel towel is fast drying. It dries in less than half the time of a normal towel. This benefit is extremely important when travelling. We have used our microfiber towels, dried them quickly in the sun while getting ready, packed them in the mesh bag, and moved on. No damp towels or surrounding items when you unpack your bag again, no unpleasant odors.
Hygienic
Microfiber towels are treated with anti bacterial coating that prevents the buildup of bacteria, mould, fungi, and odors. The treatment should last the lifetime of your towel if you take good care of it. ECOdept travel towel comes with clear instruction how to take care of your towel for maximum effectiveness. Anti bacterial travel towels like ECOdept journey towel stay cleaner and smell fresher for longer. They are the hygienic option when on the road.
Durable
Microfiber travel towels are very durable. We have used our old travel towels extensively and washed them frequently and they have lasted very well. We are confident that our new ECOdept towels will also last us through number of journeys.
However, they come with Lifetime Guarantee, so if your towel does not live up to your expectation, then you can return it whenever you choose.
The Extra Features
As said before we love the extra features, especially the clever zip pocket for storing valuables and the hanging hook for drying. They say you get what you pay for. Still the most expensive things are not always the best quality. However, the cheapest things tend to be made cheaper and from cheaper materials.
ECOdept microfiber journey towel is priced mid range, i.e. you can get cheaper as well as more expensive travel towels. What matters most in our opinion is the value for money and we find ECOdept travel towel to be good value for money.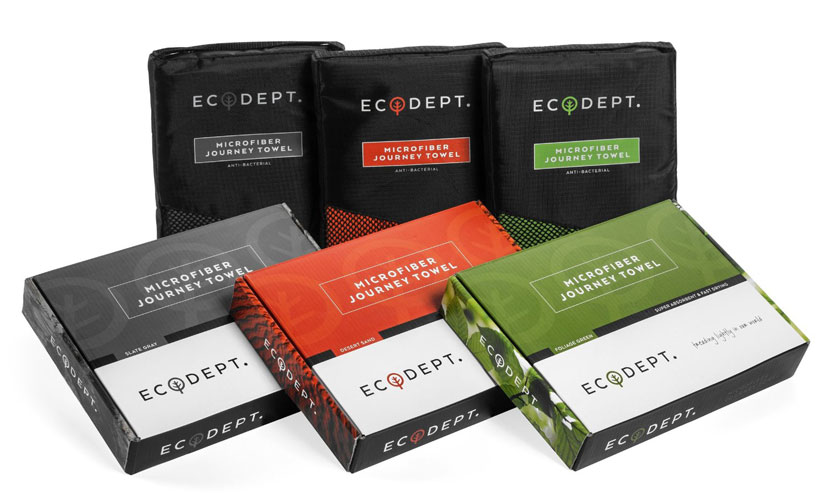 Compared to other travel towels we have tried, we find ECOdept travel towel comfortable to use, good size, good quality and we really like the extra features. We are very pleased with our new microfiber travel towel and we are confident that you will too.
ECOdept travel towels are currently only available on Amazon
.