Top 10 Beach Gear
For A Great Day At The Beach
When planning beach trip, what beach gear you need for a great day out varies from one person to another. Some are satisfied with their swimwear only, letting the sun taking care of drying them after a nice dip in the sea. Other seems to need most of their personal belongings with them for a day out on the beach.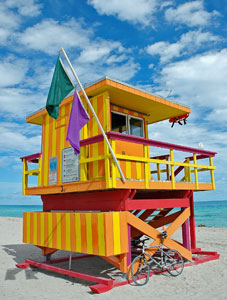 Bring comfort with you to the beach
Most of us fall somewhere in between. We bring various items with us but they all have something in common, they make our beach vacation either more comfortable or more enjoyable.
In addition to our Beachwear we might bring a chair or a fan to feel more comfortable, books and music to make our stay more enjoyable and food and drink for both.
How much beach gear you can comfortable bring with you varies depending on your destination. If you live close to a beach, or can drive your car to your beach vacation destination, then you can bring all kind of beach gear to make your stay as comfortable and enjoyable as possible.
On the other hand, if you are flying to your beach vacation destination, then you must choose your beach gear wisely.
You might be able to purchase some items cheaply at your destination and leave them behind, but you are likely to want to bring with you the more expensive and durable beach gear.
Top 10 Comfort Adding Beach Gear
The basic beach gear should include a towel and sunscreen. For additional comfort, you might want to consider some kind of inflatable mattress and travel fan to cool you down if you get too hot. For additional luxury, you might want to add beach chairs, windscreens, beach umbrella, etc.
The choice is yours but you can get great compact travel versions of all these items. Let's take a closer look at some good choices.
1. Beach Towels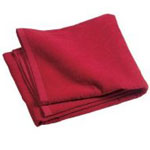 Beach towels tend to be big and comfortable (as well as heavy and bulky). You can get great lightweight quick dry travel towels that are great options if you are travelling light. However, for longer beach holiday you might want something more substantial.
Amazon offers great range of big and comfortable beach towels, as well as lightweight quick dry options.
When buying a beach towel, make sure it is wide and long enough for your whole body, and is machine washable. Buy your Beach Towel
today!
2. Beach Chairs
Bringing your own beach chairs to the beach is a luxury indeed. Beach chairs can really make your day at the beach a lot more comfortable.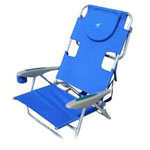 In most cases, you can rent beach chairs or lounges and that is a great option when flying to your beach holiday destination. However, if you frequently go on beach vacation by car, then it makes sense for you to invest in your own set of beach chairs.
Amazon offers excellent range of beach chairs in all price ranges. The Ostrich On-Your-Back Backpack Beach Chair
is a popular choice as comfortable, roomy, adjusts to five different positions, has head pillow for extra comfort and has cup holder to keep your drink steady... and best of all, it folds up and is easy to transport.
The Ostrich On Your Back Chair
is another fun option, combining beach chairs and beach umbrella in a very clever way.
3. Beach Shelter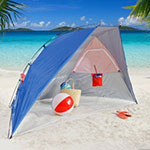 Beach shelter is another luxury item for those that go to the beach by car. In very warm locations or seasons, the wind can actually be welcome but in other cases, it is not.
Good shelter can make all the difference for your great day at the beach.
They come in different sizes and price. What you should look for in a beach shelter is that it is compact, light, and portable.
Make sure it is offers UVA and UVB protection like this Rio Portable Beach Shelter
.
4. Beach Umbrella
Beach umbrella is great idea for frequent beach goers... that drive to the beach. Beach umbrella will provide you with valuable shade anytime you feel you need a rest from the sunrays or just to cool down for a while.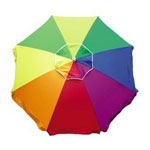 If you are travelling with young children, then beach umbrella is necessary to have. It is important to shield young children away from the sun, and beach umbrella is ideal for that.
Look for umbrella that has good sun blocking factor, like SPF 100+.
What you should look for in a Beach Umbrella
is that it is compact, light, and portable. However,make sure it is large enough to cover the area for you, so check the dimensions before you buy.
Top Beach Gear Tips
In warm countries umbrellas are not only used to shield people when raining, they are also used to shield people from the sunrays.
Bringing your umbrella to the beach on a sunny day may seem like a crazy idea but it isn't. Umbrella will of course not cover your whole body like a beach umbrella does, but it can still give parts of your body a welcome shade when needed.
5. Beach Daypack
It doesn't matter how you get to the beach, you will need a beach daypack for your things. Having a beach daypack will help you carrying all your small items you need, such as sunscreen, water bottle, extra clothes, packed lunch, books, etc.
Amazon offers Excellent Range Of Daypacks
in all price ranges.
6. Waterproof Pouch
You need some kind of waterproof pouch so you can take your valuables with you into the sea.
In addition to that, these pouches will protect your electronics (cell phones, camera, etc.) from sand, which can easily ruin them.
Basically there are two types of waterproof pouches, fully waterproof and splash proof. The fully waterproof ones like the Overboard Waterproof Pouch
, enables you to take your electronic items into the sea.
Splash proof pouches like the SealLine will protect your items from splashing water and sand, but they are not waterproof for submersion into the sea.
Make sure you bring waterproof pouch with you on your beach vacation.
7. Travel Fan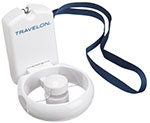 Travel fans are cheap and light to carry and make excellent travel companion on a hot day. They are light, compact, and easy to keep in your daypack.
This Personal Travel Fan
is very handy and will give you a nice cool air when you most need it.
8. Camera Extender
This is truly a clever little gadget. We all know how difficult it is to take self-portrait with your camera. This Pocket XShot Camera Extender attaches easily to cameras and camcorders and allows you to take self-portraits without the help of strangers.
Just brilliant gadget for solo travelers but can also be handy when you want everyone to be in the photo. You could even use it underwater with your waterproof beach camera.
Handy little beach gear worth the investment.
9. Beach Cooler
What is a day on the beach without a cold drink and some good food? Beach coolers will keep your drinks and food cool for hours, making them ideal for your beach trip. You can get beach coolers in all shapes, sizes, and price ranges.
The great thing about beach coolers is that their design focuses on usability and portability. Many are measured in how many drink cans they can carry. Look for reasonable sized one (minimum 50 can), because you need space for your snack, drinks, and all your food you bring along with you.
Another thing to look for is how easy they are to carry around with you. Many models have wheels, like your luggage, which make them easier to walk with. Another benefit of these coolers is they can be folded together, so at the end of the day, when you have emptied all the content, you just fold them together along with all your other beach belongings.
Coolers
are definitely a must have beach gear when you go to the beach.
10. Barbeque
Our number 10 Beach Gear is of course a Barbeque on the beach... it doesn't get much better than that does it? There are many portable barbeques available but you will of course want one that is light and easy to carry around.
You can buy them either as propane gas or as charcoal versions. The benefit of using a gas version is that you do not have to wait very long until it is hot enough to start barbequing.
In addition, propane gas barbeques are less messy to work with when you pack your things together, because there are no hot ashes to get rid of. You should though bring an extra bottle of propane gas with you, because you do not want to be out of gas in the middle of your cooking.
On the other hand, using charcoal barbeques often gives you better-flavored food, though that opinion varies between people. However, the great benefit of the charcoal barbeques is they are cheaper to buy and run and you are less likely to run into problem with not having enough fuel to cook your food.
Below is our selection of great portable and beach barbeques.
Have a great time on the beach this summer.