Top 10 Business Travel Tips
That Benefit You And Your Business
These top ten business travel tips are for those planning, or going on a business trip. Travelling on business is very different from going on a holiday. Business trips are work, while vacation is leisure.
Your employer wants you to be productive when travelling on business. It is therefore important that you arrive at your travel destination as invigorated as possible.
1. Prepare Travel Itinerary For Your Business Trip
Preparing detailed travel itinerary will save you lot of time and time is money... like every businessperson knows very well. To save time, have standard travel template prepared, i.e. which can be quickly adjusted for each business trip you take.
Travel Itinerary Will Save You Time
Your travel itinerary should include all your travel details, i.e. your travel times, meeting agenda, all details for your contacts, etc.
We at Top Travel Tips have put together sample Business Itinerary that you can use as your starting point for your own personal travel itinerary.
Have copy of your travel itinerary sent to the people you are planning to meet prior to travelling, i.e. the part of the itinerary that is relevant to each party. This way everyone knows what is expected and where and when to get hold of you.
2. Brush Up On Your International Business Etiquette
Business etiquette varies greatly between countries and different cultures, e.g. the dress etiquette, business dinner etiquette, the gift giving etiquette, etc.
Knowing how to behave in variety of business situations will help you to avoid making any faux pas and build productive business relationships, which will result in better business outcome.
Appreciating the importance of International Business Etiquette will give you competitive advantage and is vital if your business takes you outside your own country.
3. Find The Right Luggage For Your Business Trip
There are many different types of luggage available and it is important to find the Best Luggage to suit your travel and business needs.
You can save some valuable time at the airport if you can travel with carryon luggage only. If you are travelling with suits, then you consider using wheeled garment carrier bag. As you are likely to travel frequently, you will need luggage that is durable and as lightweight as possible.
You will also need good laptop bag for your laptop and other business equipments and documents.
4. Pack Strategically For Your Business Trip
Pack your carryon bag with security in mind, i.e. to allow you to get quickly through security as possible. All liquids must be in the right size containers and in separate clear plastic bag(s). Make sure you have easy access to your laptop as you will have to remove it from your bag when going through security.
Use the bundle wrapping or rolling packing method when packing your clothes, rather than just folding them. We recommend also to use packing organization systems, like packing cubes and folders. They will save you valuable space and keeps your luggage better organized.
Travel Tips For Packing Luggage provides additional advice on how to pack strategically for your business trip.
5. Use Travel Packing List
The fact is, you will take similar travel gear with you when travelling on business. Packing lists can therefore save you some valuable time when packing for your trip and even allow you to delegate this to someone you trust.
To make this easier for you, we at Top Travel Tips have put together specific Travel Packing List that you can download and print.
6. Flying On Business
Corporate travelers tend to travel more frequently than leisure travelers and need to be as refreshed as possible when they arrive at their travel destination... to work.
Comfort when traveling is important so when choosing which airline to travel with do not only compare the prices, also compare the service and the level of comfort involve, e.g. legroom.
If you fly in business class, then these Business Class Air Travel etiquette tips might be of special interest to you.
If on the other hand you are travelling in economy (coach) class, then these Airline Travel Tips can assist to choose the best airline seat for your journey... because not all airlines seats are the same.
There are also available numbers of products that can help you to feel more comfortable during your flight. We at Top Travel Tips have chosen our top 10 favorite International Air Travel products that add comfort to flying.
7. Take Advantage Of Business Lounges
Access to VIP lounge is usually included if you are travelling in business class. Being able to relax or work can be very valuable for people when travelling on business.
If your business travel is frequently in economy class then you should consider getting an airport lounge access card, like the Priority Pass
. The pass gives you access to 600 airport lounges in over 100 countries all over the world. This is a real value since you save on your airfare, but pay a little charge to have access to the airport business lounges.
8. Let The Business Gadgets Work For You
Business people today tend to travel with all kinds of gadgets and gear with them, allowing them to work while travelling. It therefore a good idea to choose your business gear with its mobility in mind.
Go for as lightweight and multifunctional equipments as you can. Charge everything before you travel but don't forget to pack necessary cables and charges.
9. Make Sure You Have Adequate Business Insurance Travel
The company you work for should insure you while you are travelling. However, do not assume the cover is adequate, get copy of the insurance policy and check it carefully.
If you are self employed you need business insurance travel that covers both you and your business adequately. Don't forget to insure the business equipments as well, as they can be expensive to replace if lost or stolen.
Our article on Insurance For Corporate Travelers provides you with practical advice on what your business insurance travel should include. It is a good idea to be familiar with what you might expect from typical business travel insurance.
10. Keep Track Of Your Business Travel Expenses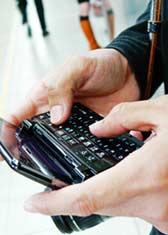 You will acquire various business expenses when travelling. It is important that you keep good records of all your travel expenses so you can claim them back when back in your office.
Business travel expenses must be ordinary and necessary, as well as reasonable and for existing business purposes only.
It is though not always straightforward which cost is deductable as business expenses. If in any doubt, always seek professional advice.
Our article Travel Expenses When On Business offers practical information and list of deductable travel expenses according to the US Internal Revenue Service.
We hope these top 10 business travel tips are useful but please share your favorite business travel tips with us and other users of our site using the form below.