Golf Vacation
Is It Something For You?
If you play golf, you are likely to have either already been on golf vacation or dreamt about going on one. Because for most golfers playing golf is not only a hobby, it is also a passion... and what can be more enjoyable than spending your holiday doing something you are passionate about?


Why Go On Golf Vacation?
The first reason to go on a golf holiday is somewhat obvious... you go because you enjoy playing golf. You enjoy the exercise, the competition, the company, etc. Playing golf is a hobby you enjoy and you are likely to be passionate about it. For most of us, the best holidays are when we are doing things we enjoy.
Playing golf is very much about challenging yourself all the time and going on a golf holiday means playing golf on a new unfamiliar golf course. Playing golf in a new and exotic place can be very rewarding experience.
Practice makes perfect and playing golf every day for few days is likely to allow you to improve your golfing skills significantly more than playing every few days, or few times a month.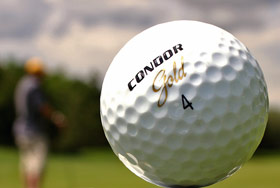 Improve your golf skills while on vacation
Many golf resorts offer golf schools or some form of tutoring that can help you to improve your skills even further.
Golf is seasonal sport in many countries so going on a golfing vacation can extend your golf season. What is a better way to beat the winter blues then jetting off with your golf clubs for few days in the middle of winter?
Some people cannot stand "doing nothing" and therefore tend to dislike holidays. Golfing vacation is a holiday with purpose, ideal for those that have to be doing something all the time.
Then there is the social aspect. If you play golf you are never alone, there is always someone willing to play a round with you. Golfers worldwide "speak" the same language and like to socialize with other golfers.
Who Goes On Golfing Vacation?
Well, people that enjoy playing golf like to go on golfing holiday. It does not matter if they are any good at it or not.
That is actually one of the great things about golf... everyone can enjoy playing golf at their own pace. It is about improving your skills all the times. You are competing with others but not least with yourself.
Golfing holidays are also great option for those that want to learn how to play golf and for new golfers that want to improve their skills significantly by practicing intensely for few days in a row.
Where To Go On Golf Vacation?
You can go almost anywhere you like on a golf holiday as golf is an international sport. You can play golf in the morning and swim in the Caribbean Sea after lunch or you can play a round of golf under the midnight sun in Iceland.
You can book your accommodation separately and buy golf passes to many golf courses all over the world, or you can take advantage of one of the many all inclusive golf vacation packages that are available.
Where To Find Great Golf Vacation Worldwide?
There are hidden gems in sunny locations like the Dominican Republic and Hawaii. There are golf resorts located near top attractions like beach, amusement parks, and sports venue. This is a great option if there are some non-golfers in your entourage.
Or you could opt for something completely different experience like playing golf in Iceland during mid summer where you can play golf at midnight!
If you cannot decide between a golf trip and spa retreat then you do not have to compromise, you can easily do both. Enjoy relaxing massage after your round of golf and in the evening enjoy gourmet dining, entertainment and nightlife.
Golf Tournaments
Another great golf vacation option is to attend international golf tournaments. Enjoy watching your golf idol play and sneak in few rounds yourself in between watching them. This is something that must be on every golfer "to do before you die" list.
Golf Trunks
Golf trunks are very useful to organize your golf gear and keep it neatly arranged and in place when travelling. The trunks are specifically for golfers and have enough space to hold your jacket, shirts, socks, cap, 1-2 pair of shoes, etc.
Amazon offers daily great deals on golf trunks. You can see their current deals to the right of this page.
Golf Vacation Top Travel Tips
Prior to going on a golf vacation there are few practical things you should be aware off.
Make sure your insurance policy covers you and your golf equipment adequately. Many believe their household contents insurance policy covers the golf equipment but large proportion of household polices exclude sports equipment and sports injury.
Does your travel insurance
cover your golf clubs?
This means you would not be covered should anything happen to you or your golf equipment on or off the golf course. Check your Travel Insurance Policy carefully and arrange for specialized golf insurance if needed.
If you are flying to your golf vacation destination, check your golf luggage allowance well in advance as the airlines rules vary greatly. Some airlines allow one golf bag in the luggage allowance, but there is usually a limit to the number of clubs and other golf accessories, e.g. maximum 14 clubs, one dozen golf balls, and one pair of golf shoes.
There is often a maximum weight restriction for the golf bag. That is why you must always check the luggage allowance directly with your airline.
Your Golf Club Travel Bag should protect your golf clubs and other golf gear when travelling. Hard case bag gives the best protection and tends to be preferred by those that frequently fly with their golf set. Soft case bags are lighter and easier to maneuver and are therefore increasingly popular, especially if travelling by car.
Most golf courses have dress code, but how strict the dress code is varies greatly. Rule of thumb is that the higher the greens fees, the stricter dress code you can expect. When going on a golf vacation you should always find out what the dress code is well in advance so you can make sure you pack the right golf wear.
On our website you will find advice on Ladies Golf Apparel and Men's Golf Apparel. As well as advice on Golf Rain Gear, as there is no reason to let few raindrops spoil your Golf Vacation.