Ladies Golf Apparel
What To Wear On Your Golf Vacation
Most golf courses have dress codes for ladies golf apparel. You are likely to know the rules at your local golf course, but when going on a golf vacation you might want to check up on the dress code in advance.
Ladies Golf Apparel Dress Code
The golf dress code can vary between golf clubs. The more expensive the golf course is, the stricter the dress code is likely to be.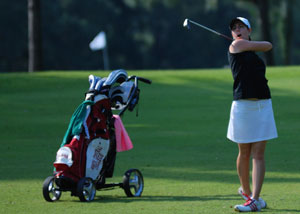 Make sure you got the right
golf apparel for your vacation
The dress code can also vary between countries and different cultures.
Smart and conservative look is always the safest bet when playing on a new golf course but you still have many options when dressing for your round of golf.
Wearing recognized golf travel clothing and accessories is always the safest choice when going on a golf vacation.
Ladies Golf Apparel - Shirts And Sweaters
Most golf clubs allow you to wear short sleeve shirts and many even allow sleeveless shirts. Some golf clubs however insist on collar or high neck on such shirts.
Short sleeve shirts with collar are therefore the best choice when travelling and playing golf in warm climate. It is best to avoid anything too clingy or low cut, including tanks and "belly showing" shirts.
If you are playing in cooler climate or during cooler times of the day / year then dressing in layers is advisable.
Pack long sleeve shirts, golf sweater and vest (as well as jacket or golf rain gear). It is safest to bring along specially made golf clothes, not any old sweater will do.
Neutral colors tend to be good choice when playing on unfamiliar golf course. However if you want more colorful attire, then it is a good idea to choose one bright color and pair it with neutral colors.
Ladies Golf Apparel - Skirts, Skorts And Pants
Some golf courses insist on women wearing skirts but most allow pants and shorts as well. Skorts are increasingly popular options, i.e. short with skirt flap on the front so it looks like a skirt but wears like a short.
If you prefer wearing pants when playing golf then it is usually safest to buy special golf brand pants, as not any pants will do. Denim / jeans tend to be especially frowned upon. Anyway, jeans hold in moisture and can be very uncomfortable on warm days.
When playing in warm climate look for lightweight pants, or even shorts (long or knee length tend to be safe choice).
Thin fitting pants or shorts that do not cling to your legs are most comfortable and pockets big enough for couple of tees and an extra ball are always good idea. Neutral colors like navy, blue, khaki and white tend to be most acceptable.
Skirts and skorts tend to be popular choice when travelling and playing golf in warm climate, as they tend to be comfortable and stylish as well as giving the player more of a professional look.
Ladies Golf Apparel - Golf Shoes And Socks
Good golf shoes are must for any golfer, as you will be walking on average 3 - 4 miles on an 18-hole golf course. There are cheap golf shoes available but most golfers consider quality golf shoes as an investment and buy the best pair they can afford.
You will need golf shoes with soft spikes since almost all golf courses now ban metal spikes as they damage the greens. You can replace the metal spikes with soft spikes. You can either do it yourself or check with your local pro shop, they are likely to do it for a nominal fee.
Most golfers prefer warm climate destination for their golf holiday, or at least at the warmest time of the year.
Golf clubs in warm climate tend to allow golf sandals instead of golf shoes - however do check in advance if you have not played there before. Golf sandals have similar / same type of sole as the golf shoes do but offer an open toe and foot for breathability and you can wear them without wearing socks.
However if you are travelling and playing golf in cold or messy weather then golf boots are good option. They have the same soles with spikes as golf shoes, but offer better protection with a higher cut and are made of material (e.g. Goretex) designed to keep out the cold and wet.
Most golfers wear socks that match the trousers when wearing long pants but light colored socks with light colored shoes and black socks with dark colored shoes when wearing shorts or skirts / skorts.
Top Ladies Golf Apparel Travel Tips
Always arrive in street shoes and change into your golf shoes in the locker room. Wear your street shoes off the golf course, e.g. if you are having lunch or drink in the clubhouse after your round of golf.
Ladies Golf Apparel - Outerwear
If you are travelling and playing golf in a destination with colder climate then you will need to pack some golf outerwear as well. It is recommended to think layers and lightweight when choosing which items to bring along as traditional outerwear can be heavy and bulky. You can get lightweight golf jackets and pants that you can wear over your normal golf gear or wear it as your main outfit.
Getting soaked is never fun (when playing golf) so it is a good idea to bring some kind of a Golf Rain Gear whatever the climate.
Ladies Golf Apparel - Golf Accessories
You will need more than only golf apparel when travelling for golf. There are many golf accessories available for women, most of them very useful and aimed to improve your game.
Hats protect your head from the sun but they also provide valuable shade for your eyes. Hats are also good idea in colder climate, to keep your head warm... and dry on rainy day. Baseball style hats or straw golf hats are most appropriate on the golf course.
Some golfers prefer visors to hats and there are many stylish options available. Good sunglasses are also valuable on the golf course, to protect your eyes from the sun and to improve your vision on sunny days.
Golf glove is also highly recommended golf accessory. Golf glove gives you more secure grip, not least when the grips are wet or you are sweating.
Top Ladies Golf Apparel Travel Tips
Most golfers wear only one glove, i.e. on the lead hand. Wearing one glove and playing golf frequently can result in visible color variation between your hands. You might therefore want to consider wearing two gloves or use high level of sun block on your glove free hand.
Where To Buy Ladies Golf Apparel Online?
Golfsmith offers great range of excellent quality Womens Golf Apparel
and at competitive prices.
They are so confident about their prices that they offer 115% Low Price Guarantee, i.e. they will match 100% the published price on a stocked item plus an additional 15% of the difference from the competing web site on any identical, in-stock item.
We recommend reading their customer reviews and check their women's golf apparel sizing charts prior to purchasing your ladies golf apparel.
Do not forget to check their Golf Outlet store
, you can save 10 - 70% off quality golf products, not only golf apparel but also on everything golfer needs home or away, including women's golf clubs and golf club travel bags.
You can also get wide range of ladies golf apparel on Amazon.
Ps. if you need golf bag fit for travel, check our Golf Club Travel Bags buying guide.