Golf Rain Gear
Don't Let Rain Spoil Your Golf Vacation
Who has space in their bags for golf rain gear? If you are keen golfer you will find the space because little drizzle is no reason for not playing golf. Hopefully you will not have to use it but if you do... few raindrops will not ruin your holiday.
What To Look For In Your Golf Rain Gear
You should be looking for the same things as when buying any rain gear, i.e. waterproof, windproof, breathable, and does not leak (seams, zippers and pockets).
Waterproof Or Rainproof
There is difference between waterproof and rainproof, and not only in the price. Waterproof golf rain gear keeps you completaly dry, even in heavy rain. Goretex is the most effective waterproof fabric available, allowing water to vapor and air to circulate which is vital for your comfort.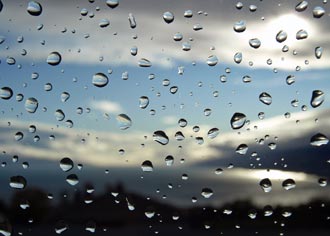 Rainproof golf gear is typically made from fabric that is treated with Teflon which means it keeps water out for shorter periods while still allowing air through and it wicks moisture.
Rainproof gear tends to be more lightweight and can be a good option when going on a golf vacation (where you more likely to experience short showers than heavy rain).
However, nothing beats waterproof when it comes down to staying dry in the rain.
Windproof
Windproof garment keeps out... the wind. If you can blow through the fabric then the garment is not windproof. Windproof is essential when playing in cold and windy condition but to keep out the rain as well it needs to be waterproof as well.
Breathable
Breathable is very important feature as it allows vapor from sweat to evaporate, making you drier, warmer and more comfortable. Unfortunately, as the waterproof quality of a garment goes up the breathability usually goes down. So bear that in mind when choosing your rain gear.
Leaks
Seams tend to be the weak spot where waterproofing is concerned (think of tents) so they must be sealed and coated to prevent leaking. The ideal garment would have as few seams as possible and not in vulnerable places, like shoulders and upper back.
Zippers are another weak spot so look for waterproof zippers, or well shielded zippers.
There is however one extra critical feature when choosing golf rain gear, i.e. it should not restrict your movements. The best golf rain gear keeps the elements out but does not restrict your golf swing.
Buying the right size of rain gear is therefore important, as too tight or too big suit can affect your game. Elastics around the arms, knees and waist, allow you maximum mobility.
In addition, if you are planning to take your golf rain gear with you when travelling, then you want it to be as lightweight as possible.
One-Piece Rain Suit Or Separate Jacket And Pants?
One-piece rain suit keeps you drier than two-piece rain gear can, i.e. because there is no break in the fabric. Most golfers though prefer separate rain jacket and pants as it allows them better mobility, i.e. you can twist and turn without the fabric restricting you.
Separate pieces also allow you to wear both or only one piece at the time. Most golfers feel rain jacket is sufficient rain protection in light showers.
Wearing Clothing Layers is the best way to regulate body temperature. Layering is especially important if you are undertaking some kind of physical activities outdoors, i.e. when you sometimes hot and sometimes cold.
Rain jackets can have full-length zip or collar zip, or even be a slip-on. What to choose is a matter of personal taste but some do not like full-length zip jackets, as they can stick out when you are crouching for a putt or chip. However, jackets with two-way zipper allow the front of the jacket to lay flat when putting.
Jacket with storm collar is good idea as the collar stays up against your neck and keeps the water from getting down your back and onto your skin and clothes.
When choosing rain pants make sure they are longer than your normal golf pants, i.e. so they cover them if you are wearing your rain pants over them. Most golf rain trouser offer zips and snaps at the bottom of the legs to make it easier to put them on and take them off. Elastic waist with draw cord and side pockets with pass through is also good idea.
Rubber Rain Boots
Most golfers wear their normal golf shoes even when raining. However if you want special rain shoes you should look for rubber rain boots as the rubber is flexible and comfortable and the inside of the rubber rain boots usually contains inner sock that will help keep your feet warm and dry.
Golf Rain Umbrella
Good golf umbrella is necessary when playing in the rain (it can actually also be great to shield you from the sun). It is not only the size of your golf rain umbrella you need to consider, you also want something with wind resistant infrastructure, i.e. to prevent it inverting in high gusts.
You also want it to be easy to clip your rain umbrella on to your golf bag.
Golf Rain Accessories
Most golf rain jackets do not have hood on the back. This is because the rain tends to slip into the inside of the hood when you bend over when playing. The hood also reduces the visibility and restricts your neck movement, meaning your game will suffer.
Is your golf club bag ready to travel? If not, find out what to look for when buying Golf Club Travel Bags.
Good rain hat is therefore preferred choice by most golfers. Rain hat has a brim that covers your head and keeps water out of your face without restricting your movements.
Rain can shrink gloves so special golf rain gloves are good idea if you play frequently on wet days. Polyester and rubber gloves are durable and flexible and offer advantage on mainly leather gloves in wet conditions.
Ps. never been on a golf holiday? Find out why Golf Vacation might be something for you.