International Air Travel Tips
How To Be More Comfortable When Flying
International air travel, especially busy long haul flights, can be tiring experience. There are number of air travel products available that can make your flight more comfortable, we have chosen our selection of top 10 in-flight comfort products. Most of them are highly suitable for other travels as well, for example on car or train journeys.
You can buy most of these products at Magellan's, but they offer excellent range of in-flight comfort products, with excellent refund policy.
Travel Pillow
Is A Must For In-flight Comfort
Support travel pillow is kind of must during long haul international air travel, as sleeping without one is likely to result in extremely sore neck and shoulders.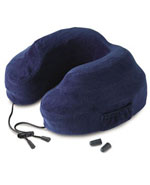 Travel Pillow
There are many travel pillows available so everyone should be able to find the right pillow to suit their needs.
Amazon travel Pillows have a lot going for it, as their customer reviews clearly confirm. Many are made from lightweight memory foam and have contoured ridge that supports your neck and keeps your cervical column in perfect alignment. Front drawstring further ensures a perfect fit.
There is even side pocket that holds your MP3 player and pair of memory foam earplugs to reduce the external noise.
Luxe Airplane Blanket
Makes International Air Travel Warmer Experience
Most airlines offer their passengers blankets on long haul flights. However, on shorter flights blankets tend to be in very limited supply and run out quickly. There is usually more supply of blankets on long haul flights.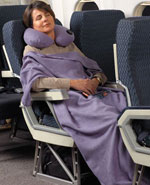 Luxe Travel Blanket
However, many airlines blankets are made of uncomfortable material and are often too short to cover properly all parts of your body. You should also be concerned about their cleanliness.
The latest is that some airlines have started charging their passengers for use of blankets, so if you travel on regular basis it makes perfect sense to own your own compact travel blanket.
Amazon offers wide range of Travel Blankets
that are very compact and light, while still warm and comfortable. It is machine washable and it folds into its own pocket for easy packing. It has pockets at the bottom to keep your feet warm and within the blanket.
Lights Out Sleep Mask
For The Ultimate In-flight Rest
When choosing sleep mask, you should look for one that does not press against your eyes. The reason for that is that during REM sleep your eyes move around a lot. REM sleep is the most crucial part of the sleep cycle; this is when you relax the most. It is also important to make sure your mask is lightweight.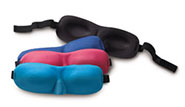 Lights Out Sleep Masks
Amazon offers wide range of Sleeping Masks
.
Some are designed specifically to allow rapid eye movement (REM) but REM sleep is the most crucial part of the sleep cycle.
It is important that the mask does not press against your eyes. That way you are more likely to reach the REM sleeping stage, which means deeper and more restful sleep for you.
Inflatable Foot Rest
For Economic International Air Travelers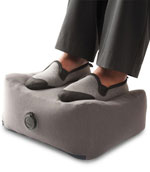 Inflatable Foot Rest
We all know how comfortable it feels to be able to put your feet up and foot rests allow you to do so.
Foot Rests
take the strain off your back during long haul flights and is especially great product for petite travelers as dangling legs can easily make any journey quite uncomfortable.
Many are inflatable which makes it very compact, as well as making the product easily adjustable for individual needs.
1st Class Sleeper
For The Ultimate International Air Travel Experience
When travelling in economy class, especially on long haul flights, it is difficult not to feel somewhat envious of the business and first class travelers.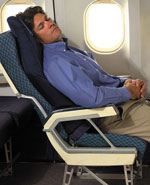 1st Class Sleeper
Sleeper
are designed to help economic passengers to sleep better during the flight, so they can also arrive rested at their travel destination.
Some sleepers are inflatable (takes approximately 10 deep breaths of air to fully inflate it) and roles up for easy storage in your hand luggage. It helps keeping your neck, shoulders and spine in perfect alignment and hence helps reducing stiffness and back pain.
You can also use your sleeper on car journeys, not for the driver though!
Lumbar Cushion
For Back Support When Flying
Our international air travel tips recommend lumbar cushion for extra back support when travelling, especially for those that are prone to lower back pain.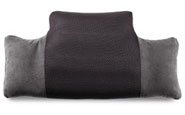 Lumbar Cushion
Lumbar Cushion
ensure proper spinal positioning and give your back the much needed support. Magellan's lumbar cushions are made from cool and breathable material on one side and comfortable suede microfiber on the other side.
Being able to choose between colder and warmer side helps you to adapt to fluctuations in the cabin temperatures.
Many lumbar cushions are inflatable, which makes them ideal for travelling. They are easy to inflate and deflate and it is easy to adjust the firmness to just as you like it.
GSeat Travel Seat
Makes International Air Travel More Comfortable
Air travel vacation unavoidably means that you have to sit still in your airline seat for long periods. Not being able to move much is tiring experience at the best, for those prone to back aches it can however be excruciating experience.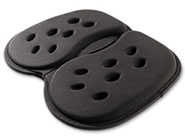 GSeat Seat Support
GSeat® Light is designed to make your hours of sitting more comfortable, not only during your air travel vacation. You can also use your GSeat on car journeys or when at your desk at work.
GSeat is made from lightweight memory foam so it evenly spreads the body weight. It has a gentle forward slope that helps improving your posture and a center-relieved groove that reduces direct pressure on your spine.
GSeat
is compact and the foldable design makes it easy to bring along on any journey.
Leg Massager Can Reduce Risk Of DVT
Sitting still for long periods, like on long haul flights, increases slightly the risk of getting Deep Vein Thrombosis (DVT), i.e. clots forming in the veins of the legs due to inactivity.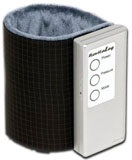 Revita-Leg Massager
You can reduce the risk by drinking plenty of water during your flight and move about the plane on regular basis.
People in high-risk categories (like those that have had DVT in the past or are flying during pregnancy) might however want to take additional precautions and leg massager might be the perfect solution for them.
Leg Massager
enhances the circulation in your legs by applying light pressure and massage to your legs (three pressure settings and three massage modes)... all without you having to leave your seat. It not only reduces the risk of getting DVT, it also reduces the discomfort caused by leg cramps and restless leg syndrome.
Motion Sickness
Bioband Is Not Only Great For International Air Travel
Motion sickness can occur when the brain receives visual and sensory clues that contradict each other, e.g. when inside a ship cabin you don't see the horizon, the room seems to be still but there is a rocking motion. Same thing can happen when flying.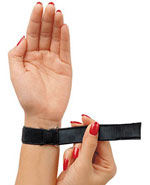 Bioband
There are several remedies available to reduce the impact of motion sickness. International air travel tips like are acupressure wristbands like Bioband, no drug - no side effects.
Pressure and stimulation of the wrist seem to be extremely effective in relieving symptoms of motion sickness. This is therefore great and safe option for all travelers that suffer from motion sickness, whether it is air turbulence, rough seas or winding roads that cause it... or all of those.
Bioband is easily adjustable which allows for maximum effectiveness and comfort. It is drug and chemical free option (so no drugs side effects), making it safe to use for all travelers, including children and women flying during pregnancy.
You only need one Bioband
and you can use it repeatedly, and in all circumstance that you might experience motion sickness. For example, you could use it on your drive to the airport, on the plane and on the cruise at the end of your plane journey.
Is No-Jet-Lag Really Achievable?
There are many advice regarding how to beat jet lag, including taking care of what you eat and drink, change your watch as soon as you get on the plane to help you mentally reset your body clock, etc. There are also numbers of drugs available that can help you fight the jet lag.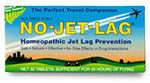 No Jet Lag
Jet Lag Prevention
International air travels tips like No-Jet-Lag as it is homeopathic product, and as such, free from any drugs side effects, does not react with other medication and is safe for all ages. It also addresses all the symptoms of jet lag, not just sleeplessness.
In a flight attendants survey performed by the producers of No-Jet-Lag
, 87% found the product effective in countering tiredness after arrival. 32% deemed No-Jet-Lag very good in countering jet leg symptoms, 43% said good, 23% fair, and only 2% said it made no real difference for them.
Top International Air Travel Tips
It may seem extravagant to invest in special air travel products for your trip. However, if you travel by air on regular basis, and especially if you are a frequent flyer, these products can make a big difference for your well-being.
Arriving more rested and fresher at your destination is worth a lot to most of us, maybe not least if we are travelling on business. Even if you are "only" going on a holiday, the more rested you feel means you will start enjoying your precious holiday sooner.
Ps. what you Wear When Flying can also help you to be more comfortable when flying.