What To Wear When Flying?
Airline Travel Tips
What you wear when flying is not only about how you look, it is as much about how comfortable and safe you will be during your flight. These airline travel tips will help you to decide what to wear on your flight.
Travel comfort and safety should be the key consideration when deciding what to wear when flying. The look should be secondary. Luckily, finding stylish comfortable and safe travel clothes is not that difficult these days.
Best Travel Clothes For Travel Comfort
Airline Travel Tips
How to dress for flying may seem like an easy decision. The best travel clothes for air travel are of course both comfortable and practical.
However, there are number of factors to take into consideration. For some reason, airplanes and airport terminals seem to be either too cold or too hot, the dry air can hurt your throat and swollen feet can make you uncomfortable. Choosing the right clothes can genuinely affect your comfort, as well as safety.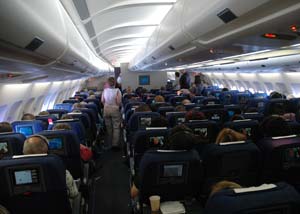 Add to your comfort when flying by
wearing right clothes for air travel
The most comfortable and practical way of dressing is to wear layers as it allows you to adjust quickly to any change in temperature.
You can just put clothes on if you get too cold and take them off if you get too hot. This is valuable as the temperature in airplanes can vary noticeably during a flight.
Some people like to dress up when flying, especially those travelling first class and sometimes those that don't travel often (at least my mother and her friends do). Dressing up is fine as long as you feel comfortable and keep safety in mind.
You should always dress with security in mind - that is with airport security. It will save you both valuable time and potential hassle.
Avoid anything that can get you stopped at the airport screening metal detectors, like loose change, jewelry, metal belt buckles, etc. Leave all you can in your carry-on luggage until you have arrived at your destination or at least cleared the airport security.
Airline travel tips recommend wearing socks as you might have to take your shoes off when going through the airport screening checkpoint. For the same reason you will want to wear clean and whole socks.
The best footwear when dressing for comfort and safety is low heel shoes, or slip on shoes. They are also the most practical choice if you have to take your shoes off when going through the airport security.
Shoes that have the capability to expand make good sense, as feet tend to swell during flights. Sneakers, moccasins, and sandals are all comfortable and practical footwear for flying.
If you like to take your shoes off during your flight like we do, then tight shoes can be difficult to get back on at the end of the flight. You might also want to have with you a pair of thick socks to put on while in the air, as the aircraft floor can get quite cold during the flight.
You should seriously consider wearing special flight socks on any long haul flight. Flight socks
help to stimulate the blood circulation and can therefore reduce the risk of DVT (deep vein thrombosis). They also help to alleviate swollen feet. We use our flight socks on all flights and sometimes even on long car journeys.
Top Airline Travel Tips
The ultimate piece of travel clothes... must be the pashmina shawl. While flying you can wear it around your shoulders for extra warmth, use it as blanket or fold it and use it as pillow. When on your holiday you can use it as blanket to sit or lie on... that is when not using it as piece of clothing or an accessory.
The Best Travel Clothes For Travel Safety
Airline Travel Tips
It is important to be comfortable when flying, but your safety during the flight is even more important. Flying is relatively safe way of travelling but these airline travel tips still recommend dressing with the worst-case scenario in mind.
The best travel clothes are made of fire resistant material. Clothes made of natural fibers offer the best protection in the unlikely event of fire, or an airplane evacuation. While clothes made of synthetics melt when heated.
You should therefore dress in clothes made of cotton, wool, denim, or leather and avoid clothes made of nylon, polyester, or rayon.
This also means that women should never wear nylon socks or panty hoses when flying. If you need or like to wear formal attire when travelling, for example if you are flying on business, consider wearing socks and low heels during the flight and change into high heels and nylons in the rest room at the destination airport.
Did You Know?
Most female airline flight attendants have two set of shoes when working, normal high heels while walking through the airport, and then change into flat shoes once on the airplane.
Airline travel tips recommend wearing long pants and long sleeves during the flight. It not only makes you warmer and more comfortable, it is also safer choice in the unlikely event of an emergency.
Wearing closed low heel shoes is the safest footwear when flying. As you might remember from the crew safety demonstration, high heel shoes have to be removed if you have to leave the airplane through an escape slide.
This would not only slow you down, being barefoot could also increase your risk of injuries, for example from debris or broken glass. The same applies for sandals, they could put you at risk if they are open or if they can easily fall off your feet.