Packing Cubes Are
Essential To Organize Your Luggage
Packing cubes and packing organizing systems have become popular travel accessories in recent years. Many travelers swear by them and cannot imagine packing for a trip without them.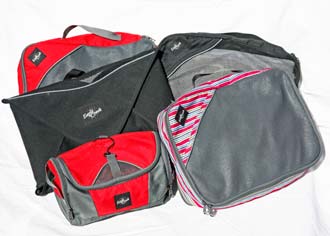 Our Packing Organizers And Cubes
Others do not understand the fuss and argue that travelers have managed to travel the world without them until now.
Packing bags and cubes are strictly speaking not essential when packing for a trip, but those of us who have used them are likely to agree that they make packing much easier in most cases.
They ensure better use of the available space in your bags and help you stay organized during your travels. They are especially useful when you are moving around, i.e. packing and unpacking number of times during your journey.
See our Eagle Creek Packing Review which is based on our personal experience of using packing organizers. See how they can help you organize your luggage packing.
Why Buy Packing Cubes?
There are number of ways you can use cubes to help you stay organized during your travels.
It is popular to use them to keep all the small items in order, such as underwear, socks and toiletries. Not forgetting all the cables and gadgets, we tend to travel with now a day. This way you will know where all your small stuff is at all times. You can easily get the relevant packing cube out of your bag without messing up your packed belongings too much.
You can also use them to avoid unpacking if you are moving around. Let us imagine that you are staying in one place for few days only and then moving on. You could pack what you need for that destination in a packing cube. You would therefore only need to retrieve it instead of unpacking your whole bag.
Those of us that like moving from one place to another can immediately see the benefits of this packing technique.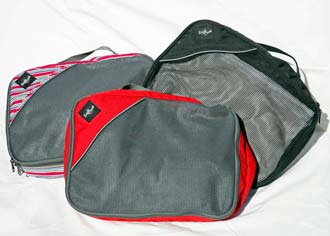 Ideal For Organizing Your Luggage
Packing cubes come in different sizes and colors and you can use this to help your organization. You can use different sizes for different items, and each family member could have their own color.
This way you could easily retrieve the cube with spare of clothes if your toddler had an accident on your car journey. They are also great to separate wet and dirty clothing from the clean ones.
Cubes also ensure better use of the available space in your bags. They compress the content, allowing you to fit more into your bag. Because of their shape, there are also less awkward empty gaps (that can be difficult to fill).
Cubes are also great if security wants to search your bag, i.e. no dirty laundry spilling out when your bag opens, everything nicely stored away in see trough packing bags.
Cubes are also excellent core object if you use the bundle wrapping method for packing your clothes. Whatever suitcase packing techniques you prefer there are packing cubes that fit your needs.
Different Types Of Packing Cubes
Packing cubes come in different shapes and sizes. Your choice of cubes will depend on your travel needs and how you want to organize your belongings. Whatever suitcase packing techniques you prefer there are packing organization products available that fit your packing needs.
Packing Cubes
The typical packing cube come in many sizes, i.e. quarter cube, half cube, single cube, double cube and even complete organizer. Then there are one or two sided cubes, and other varieties of cubes.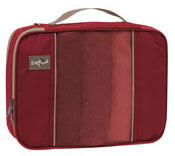 Eagle Creek Packing Cube
The best cubes have a mesh top for visibility and breathability, i.e. to help keeping moisture in or out.
The double-sided cubes are great choice for clean or dirty clothes (or damp or dry) as one side has breathable mesh top and the other spill proof mesh top.
Packing cubes are great for t-shirts and smaller clothing items, while packing folders are better suited for shirts and trousers.
We own three cubes and we use them on all our travels, as well as when at home (they fit nicely in our drawers).
Packing Folders
Packing folders helps keeping shirts, trousers, sweaters and jackets flat and as free of wrinkles as possible. Guess it is somewhat obvious why they are so popular with business travelers.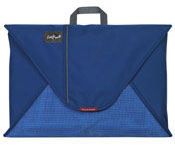 Eagle Creek Packing Folder
You can get them in different sizes, storing from 7 to 15 items, and they fit nicely into almost any carry-on luggage.
Packing folders allow you take more clothes in less space, minimize wrinkles and they come with helpful folding instruction board. We own one and we use it when appropriate, i.e. on business trips and when travelling with clothes that are more prone to wrinkle.
The Garment Sleeve is a full-length packing solution for larger garments, it holds up to 2 dresses and suits.
Packing Sacs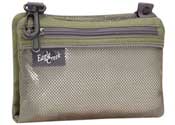 Eagle Creek Packing Sac
Packing sacs are great for organizing all the small stuff.
From lipstick to aspirin to sunscreen, the spill proof mesh keeps your toothbrush from getting soaked in you sun lotion.
A shoe sac is for example great to protect your clothes from your dirty soles.
Toiletry Kits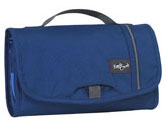 Eagle Creek Toiletry Bag
There is also available wide range of quality packing products for toiletry kits. Compact approach to toiletry organization is the key in all the designs.
There are compartments and zipped pockets, easy hanging, convenient carry handle, and the exterior and interior material is from wipe able and water resistant material.
Everyone should be able to find the right toiletry bag for his or her needs. We have used our Slim Kit on many journeys and can highly recommend it.
Compression Bags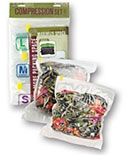 Compression bags are sometimes called the packing secret weapon. You can get up to 80% more space by using them, as they shrink your bulky items down to a fraction of their size.
They are extremely light and great to separate dirty and wet clothes from the clean. They are understandably very popular when packing a backpack.
Where to buy online?
We recommend Amazon and their extensive range of travel accessories and packing solutions.
You can buy your Packing Cubes
and Compression Bags
from their website. They offer competitive prices on all their packing aid products.
Eagle Creek Packing System
The Eagle Creek luggage packing system is one of the best-known packing organization systems. They offer wide and excellent range of quality packing solution products.
The Eagle Creek cubes, luggage folders, and sacs help you to organize your bag, whether you are packing a backpack or suitcase.
The folders and cubes help you keep your bag organized and your clothes as wrinkle free as possible, while the compression sacs are great for storing laundry.
Eagle Creek luggage also offers special gear boxes and sacs that are great if you are travelling with soft sided bags, like duffels. These items have harder shells that provide more support to the content within the bag.
Eagle Creek does not sell their packing solutions directly on-line but Amazon is among their recommended online sellers.
Packing Travel Tips
The Eagle Creek packing solutions products are lightweight. They do though add to your total weight, not least as you can squeeze more into your bag by using packing cubes, and especially if you are using compression bags. We recommend always weighing your bags to be on the safe side.
Your cubes, and not least your compression bags, can also be put into good use between your trips... you might even think you have found extra space in your closets or garage.
Ps. Eagle Creek offers more than packing cubes and packing solutions, the Eagle Creek Luggage range is also impressive. All Eagle Creek products are designed to last you a lifetime and to make your life easier when travelling.