Vacation Packing List
Takes The Stress Out Of Packing
Using vacation packing list reduces the risk of forgetting any "must have" items. It also reminds us of items that might be good to bring along on our travels. Packing checklists save us valuable time and take the stress out of packing for your vacation.
Packing checklists are however for guidance only and should never override the good old common sense. If something is not on your trip packing list, you should still take it if you need it - or if you just want to bring it along.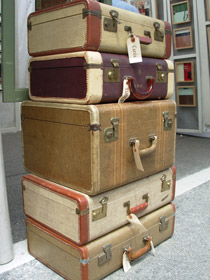 Forgot to pack anything?
You must though have the airline luggage restrictions in mind when packing. You should always check your luggage allowance well in advance and avoid exceeding it.
There are many things to consider when packing for a trip, including how many items of clothes to pack, i.e. for how many days should your outfits last.
You are unlikely wanting to do any washing on shorter journeys but on longer journeys, washing will be unavoidable. How many outfits you can pack depends on your airline luggage restrictions and your destination (bikinis and shorts take much less space than woolen pullovers and windproof jackets).
Most people should be able to pack enough clothes for 10-14 days without having to do any washing... or exceeding their airline luggage restrictions. Some people however pack lighter than others do. Those tend to pack specialized Travel Clothes, as they are light, "wrinkle free" and dry quickly, i.e. easy to wash them often.
Your Free Vacation Packing List
We at Top Travel Tips have put together a very handy vacation packing list for your guidance. At the end of this article you will find a download button to download a PDF version of our free vacation packing list.
Travel Documents And Travel Money
Keep your travel documents well organized and in as safe place as possible while travelling. Travel organizers are great way of storing your travel documents while on the road. That is all documents except copies of your travel documents, which you should keep separately at all times. You are most likely to need the following items for your journey:
Travel tickets, travel itinerary and booking confirmations
Passport and visa (if applicable)
Medical card
Updated international vaccination card (if applicable)
Driving license (if doing any driving)
Maps, directions
Travel money and payment cards (debit / credit / prepaid currency cards)
Money belt or wallet
Photocopy of all travel documents
Copy of doctor's prescriptions (if applicable)
Medical history / list of all medicines you are taking (if applicable)
Frequent flyer card (if applicable)
International student card (if applicable)
Other discount cards
Emergency contact information (at your destination)
Vacation Saving Tip
If you travel abroad on vacation, it makes sense to use Prepaid Currency Cards. They can give you 5-8% better conversion rates, hence saving you money on your foreign travels.
Clothes And Accessories
Which clothes and accessories to bring depend mainly on your travel destination and your itinerary. Certain trips require mainly light casual clothes, while other requires formal apparel. Some trips require heavy bulky warm clothes, while other requires shorts, swimwear, and sandals. With our vacation packing list we recommend you consider the following type of clothes and accessories for your trip:
Combination of casual day wear, e.g. jeans, shorts, skirt, t-shirts, shirt, cardigan, etc.
Sportswear and leisure wear as appropriate, e.g. swimwear, gym wear, etc.
Smart casual or formal evening wear
Appropriate outerwear
Something to sleep in
Underwear and socks
Pantyhose / tights
Good Shoes for all occasion, e.g. casual, formal, walking, sport, etc.
Hats or caps
Gloves or mittens
Raincoat or poncho
Umbrella
Quick dry Travel Towel or beach towel (if applicable)
Sunglasses
Other accessories as appropriate, i.e. belt, ties, watch, jewelry, ties, belt, etc.
Electronics And Gadgets
When packing travel gadgets and travel gear you need to consider carefully what to bring and what to leave behind. It is not only space and weight you need to consider here, many travel gear and gadgets are expensive and you do not want to risk losing them.
Always make sure your insurance covers adequately those gadgets you decide to take on your trip, and that you pack your gadgets thoroughly to prevent any damage to them while travelling.
Mobile phone and charger
Digital camera with extra memory card and spare batteries
Camcorder with extra memory card and spare batteries
Battery charger for your camera and / or camcorder
Tripod for your camera / camcorder
Plug adaptor and converter (if different electrical standard)
Extension cord
Alarm clock (you could also use your cell phone)
iPod or CD player with headphones to listen to music
Laptop or iPad, and charger
Portable speakers, e.g. Bluetooth mini speakers, to listen to music
Toiletries And Health
It is very personal which toiletries and health related products people take with them on their travels. Our vacation packing list reminds you of the main items you might consider taking with you.
It always makes sense to minimize toiletries as much as you can. It makes little sense to spend valuable luggage allowance on unused toiletries so just pack little bit more than you think you will need during your trip.
You should consider buying some toiletries at your travel destination, especially if you are flying with cabin luggage only, i.e. so you do not have to worry about the strict liquid rules at airports.
Alternatively, why not buy toiletries containers and fill them with your own toiletries. Just make sure you buy containers that are meet Transportation Security Administration (TSA) guidelines for carry-on items.
Your preferred toiletries, i.e. shampoo, conditioner, soap, moisturizer, deodorant, hair styling products, toothbrush, toothpaste, dental floss, make-up, perfume, lip balm, cotton buds, etc.
Comb or brush
Shaving equipments
Small mirror
Hair dryer
Nail file, clippers, tweezers
Cotton swabs
Toilet paper
Feminine hygiene products
Antibacterial hand wipes
Insect repellent (if applicable)
Malaria tablets (if travelling in malaria infested area)
Prescription and OTC medicines (if applicable)
Contraceptives (if applicable)
Glasses / contact lenses (if applicable)
Other Necessities
Other necessities you might want to take with you depend mainly on your trip and your trip agenda... and your airline luggage restrictions. Some things are always good idea to bring along, like guidebooks, notebook and pen, water bottle, etc. Other items on this part of the vacation packing list are optional or nice to have:
Guidebooks, maps, phrasebooks
Books / magazines to read in your leisure time
Notebook / journal and pen
Address / contact book (to send postcards or e-mails to friends and family)
Luggage tags
Earplugs, sleeping mask, flight socks
Inflatable travel pillow
Chewing gum or mint (if flying)
Snack
Water bottle to refill
Swiss army knife
Eating utensils
Plastic Ziploc bags
Sewing kit and scissors
Spare batteries
Duct tape
Universal sink plug
Travel iron
Mosquito net
Binocular
Small flashlight and / or night light
Small hospitality gifts (for helpful strangers and new acquaintances)
CV and references (if planning to do some work while travelling)
Top Travel Tips vacation packing list is for guidance only - you should add and delete items as applicable when packing for a trip. Make sure you download and print a copy of our free vacation packing list. Note: You will need Adobe Reader to view the packing list.
Ps. Packing Cubes ensure better use of the available space in your bags and will allow you to fit more into them.