Travel Packing Tips
What To Pack
Few basic travel packing tips can make all the difference when you are deciding what to pack for your trip.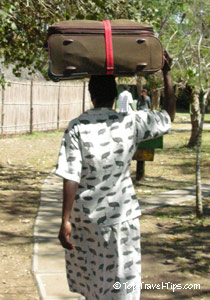 Packing Light
Can Save You Money
We all know about the importance of travelling light. Airlines are getting stricter about luggage allowances all the time. They are not only charging higher fees for overweight luggage, increased number of airlines are starting to charge separately for all check-in luggage.
Travelling light also makes travelling easier in many respect, e.g. it is easier to take public transport if you only have carry-on luggage. Travelling light can therefore save you some hard earned cash.
Travelling light (like carry-on luggage only) is though not always an option. Nor is it necessarily what you want. You might want to take a little bit more with you than absolutely necessary.
Maybe you can do without the second formal wear but you want to take both. Or you might want to bring few items of luxury with you - you sure could live without them but you choose not to.
The best travel packing tips is always to start with those items you know you will need, packing checklist is helpful in that respect. If you have still free space in your bag after packing what you need, then you can use that for what your optional extras. Just make sure you do not exceed the luggage weight allowance.
Travel Packing Tips
Packing Cubes ensure better use of the available space in your bags, allowing you to fit more in. They can also help you to stay organized during your trip.
Clothes - What To Pack
Travel Packing Tips
With clothes, the travel packing tips must take the climate at your destination into consideration, your trip agenda and the length of your journey. It goes without saying that you pack very differently if you are going to Ethiopia or Iceland. Or if you are going on a skiing trip or taking a beach vacation. While the length of your journey has a lot to say about how much clothes you need to pack.
Travel Packing Tips
Did You Know?
Average pair of jeans weigh about 750 gr. while lightweight travel trousers can weigh as little as 285 gr. Makes a difference when travelling light
On shorter journeys you might want to pack enough to last you throughout your trip without having to do any laundry. You should be able to fit into one suitcase enough clothes to last you for 2 - 3 weeks.
For longer journeys you will have to fit in some laundry on the way, luckily that's not that difficult in most cases.
Good travel packing tips is to pack clothes in few colors that mix well together. This means you can get more different outfits from fewer items of clothes.
Wearing layers is the best way to deal with variations in temperature. Layers give you more flexibility, just add or remove items as needed. There are many excellent lightweight technical layers clothes available that are lighter and take less space in a suitcase then heavy coats or pullovers.
All travelers know and dislike wrinkled clothes. How You Pack your clothes can minimize wrinkling but also important is the fabric in your clothes. To test the fabric take it in your hand and squeeze really hard and see how quickly the fabric "bounces" back. Some fabric will stay wrinkled while other will slowly bounce back - it's the latter one that you want to travel with. Most specialized travel clothes these days are made in wrinkle resistant material.
You also want to pack clothes that dry quickly. This is especially important if you need to wash your clothes and must count on everything being dry the following morning. Modern travel clothes tend to be lightweight, wrinkle resistant and dry quickly.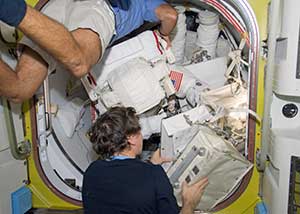 Need Help With Your Packing?
Reversible clothing is also a great way to double your clothing choices without increasing too much your luggage weight. This is especially true on longer journeys when you might get bored with your limited choice of different outfits.
On shorter trips you are likely to want to bring enough underwear and socks to last you throughout your journey. But they can add up as well as take up valuable space but there are some practical packing advices that can help you deal with that. On longer journeys you will have to do some washing so bring quality underwear and socks as these are the items that are likely to be washed most often.
Top Travel Packing Tips
Good packing advice is always to pack a separate laundry bag or plastic bag - so you can keep dirty items separately from the clean ones.
Toiletries - What To Pack
Travel Packing Tips
Toiletries can be surprisingly heavy when added together, so it is good practice to minimize toiletries as much as possible. Depending on the length of your journey and number of travelers... only take the amount of toiletries you need to last you through your trip.
Travel Packing Tips
Did You Know?
Typical toiletries, i.e. shampoo, conditioner, perfume bottle, deodorant, toothpaste, etc. can easily weigh up to 2.5 kilos or 84.5oz.
You don't want to be bringing back unused toiletries. Instead of packing a whole new shampoo container put the amount you need (and little bit more) into a smaller container. Take half a tube of toothpaste and roll it up tight, etc.
You might also want to consider not bringing some toiletries at all, i.e. those that you think you can live without. Like bringing your hair conditioner but leaving your deep hair conditioner behind. Or bringing a toothbrush and leaving your electronic toothbrush at home.
Another option is to buy what you need at your destination but that of course depends heavily on where you are going. Some destinations do not have the same product availability that you are used to, while other might have... and even cheaper too.
Top Travel Packing Tips
Good practical travel packing tips is to place all toiletries in plastic bags to prevent leakage. Leaked perfume bottle or shampoo container could easily ruin your favourite garment - don't risk it.
Gadgets - What To Pack
Travel Packing Tips
Travel gadgets and travel gear are taking more space now than it used to do so you should consider carefully what to pack and what to leave at home.
First we have all the electronics that have quickly become part of everyday necessities for us. Gadgets like mobile phones, laptops, IPad, GPS equipment, DVD player, e-book readers, digital cameras, etc. These gadgets come with all kind of cables and different charges that all adds to the luggage... making travelling light even more of a challenge.
Electronic gadgets are also vulnerable and can easily be damaged so you must be careful how you pack them.
So ask yourself what you really need for your trip and which gadgets will make your travel more enjoyably. Also ask yourself if you are willing to risk losing a particular gadget and if not... make sure your insurance covers you adequately.
There is also other travel gear to consider, some of it can be crucial depending on the purpose of your journey. Going on a hiking holiday means you need to bring your hiking shoes and walking sticks with you. Going on a golfing holiday means you are likely to bring your golf set with you, etc.
This means you will have to be travelling lighter on other fronts, i.e. be extra vigilant when packing your clothes and electronic gadgets. To deal with this you might want to consider renting the necessary equipments at your destination, this is for example common practice on skiing holidays.
For what to pack see this article about Vacation Packing List.
Top Travel Packing Tips
Most travel packing tips recommend packing a printout of your contact list - so you can keep in touch with your loved ones while travelling. Most of us love to receive postcards from faraway places or an e-mail confirming that our travelling family members or friends are safe and enjoying their travels.