Tan Through Swimwear
For The Perfect Tan
Tan through swimwear and clothes are great option for those that want to maximize their tan without wearing minimal coverage swimwear in public or heading for the nearest nudist beach.
How Does Tan Through Swimwear Work?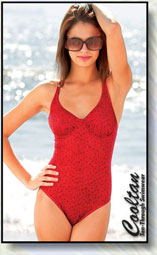 There is nothing mysterious about the way tan thru swimwear works... it is all about the fabric. The fabric used in tan thru swimwear is made with special knitting technology that makes millions of tiny pores in the fabric.
The pores allow at least half of the sun light to get through the fabric. This means you get suntan just as you do when you are wearing low / medium level sunscreen, i.e. the tan through swimwear acts as sunscreen of factor SPF 2 to 20, depending on the swimwear manufacturers (approximately SPF 6 to 10 common).
Can You See Through
Tan Through Swimwear?
No, you should not. Good quality tan through swimsuit is not see through swimwear, neither when wet or dry. Some even have small front panel lining in the swimsuits for increased modesty.
The fabric used in tan through swimwear is getting better all the time. The tiny pores allow the sun through but if they are too dense then the fabric will not let enough sun through. If they are too sparse however, you might end up with see through swimwear. You want just the right fabric in your tan through swimsuit.
Patterns also help to disguise what is underneath. This is why you often see tan through swimsuits in strong overall patterns. However, the fabric is getting better all the time and most quality solar tan thru swimwear manufacturers now also offer tan through products in solid or near solid colors.
Top Tan Through Swimwear Travel Tips
Bear in mind that your existing tan base could turn your tan through into kind of see through swimwear. That is, if you have deep tan everywhere except under your tan through swimsuit then the contrast can give some kind of a see through impression, i.e. until your hidden parts catch up with the rest of your body.
How To Get The Best Results
With Your Tan Through Swimwear
The fabric is thicker at the seams so you need to move the swimwear around a little when sunbathing, just as you would move the strings on regular swimwear around to avoid lines. Otherwise, you might end up like wearing invisible swimsuit (as all you would see would be the outlines of your tan thru swimwear).
For the best tanning result make sure your swimsuit fits you right. If the swimsuit is too big, then the pores might not have enough stretch, i.e. making them too dense for good tan.
Do not expect to get perfect equal tan immediately. Parts of your body have been exposed to the sun for years while others have been mostly covered. Give the latter body parts some time to catch up with rest of your body. You can though escalate the process by using higher sunscreen on your widely exposed parts (like arms and legs) while the remaining part under your tan through swimsuit are catching up.
When you have achieved similar tan all over your body, then use same SPF factor on all your body, i.e. remember to reduce the sunscreen used under you swimsuit to get the same overall protection. SPF factor of 15 (minimum) to 30 (better) is recommended for extended stay in the sun. If you are only staying in the sun for short while, use same SPF factor as in your swimwear fabric, i.e. likely to be in the range of SPF 6 to 10.
Top Tan Through Swimwear Travel Tips
Word of warning... you can get sunburn through your solar tan thru swimwear - just as you can sunburn when using sunscreen.
Always take Sun Safety seriously and learn how to tan safely. Either build up your sun exposure gradually or use higher factor sunscreen under your tan through swimsuit. Skin that has not received repeated exposure to the sun is more vulnerable to sunburn than skin that has been exposed to the elements over the years.
Being badly sunburned cannot only ruin your vacation - it can ruin your life.
Cooltan Tan Through Swimwear And Clothes
There are number of good quality tan thru swimwear manufacturers, one of them is Cooltan. There are number of reasons why we like the Cooltan products.
First, they offer wide range of fashionable tan through swimwear for both sexes. There are number of great colorful patterned designs, but they also offer number of styles in solid or nearly solid colors... for those of us that prefer the good old black, or maybe some red if feeling extremely bold.
The Women Swimwear
range offers good selection of one piece swimwear, as well as bikinis and swimwear coverups. The Men Swimwear
range offers number of styles, including two types of racer suits (or bikini and briefs), as well as trunks, board shorts and surf shorts.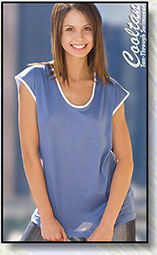 The Cooltan tan through swimwear is made from unique quality fabric (patent pending). The fabric has exceptionally high resistance to pool chemicals and ocean salt.
The pores in the fabric prevent water from building up inside the swimsuit, making it more comfortable (and great for competitive swimmers). It also dries quickly, making Cooltan ideal choice for travelling.
The porous nature of the fabric also helps keeping you cool by letting perspiration evaporate quickly... making Cooltan swimwear extremely comfortable to wear, not least on hot sunny days.
Although the fabric is lightweight, it is not see through when wet, nor when dry. There is also small front panel in the swimsuits for increased modesty.
Cooltan not only offers solar tan thru swimwear, they also offer tan through clothes, like shirts and swimwear coverups. Cooltan Tan-Through Shirts
are classic in design. The tan through fabric makes them cool and comfortable to wear, i.e. wicks moisture through the fabric so you stay cooler and drier, even on hot summer days.
Lastly, we like Cooltan guaranteed satisfaction, i.e. if you do not like what you bought or if it does not fit perfectly - just send it back for an exchange or refund.
Top Tan Through Swimwear Travel Tips
Cooltan swimwear is stabilized to work like an SPF 6 to 8 sunscreen and does not need to be stretched in order to work. It is important that you check their size chart prior to ordering your Coolan swimwear as their women swimsuit are small compared to some other swimwear manufacturers.
Your tan through swimwear should fit you comfortable, not be tight, to find the right fit for you use the Cooltan Size Chart
Amazon also offers good range of tan through swimwear and clothes for both sexes. They offer free shipping on orders over certain amount and their return and refund policy is as good as it gets. You can't go wrong shopping on Amazon.
Ps. our advice for how to choose the Right Ladies Swimwear and Men's Swimwear is valid, whether you are looking for tan through swimwear or not.