How To Choose The Right
Ladies Swimwear For Your Next Beach Vacation
It does not matter which body shape you are, most of us find choosing the right ladies swimwear challenging. Following few general guidelines and knowing which swimwear features suit best your body shape will make the search easier... actually a lot easier.
Flattering Ladies Swimwear For All Body Shapes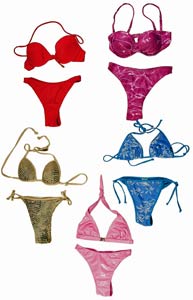 Some swimwear features will complement your body shape while others will not suit you at all. Knowing which features are right for your body shape, and which to avoid, will make all the difference when choosing the best swimsuit for you.
When choosing swimsuit, women tend to concentrate too much on hiding their "problem areas", instead of looking for features that enhance their "good parts" and complement their body shape.
You should always focus on both when looking for the best swimming apparel for your body shape. That is, look for features that draw the attention away from your problem areas and to the parts of your body that you want to emphasize.
The best swimsuit makes the most of the woman's figure. Choosing the right swimwear is all about careful mixing of colors, prints and the right lines and silhouette.
Pear Shape Figure
Consider ladies swimwear that draws the attention to your bust and upper body. The easiest way to do this is by choosing bright colored or patterned top with the bottom in darker solid color. This could be one piece swimwear, tankini swimwear (two-piece swimsuit consisting of bikini briefs and a tank top), or even bikini.
Halter neck swimwear will accentuate your bust and upper body and high cut legs will slim your legs and hips.
Fuller Figure - Women's Plus Size Swimwear
As women's plus size swimwear, the best choice is one-piece swimming costume in dark color as it has an overall minimizing effect. It does not have to be black though. Deep reds and blues give the same result.
Flattering women's plus size swimwear with a defined waist and high percentage of Lycra or spandex will accentuate your curves and high cut leg will slim your legs and hips.
Boyish Figure
There are many ways for boyish figure to appear curvier. Try padded tops and push-up cups to enhance the cleavage and wear boy short and low leg briefs to add curves to the hips.
One piece swimwear, or tankini swimwear, in darker color up to the middle ribs and lighter color over the chest will also enhance the waist and make boyish figure appear curvier.
Big Bust - Large Cup Size Swimwear
Women with big breasts need large cup size swimwear that gives the right support, i.e. to diminish sagging. Large cup size swimwear with built-in underwire gives the maximum support.
Straight across cut at the top of your swimming costume with wide set straps will help to minimize your bust. While wider cut bottoms will help to balance the overall look.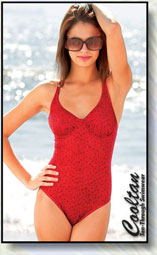 Tan Through Swimwear is the ideal solution for those who want to maximize their tan.
There is nothing mysterious about the way tan thru swimwear works... it is all about the fabric. Find out how it works
Dark and monochromatic colors also help to draw the attention away from large bust. For those that like tankini swimwear, consider wearing darker color on the top with lighter color on the bottom.
Small Bust
There are two ways to deal with small bust, you can either enhance your bust or divert the attention away from it.
Push-ups and padded tops are popular and effective way to enhance small bust. Bikini tops with triangle shaped cups and a tie front add curves and subtle cleavage to small bust.
Tops with ruffles or horizontal neckline on the other hand divert the attention away from your chest as well as give the appearance of a fuller bust.
Big Tummy
The best ladies swimwear have concealed tummy control panel, which is ideal if you want to hide your stomach. Crossover at the tummy will give extra flattering effect.
Blocks of color can divert attention away from the stomach, e.g. one-piece swimwear with a dark colored lower half but lighter color or printed upper half. Clever pattern can do the same, for example dark color one-piece with flattering horizontal lines strategically positioned to draw the attention away from your tummy.
If you want to do some sunbathing, then Tankini tends to be more flattering choice than bikini.
Big Thighs
Ladies swimwear with high cut leg will make your legs look longer. Also, consider light color top and dark color bottom, as this will draw the eyes to the upper part of your body.
Wide Waist
Choose flattering swimsuit that focuses on the waist, it will give your body more hourglass shape. Detailed waistband can pull in your mid section to create a waist while vertical stripes on the sides will create a long and lean look.
Wide Hips
Blocks of color will divert the attention away from wide hips, so choose dark color bottom and lighter color or printed top. Styles that cut across the hips are best. Avoid emphasizing the waist area, as it will make your hips look wider.
Bottom Heavy
You might want to divert the attention to the upper part of your body. You can do this by wearing brighter color top than bottom, as well as using padded and push-up tops as extra distraction.
Long Torso
High cut legs shorten the torso and gives the impression of longer legs. One piece swimwear or bikini is better choice than tankini swimwear in this respect.
Short Torso
The best way to make your torso look longer is to emphasize the space between the upper and lower parts of your body. Bikini with a top that emphasises your bust and shoulders and bottom that sits low on the hips will do exactly that.
If you do prefer one piece swimwear then go for plunging neckline or vertical stripes.
Where Best To Buy Ladies Swimwear On-Line?
Amazon offers wide range of swimwear for women. They offer free shipping on orders over certain amount and their return and refund policy is as good as it gets. You can't go wrong shopping on Amazon.
Top Ladies Swimwear Tips
Ladies swimwear usually comes in same sizes as other clothes and can vary between manufactures as well. Therefore, the only way to be sure to get the best fit is to know your exact measurements.
Bikinis are normally available in different bust sizes but not all one-piece swimwear are. To find out your bra size you need to do three measurements: Below your breasts, around your breasts and back and above your breasts. The International Bra Size Calculator makes it easy to find your size based on those measurements.
Too small or tight swimwear makes everyone look bigger than they truly are. Some experts therefore recommend buying swimwear that is one size larger than your regular dress size. On the other hand, if you know your exact measurements you should be able to buy the ladies swimwear that gives you the best fit.
Ps. always take sun safety seriously. Our Sun Safety Tips will help you to safely enjoy your beach vacation.