Swimwear For Men
Buying Guide
Swimwear for mencomes in large range of designs and different styles to suit different body shapes. In this article you will discover what to look for when choosing the right men's swimwear. You will find advice on what swimwear style fits your body shape and how to get the right size.
What To Look For
When Choosing Swimwear For Men?
Choosing the right swimwear for your swimming needs can make a lot of difference. The style and design is of course important. It is not only your personal taste that matters, different styles suit best different body shapes.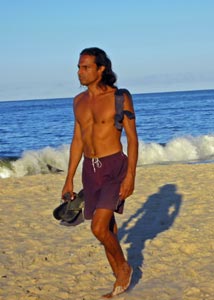 There are few main styles to choose between and we go through them in detail below, as well as which body shape each type is best suited.
Good swimwear for men increases your efficiency in water and keeps you feeling comfortable when swimming. The right male swimwear provides comfort and freedom of movement, plus coverage and support.
The right material is also important, as some stand better up to the deteriorating effects of chlorinated water than others do.
Finally yet importantly, the size must be right. The fit should be snug but not tight. Good fitting swimwear for men stays in place when swimming.
How To Choose
The Right Size Of Swimwear For Men?
If your last swimwear still fits nicely, you can of course buy the same size. However, the best way to determine your swimsuit size is to measure yourself using a tape measure.
Tan through swimwear is great option for those that want to maximize their tan. It is all about the fabric, find out how Tan Through Swimwear works
The size of most swimwear for men is the same as the waist measurement in inches. To measure you waist correctly stand in front of a mirror in your underwear.
While measuring make sure the tape measure is straight, not twisted. Measure the waist about an inch below your natural waistline, i.e. just above the hipbone. For accurate measurement, the tape measure should be snug but not tight or pinching.
The right swimwear will be the one that corresponds best with your waist measurement. If you are between sizes you should choose the larger size (unless you are competing, then you should choose the smaller size).
Some men swimwear manufacturers give the sizes in small, medium and large. These sizes can vary greatly between manufacturers, making it difficult to find the right size if you are buying your swimwear online.
Most sellers of male swimwear online do show the inches behind each size. These are few commonly used sizes for men swimwear. Notice the difference in size categories for 3 different manufactures (columns A, B, and C).
Waist Measurement Inches
A
B
C
Small
28-30
29-31
28-30
Medium
32-33
31.5-33.5
32-34
Large
34-35
34-36
36-38
X-Large
36-38
36.5-38.5
40-42
As you can see, they vary greatly so beware when buying swimwear online, it is important to know the measurements behind the small, medium and large sizes in inches.
Which Swimwear Design
For Which Body Shape?
There are several different swimwear for men designs and styles available. The most popular tend to be (in the order of coverage): Board shorts, boxers, shorts, trunks, briefs, bikinis and men thong swimwear.
Board Shorts
Many teenagers and young men favor board shorts or surfer's trunks as they are also known as. The board shorts are long and baggy, reaching down to the knee (or even further). There is in built mesh brief for the vital support men needs.
Board Shorts offer the most coverage and are best suited for men that are slim or slightly built. Those that want to draw the attention away from the stomach area should avoid them, as they make the legs slimmer but everything above them curvier than normal.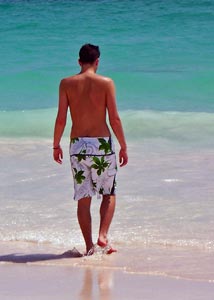 Boxers
Boxers are popular swimwear for men of all ages. No wonder why as all body types look good in them.
Many also consider them the most comfortable swimwear for men.
Boxers have built in mesh brief for the vital support and the length reaches mid thigh.
When buying boxers make sure they fit loosely and you can tie the drawstring at the waist, i.e. tight elastics can make your stomach look rounder and bigger.
Shorts
Shorts are like... shorts. In some ways, they look similar to boxers but they tend to be shorter. Some have drawstrings but some are like ordinary shorts, i.e. with zipper and button. This means you can use them as both shorts and swimwear. This can be great, e.g. when on a day excursion and you do not want to carry swimwear just in case you found the perfect spot to take a dip in.
Like boxers, Shorts tend to suit all body types and no drawstrings means that they can flatter your waistline even more.
Trunks
Trunks are made of elastic material (ideally Lycra) and fit tightly. They can vary in length but are in many ways similar to cycling shorts.
Trunks offer support around the upper thighs and hips. They tend to accentuate the buttocks making them great choice for those who want to draw the attention to that area of their body.
Briefs
Take sun safety seriously, our Sun Safety Tips will help you to enjoy safely your time outdoors
Briefs are tight fitting and leave little left for the imagination. Briefs offer great support and are good for both swimming and sunbathing.
Not everyone is comfortable wearing briefs in public, i.e. for some men it will feel like going out in their underwear. However, if you have the body and the confidence then there are many great looking Briefs available.
Bikinis
Bikinis are similar to briefs but have higher cut (and hence give even less coverage). Men's bikini swimwear is tight fit and great for swimming, as they do not restrict your movements in any way. This is why professional swimmers wear them.
Men's Bikini swimwear can look great, but to do them justice you need to be in good shape.
Thongs
Men thong swimwear... it does not get more minimalistic than that. Meaning thongs are great for sunbathing.
Thongs are definitely not for everyone and tend to be viewed suspiciously in public places. Men's thong swimwear can though be great for some men and some occasions (your wife might like them in the back garden) and there are many bold and fun men Thong swimwear available for those brave enough.
Which Body Shape
For Which Swimwear Design
Another way to look at it when choosing the right swimwear for men is to look at your body shape first.
Tall And Athletic
All types of swimwear are suitable for tall and athletic body shapes. Just pick a color that compliments your skin tone.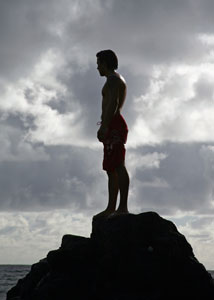 Short And Athletic
High cut men's bikini swimwear will make your legs look longer and low waistband will draw the attention to your athletic stomach area. Boxers and especially board shorts are best avoided as they will make you look shorter. Again, color wise go for something that fits your skin tone.
Tall And Thin
Boxers and board shorts are good choice. Just make sure they are not too baggy, as that could make you look too thin. If you want to look bigger, then you might want to consider light colors as they can make you look bigger (maybe horizontal stripes in light colors?).
Tall And Big
Long shorts in one solid color are good swimwear for men that are tall and big. Those that want to draw the attention away from the stomach area should though avoid board shorts, as they make the legs look slimmer but everything above the legs curvier.
Big Tummy
Boxers, and even shorts, might be the best choice. Again, choose one solid color as patterns will just accentuate. Nice t-shirt could complement the look.
Where Best To Buy Swimwear For Men On-Line
Amazon offers wide range of swimwear for men. Their return and refund policy is amongh the best there is. You can't go wrong by shopping from Amazon.
Top Swimwear For Men Travel Tips
Swimwear is subject to wear and tear like all other clothes. The chlorine used in swimming pools does not help in this respect. How do you know when your swimwear has reached the end of its lifespan? When it starts to sag and feel loose... then it is time to replace your swimwear.
Ps. don't forget to check our favorite beach gear for a Great Day Out At The Beach.