Essential Ski Clothes Accessories
For Your Perfect Ski Vacation
There are some ski clothes and accessories, which you do not want to be without when on skiing holiday. These ski accessories are more or less essential, not just nice to have.
We advice which ski accessories you should consider for your ski vacation and offer some buying tips for accessories like ski goggles, ski hats, ski helmets, ski sunglasses, neck warmers, ski gloves, ski socks, and après-ski boots.
Ski Goggles
You should wear ski goggles at all times when skiing or snowboarding. Goggles protect your eyes from the wind, keep the snow out and basically allow you to see what you are doing. Most ski goggles are large, covering the majority of the upper portion of the face for maximum protection.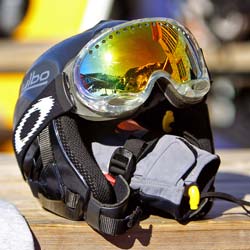 Ski Goggles Are Part Of
Essential Ski Clothes Accessories
You should buy the best ski goggles you can afford, because protecting your eyes is fundamental. Good pair of goggles fulfills all of the following criteria's:
Polarized - eliminates glare bouncing off snow and ice *
Offer 100% protection against UV rays (UV400 rated)
Anti-fog coating - applied to the inside to protect against misting and fogging
Double lenses - creates thermal barrier that cuts down fogging on the inside
* Polarizing is not always suitable, e.g. when doing mountaineering, then polarizing could distort your view of the surroundings
The different lens colors work best in different light conditions but amber works well in almost any light except dusk or when heavy clouds (when clear lenses work best).
Goggle ventilation is also crucial in aiding the circulation of air within the goggles to reduce misting. Ventilation is usually at the top and bottom of the goggle, and covered by lightweight foam to prevent snow entering the goggle. Ventilation systems do vary but the higher priced products tend to offer higher level of ventilation.
Most adult ski goggles are unisex. For the best fit, you should measure your face size, i.e. to find out where the foam on the goggle will fit on your face. To measure the width of your face, measure the space between both temples. To measure the depth, take the measurement from the middle of the cheekbone to just above the eyebrow.
Top Ski Clothes And Accessories Travel Tips
If your ski goggle gets wet, you should not wipe the lens dry, as this will remove the anti-fog coating. Always leave the lenses to dry on their own.
Skiing Sunglasses
In bright sunlight, ski goggles might not be enough and you might want to wear skiing sunglasses as well. Skiing sunglasses should be UV400 rated, i.e. offer 100% protection against UV rays.
Ski Hats
Scientist may have debunked the myth that we lose most heat through our head. Wearing good ski hat is though still recommended when skiing. It is especially important to cover the ears adequately.
Does your Ski Insurance cover you adequately? It can be expensive to evacuate injured skier from a mountain, especially if air ambulance has to be involved
Ski Helmets
Ski helmets are getting increasingly popular and not only for children. Head injuries are serious issue so wearing ski helmet is a smart choice. It is though important that it fits correctly, i.e. in order to protect you properly. You might want to wear a thin balaclava or helmet liner under your helmet.
Neck Warmers
Ski neck warmer is a clever way to keep the neck warm and prevent snow and cold going down the jacket. Scarves are also popular option.
Ski Gloves And Mittens
Good pair of ski gloves or mittens is vital part of your ski clothes outfit, i.e. for warmth and better grip.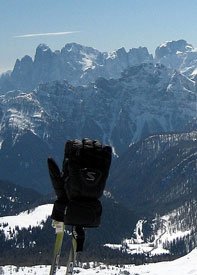 Your Ski Clothes Outfit
Should Include Good Ski Gloves
The challenge is finding the right combination between warmth and flexibility. Mittens keep your fingers nice and warm but they can be bulky and clumsy.
Ski gloves offer you better use of your fingers but your hands will not feel as warm and comfortable.
Glove technology has though come a long way and good ski gloves will offer layering, special synthetic materials and waterproof exteriors that will keep your hands warm in most weather.
You can go for single all in one glove or layer your gloves the way you do with the rest of your body, i.e. with thin inner layer and warmer outer layer.
There should be around ¼ inch at the end of the glove / mitten to allow air to circulate around the fingers.
You should also be able to clench a fist in order to grip a ski pole. Some skiers prefer their gloves to be long enough to come over their jacket sleeves, i.e. to prevent snow getting into their jacket.
Ski Socks
Sock is a sock, right? Actually, no... not all socks are made equal. Good ski socks keep your feet warm and dry, as well as provide extra padding at the points were we tend to get blisters.
Most ski socks are made from combination of natural and synthetic fabrics to provide warmth and absorb sweat. Medium weight ski socks are usually enough to keep your feet warm in most weather conditions and minimum of 40% wool is recommended.
Make sure your ski socks come well up the leg and there is no gathering around the ankle or toes, i.e. to avoid blisters.
Top Travel Tips - Ski Clothes Money Saving
Try to buy all your ski clothes accessories before you leave home. Buying accessories at your ski resort is likely to be more expensive and in some cases, you might be limited for choice.
In addition, you do not want spent your time shopping for ski clothes when you can be skiing!
Après-Ski Boots
Ski boots are heavy and uncomfortable to wear without the skis. You will need good pair of après-ski boots to wear when not skiing. Good pair of après-ski boots is warm and water resistant with non-slip treads and warm fleece liners... ideal for all the fun après-ski activities.
Other Ski Clothes Accessories
Hand and foot warmers are great when you need a little helping hand to keep your hands and feet warm. Heatmax products are air-activated and provide you with hours of soothing warmth... inside gloves, socks, pockets or wherever you feel a chill.
While custom footbeds ensure that you get the most performance and comfort out of your skiing boots.
Buying Ski Clothes Accessories On-line
Amazon offers very good range of Ski Clothes Accessories, very competitive prices and you can buy with confident from them.
Ps. for advice on what to wear when skiing see Top Travel Tips Buying Guide To Skiing Clothes.