Short Breaks To Paris
Places To See And Things To Do
Short breaks to Paris are always popular but with short break, we mean anything from a long weekend up to a week, or even 10 days. This article gives you lot of travel ideas for your Paris break, what to do, and the best way to plan your short city break.
There are many reasons for Paris popularity, like the world famous landmarks and tourist attractions, historic buildings and architectural gems, French culture and cuisine, high fashion, entertainment and the general charming ambiance of the city.
What Makes Paris One Of The
Most Fascinating Cities In The World
Few cities in the world have more allure about them than Paris does. Sightseeing in Paris is great, but just being there is even greater. The Paris atmosphere is unique.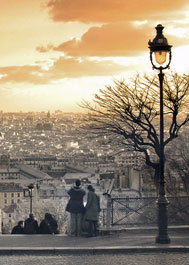 Paris Is Romantic
Wherever You Look
Paris is often called the city of love or the city for lovers. It is easy to understand why. Everything about the city oozes love and romance.
The beautiful buildings, the cozy cafes on every street corner, romantic walks along the river Seine, the smell of the colorful gardens, the fashionable shops, the world famous Paris tourist attractions, the Paris culture and cuisine, the Paris way of life...
There is love and romance in the air - that is if you are in the mood to smell it. This is why Paris honeymoons never go out of fashion. You just cannot go wrong with a Paris honeymoon.
Paris is though not only for those in the mood for romance. Paris landmarks and tourist attractions are renowned around the world. The Eiffel tower Paris is maybe the most famous one, but everyone should be able to find something to his or her liking.
Paris culture is vibrant and the Paris museums are legendary. Visit to the Louvre Paris France will leave no one disappointed. The Pompidou Center attract those interested in modern arts, while other might prefer specific artists like Picasso or Rodin... both with dedicated museum exhibiting their work.
Paris culture also includes excellent theatre productions, operas, dance performances, and music concerts (e.g. classic, jazz, pop). Paris attracts many foreign theatre productions, often in original languages... so even if you don't speak French you might be able to find a play you can enjoy.
French cuisine is world famous and you will find great restaurants on almost any corner. And for the night owls, Paris nightlife is renowned.
If you are doing serious shopping in Paris, find out how you can get VAT Refund On Your Shopping, it can really make a lot of difference
Short breaks to Paris are likely to include some shopping. Paris is world known for its "haute couture", or high fashion, making shopping in Paris a fashionable thing to do. If you are into fashion, you might even enjoy visiting a Paris fashion show at least once in your life.
Paris has many wonderful art galleries and antique shops. Many like to browse in them even when not buying anything.
You can find street markets all over Paris. There are large covered food markets, permanent street markets with mixture of shops and stalls that are open on daily basis and specialist markets that change regularly or are open for limited time during the week. Each market has its own "personality" or ambiance.
Paris loves children and children love Paris. Children will enjoy visiting many of the most famous Paris tourist attractions, like the Eiffel tower and sailing on the river Seine. There are however many tourist attractions aimed especially towards children and their families.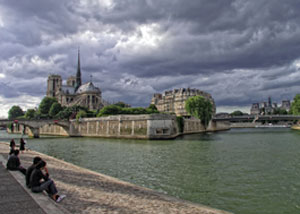 Notre Dame - Always Impressive
The biggest and most famous family attraction is Disneyland Paris in the outskirt of Paris, offering great day out for the whole family. For those that like science there is Parc de la Villette, with first class science museum.
During the summer, funfairs, circuses and all sorts of impromptu events take place in gardens and parks all over the city, e.g. in the Bois de Boulogne park. There are also many supervised children's activity centers in Paris, including one at the Pompidou Centre.
Guignol marionette puppet shows are a summer tradition in Paris and several café theatres offer children's shows with dance, music and mime to entertain the kids.
One of the more unusual outings is a day at the circus, i.e. Cirque de Paris, where you and your children will learn some typical circus skills, like tightrope walking, juggling, and putting on clown makeup. After lunch with the circus artists, the day ends with a classic circus show.
This is why short breaks to Paris are so popular. Paris has something to offer everyone throughout the year. Paris is also one of those travel destinations that gets better and better with every visit.
Things To See And Do On
Short Breaks To Paris
There are so many things to see and do in Paris. Your biggest challenge is likely to be which Paris Tourist Attractions to see and which must wait until your next short breaks to Paris.
Fortunately, most of the best-known tourist attractions are centrally located and easily accessible. Sightseeing in Paris will include lot of walking so bring comfortable shoes with you. Paris subway is excellent and the best way to get quickly and cheaply around the city.
The Paris city map below shows where some of the main Paris tourist attractions are located (zoom in and out to see all the attractions on this Paris city map).
View
Paris City Map
in a larger map
Top Travel Tips Selection Of Key Tourist Attractions in Paris
Planning Your Short Breaks To Paris
When you plan your short break to Paris, you need to consider the best place to buy your flights, hotels and what options you have for your accommodation. Often it can be economical to buy a Paris vacation package, which includes both flights and hotels. So bear that in mind.
Also there are times of the year when the prices go up, especially during the summer time and during European school breaks. If you can avoid these busy times, consider that as well.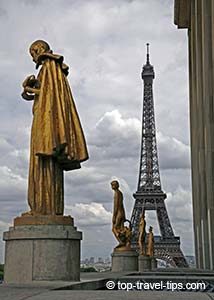 Paris Is Filled With Statues
And Beautiful Sceneries
When it comes to plan your short breaks to Paris, we recommend using the BookingWiz Travel Search Engine. You can search for flights, accommodation, or packages and they will find the best deal on the market for you. Remember - buying Paris vacation packages can be more economical.
Another popular option, especially for small groups and families, is to rent vacation apartments in Paris. Home Away
offers wide range of Paris apartment for short term rental (from as little as few days) for all budgets. The benefits of renting an apartment for short breaks are that you can save money on accommodation and spend more time together with your travel companions.
Save money with Paris city pass. If you plan to visit several museums and popular tourist attractions, then consider buying a Paris City Pass
. This pass gives you a discount to most of the famous attractions and you can even benefit from jumping the queues, because you have already paid for your entrance. We once waited over 3 hours in a queue to enter the Eiffel Tower! That was before we knew about these passes.
Then you need to check what Travel Insurance Is Best For You, and whether you need to buy travel insurance that covers you if you need to cancel your trip. Maybe your home insurance has cover for short travels, so check that as well.