Paris Tourist Attractions
Why We Love This Amazing City
Paris is without a doubt one of the most eminent cities in the world. Paris tourist attractions, like the Eiffel tower and Louvre museum, are famous worldwide but Paris is about so much more than sightseeing.
Below we list up all the main tourist attractions on our Paris city map and we discuss each and one of them in this romantic city.
Our Love Affair With Paris
Our love affair with Paris started well before we got there. We learned about many of the Paris tourist attractions in school and the Paris cultural atmosphere appealed to us. You know - all those starving painters and writers that walked those beautiful cobblestone streets over the years.
Asa's first trip to Paris was with her girlfriend when they were in their late teens and on their first Eurail trip. Young and energetic they managed to scan most of them best-known Paris tourist attractions in few days and enjoy the lively Paris nightlife at night. Those glorious days are however long gone!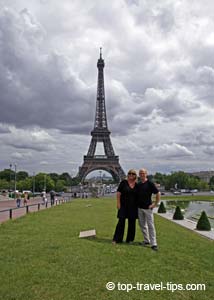 In our opinion, Paris
Deserves the title City of Love
Some years later Asa spent a week with her mother exploring the Paris tourist attractions in more detail, including some of the less known, like the Paris Botanical Garden (Jardin des Plantes).
They also visited the beautiful Palace of Versailles in the outskirt of Paris and the fascinating Paris Science Museum.
Then Asa visited Paris again with the same friend as the first time around. Her friend now spoke French and had lived in Paris for a while so this time around they saw and did very different things. This was also off peak, i.e. in November, and the city felt different. They spent few wonderful days exploring markets, galleries and jazz clubs, and just watching the Parisians go on with their lives.
Again, Asa visited Paris with group of her girlfriends from University but this time Birgir joined her afterwards and we had our first experience together of this city of love. We had wonderful time, as our Top Romantic Travel Destinations Story clearly demonstrates.
Then in the summer 2011, we visited Paris once more, this time with another couple. This time around, we rented vacation apartment in the hearth of the city.
Paris apartments short term rentals is getting increasingly popular option for small groups and families. They are usually more economical for small number of people over few days. Renting an apartment is also very convenient when numbers of people are travelling together.
We have experienced Paris at different times of the year and in different company. If possible, we enjoy the city more with every visit. Paris is great city for lovers, friends, and families to explore and enjoy spending time together.
Find out what makes Paris one of the Most Fascinating Cities in the world.
Paris Tourist Attractions
If you haven't visited Paris before there are number of Paris tourist attractions that you "must" see. If you have visited Paris before there will be number of Paris landmarks you might want to visit again but you will also have the freedom to visit some less famous Paris tourist attractions.
Luckily, most of the best-known tourist attractions in Paris are centrally located and easily accessible. Strictly speaking, you can cover most of them on foot but you might want to save your energy for sightseeing. The Paris subway is excellent and the best way to explore this amazing city.
This Paris City Map shows where some of the main Paris tourist attractions are located (zoom in and out to see all the attractions on this Paris city map).
Must See Tourist Attractions In Paris
Every first time visitor wants to visit the Eiffel tower Paris and understandably so. This Paris landmark is even more impressive in real life than on all the amazing photos taking of it over the years.
The Eiffel tower Paris is impressive
From any angle
The Eiffel tower Paris tends to be very busy during peak periods (spring to autumn). You can expect to wait few hours during the busiest periods. The view from the third level (274 meters / 899 ft. above the ground) is however well worth the wait.
Top Travel Tip: The queues tends to be longest in the mornings so you might want to consider visiting later in the day.
Other must see Paris tourist attractions include the Avenue des Champs-Élysées, the most prestigious shopping street in Paris, leading up to the magnificent Arc de Triomphe.
Notre Dame is located on the beautiful small island of Ile de la Cité, in the middle of river Seine. Take your time in exploring the details of this Gothic masterpiece.
Many consider Sainte-Chapelle one of the greatest architectural masterpieces of the Western world. It's especially noted for its stained glass windows, which portray over 1,000 religious scenes in a kaleidoscope of red, green and gold.
Louvre Paris France is without a doubt one of the most famous museums in the world. Louvre is the home of some of the greatest work of art in the world, like Mona Lisa and Venus de Milo. The Pyramid entrance (opened in 1989) gives Louvre Paris France a modern twist.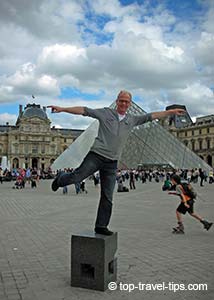 Louvre Paris France
Amazing inside and outside
The Sacré Coeur Basilica (or the Basilica of the Sacred Heart of Paris) is another must see tourist attraction. The basilica is on a hill, and like the Eiffel tower, can easily be seen from the city center.
The area around the Basilica, Montmartre, is also a well-known tourist attraction. Montmartre has been associated with artists for over 200 years.
Now it's mainly occupied by street painters that thrive on the tourist trade. Despite being heavily tourist oriented, it's still nice visiting this picturesque district... for a feel of the Paris you are likely to have imagined at some point in your life.
The River Seine is the heart of Paris. No visit to Paris is completed without spending good time with, and on, the river Seine. Take a good stroll along Seine and / or go on a boat trip. Evening boat trips on Seine are also a comfortable way to explore Paris by night.
Other Popular Paris Tourist Attractions
Most of the other popular Paris tourist attractions are situated close to the must see attractions so are usually visited together.
The Jardin des Tuileries is one of Paris most visited gardens thanks to its central location between the Louvre and Place de la Concorde, another place of interest. Resting in this beautiful garden after visiting Louvre is ideal, it's a great spot to watch the world go by.
The Pompidou Centre houses one of the leading collection of modern and contemporary art in Europe. Featuring great artists like Picasso, Matisse, Miró and Pollock to name just few. The building itself is an architectural masterpiece, i.e. building is basically turned inside out with the plumbing and air ventilation pipes on the outside of the building rather than inside it.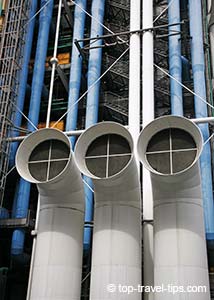 The Pompidou Centre
Another architectural triumph
Café de Flore hosted the French intellectuals during the post-war years and has changed little since then. Here you can enjoy your cup of coffee like Jean-Paul Sartre and Simone de Beauvoir did before you.
Popular tourist attractions in Paris include Moulin Rouge, usually associated with the wild can-can dance shows. These days it's mainly frequented by tourists, enjoying classic Paris night out... turn of the century style.
Palace and Gardens of Versailles is a popular day trip and well worth visiting. The palace is approximately half an hour drive from Paris (there are also frequent trains that go there). Allow to spend most of the day if you want to explore both the inside of the palace and the beautiful formal gardens.
Disneyland Paris is another popular tourist attraction in the outskirts of Paris. Disneyland Paris has 52 attractions on a 55-hectare site, a hotel complex, a campsite, a ranch, a golf course and gardens. Euro Disney Paris is a worthy little sibling of the original thing in the US.
Less Known Paris Tourist Attractions
If you like plants, then the Paris Botanical Garden (Jardin des Plantes) is well worth visiting. There are also many great parks and gardens to be found all over the city, like Jardin du Luxembourg and Bois de Boulogne.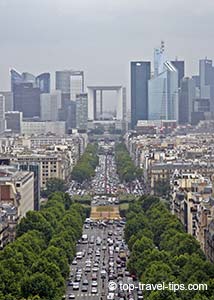 The Grande Arche, seen from
The top of Arc de Triomphe
The La Grande Arche is located in the La Défense business district (west of the city center, in straight line from Arc de Triomphe). The arch houses an exhibition gallery and conference center. The view from the top over the city of Paris is excellent. You can get there with Paris subway.
Parc de la Villette is a modern park aimed to stimulate interest in arts and science. The park includes excellent science museum, pop concert hall, exhibition pavilion, music centre and spherical cinema. Those interested in science will find the journey worth it (Paris subway will get you there).
Montparnasse Cemetery (Cimetière du Montparnasse) is a peaceful resting place of many famous Parisians, like Samuel Beckett, Jean-Paul Sartre and Simone de Beauvoir.
There are of course many more Paris tourist attractions, this city is full of interesting things to do and see. If you have time to just "get lost" in the city, do so. Getting lost in a city like Paris is bound to turn up some unexpected gems.
Top Travel Tips
If you are travelling to Paris, see how you can save money with Paris city pass. City Passes include access to all main sights and museums, as well as free public transport within central Paris.