Saving Money Tips
How Little Things Can Add Up To Big Savings
Top Travel Tips saving money tips show how little things can add up relatively quickly and become big savings. It makes perfect sense to be aware of all the items on this list though not all of them are relevant all the time.
Travel Money
Saving Money Tips
It is always cheaper to withdraw cash from ATM machine with debit / cash cards then with credit cards. This is because you are withdrawing your own money when you use debit card. While you are borrowing money if you use credit card, i.e. loan that you pay interest on.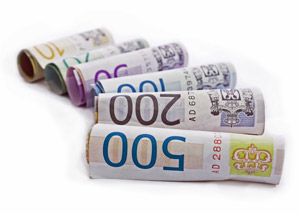 Tips To Save Your Travel Money
Prepaid currency cards are getting increasingly popular and understandably so. They are safe, easy to use and can save money when travelling abroad.
Prepaid currency card works just like your debit card, i.e. you are spending the money in your account.
However this money remains separated from your current account so it's safer to manage prepaid currency card through an internet connection abroad.
Prepaid Currency Cards save you money too. Saving money tips experts estimate that by securing your travel currency exchange rate in advance you will get on average between 5 to 8% better conversion rates on your travel money exchange.
Bank based ATM machines are preferable over cash machines in other locations, e.g. like petrol station or shopping mall. If there are any difficulties, e.g. if the machine takes your card for some reason, it is much easier and quicker to sort it out with the bank.
Did You Know?
Studies suggest that you spend less if you pay with cash instead of credit card - some say as much as 15% less
However, there can be fee involved withdrawing cash whether you use debit or credit card. It is recommended to check the cost involved before travelling. If you travel frequently, you might want to get a card that does not charge you fee for withdrawing cash.
When changing money you should avoid doing so at the airport or at your hotel, these tend to offer worse exchange rates than if changing elsewhere. It is usually cheapest and safest to change money at a bank. Top Travel Tips strongly advices against changing money on the black market, it's first of all illegal as well as it makes you very vulnerable for fraudsters.
Every time you buy or sell foreign currency, you have to pay fee. So if you don't use all your foreign currency you might want to keep it until next time you travel. That is unless you know you will not be travelling for a while, or it is too much to keep.
Some foreign exchange companies though offer to exchange your leftover currency without a fee if you bought the money from them, e.g. the Post Office in the UK. You need the receipt though so make sure you keep it somewhere safe.
We recommend that you print a copy of a free personalized Currency Exchange Traveler's Cheat Sheet and keep it in your wallet when travelling.
Top Travel Saving Money Tips
The currency rate can genuinely affect how much your total travel cost will be. Currency exchange rates fluctuate on regular basis so it makes good sense to time your visit when your own currency is strong against the local currency.
Sightseeing
Saving Money Tips
Many big cities offer multi-passes to their main attractions. You get access to many popular attractions for much less than if visiting each one separately and most city passes offer substantial discount on public transportation as well. You can easily calculate how many attractions you need to visit to Save Money With City Passes.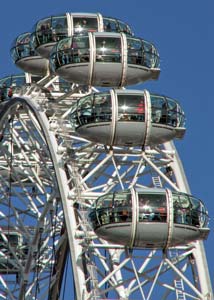 Multi or City Passes Can Save You
Money On Popular Tourist Attractions
There are many free things to do wherever you are in the world. Most cities and towns have free public parks or spaces, which are ideal for "people watching" and to meeting the locals. You will also find free public beaches / lakesides and walking trails easily in most countries.
Many museums around the world are free to visit. Those that charge admission often offer free admission on certain times, like during the last hour of the day or on certain evenings during the week.
If you are travelling with young children, you can usually find free playgrounds which young kids might enjoy as much as visiting expensive amusement parks.
You should defiantly get International Student Card if you qualify for it. Many popular tourist attractions offer students third, or even half, off the admission fee. International student card can also save you money on flights and other travel cost so it is definitely practical saving money tips for those that qualify for it.
Food and Drink
Saving Money Tips
Choosing restaurants and bars frequented by the locals rather than tourists is likely to save you some money. It does not matter where you are in the world; prices tend to go up the more popular the place is with the tourist crowd.
It is not only about where you eat and drink, the same applies about what you eat and drink. Imported goods tend to be more expansive than local alternatives so eating and drinking the same as the locals do, is likely to save you some of your hard-earned cash.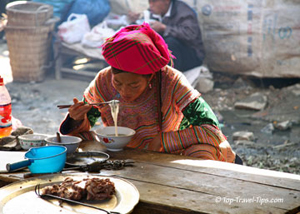 You Can Save Money
By Dining In Local Restaurants
It is important to stay hydrated when travelling, especially in warm climate. Buying bottled water adds up quickly but you can easily reduce this expense somewhat.
If the water is safe to drink at your travel destination, then you can re-use water bottles instead of always buying a new one. If you however have to buy bottle water, then it can be more economical to buy large bottle of water, keep it in your room, and fill smaller bottles to take on your excursions.
If you have cooking facilities, you can save money by cooking yourself, at least in between going out for dinner. Even without cooking facilities, the local supermarket will offer some easy options for breakfast, lunch, and snacks. You might even be able to opt for cold dinner occasionally.
Top Travel Tips offers more Practical Saving Money Tips related to what and where to eat when travelling.
More Practical Saving Money Tips
Learning few words and phrases in the local language tends to be highly appreciated. It can also give you better bargaining power and result in lower prices.
If you need to get some washing done, you might want to look for local laundry rather than use the hotel laundry service. Hotel laundering tends to be quite expensive as they usually charge per item, not by weight as the local laundries might do (or at least much lower price per item).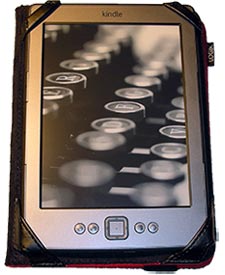 Our Kindle Is Great For Travelling
All Your Books In One Place
Ebooks and ebook readers like Kindle, have made travelling for "bookworms" much easier. Being able to have all the books you are likely to read during your vacation in one device is fantastic. In addition to that, you can legally download lot of free ebooks.
Most libraries and many hotels and cafes offer free wi-fi or internet access these days, which is great for calling your loved ones free and/or look for new ebooks to download!
However, if you are travelling without ebook reader, then you might want to consider book swapping as buying books in other language than the local language tends to be expensive. Many hostels and cafes offer book swapping, usually for small donation.
Your choice of transportation while on your vacation can have big effect on how much you spend. Check the distances, sometimes walking is the quickest, as well as cheapest, way to get to your destination. Using public transport might also be as quick, and much cheaper, than taking taxi.
However, never take saving money over your safety. Taxi is likely to be the best option if you are out late at night, and especially if you are travelling on your own. If you really must stay out late, make sure you always take official taxi.
Many cities offer transportation passes or travel cards that can save you money on local transportation. For example, the Orange Card is a transportation pass for Paris, it is valid for either one week or one month for the city zones you choose.
Top Travel Tips saving money tips recommends that if you have an iPhone or similar wi-fi enabled cell phones, you can save money on long distance calls by downloading internet phone services like Skype onto your phone and use free wi-fi access to make free or cheap phone calls.
Top Travel Saving Money Tips
We like to start our trips with visiting the local tourist office. They usually have discount cards for all major attractions and know what deals are currently on offer.
While there, take some of the advertisement brochures with you. They will give you a good idea of what is going on, what attractions are popular and usually offer some local saving money tips. Many of them, especially the maps, also contain ads for discounted tours and meals.
Ps. don't forget to check out our Top 10 Money Saving Travel Tips.