Hot Romance And Exotic
Romantic Travel Destinations
Hot romance and exotic travel destinations go very well together. Few things are more memorable then when doing something for the first time and doing new things together is romantic, no doubt about it.
Exotic romantic travel destinations can be luxury, moderate or budget travel... it can even be little bit of all of that. You might want to spend part of your romantic holiday roughing it and part of it in indulgent luxury.
The main thing is though that exotic travel destinations and hot romance are always different.
Hot Romance Holidays
There is no shortage of exotic romantic places in the world.
There are many hot romance islands in the world. For most of us islands represent romance and luxury travel, so no wonder why honeymoon travel tips sites loves them.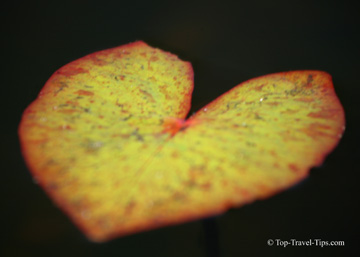 There are beautiful remote and somewhat "primal" islands like the Solomon Islands, Vanuatu, Papua New Guinea and Andaman Islands.
Beautiful landscape, agreeable weather, exotic culture and friendly locals make these islands truly exotic romantic travel destinations.
There are also historical islands like Ester Island, natural wildlife gems like Madagascar and Galapagos and densely populated nature gems like Iceland and Tasmania.
There are places of outstanding natural beauty that are great for romantic outdoors activities, like Patagonia and New Zealand.
There are cold and remote places like Alaska, Siberia, Greenland and Antarctica. It's definitely a different honeymoon travel tips idea to spend a night in the Ice hotel in Sweden. If you are luckily you might see the northern lights, an amazing and truly hot romance experience.
There are exotic mysterious cities like Venice... which is even more magical in the winter when mist covers its labyrinthine waters. The annual mask carnival of Venice that starts two weeks before Ash Wednesday is truly as glamorous romantic getaways as they can get.
Carnivals tend to be exotic and romantic and there is no lack of them all over the world. The carnival in Rio de Janeiro, Brazil is maybe the most famous one but there are many others not less fitted for hot romance holiday getaway.
Festivals worldwide can also be interesting and exotic romantic travel destinations. It seems like we people celebrate everything - somewhere - sometime.
How about taking your loved one to the elephant round-up in Surin, Thailand? Or celebrate the Day of the Dead in Mexico?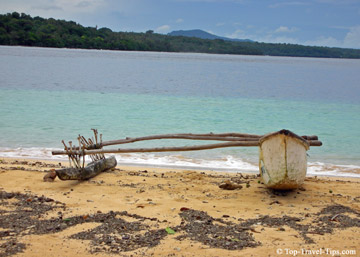 Maybe not romantic enough... How about attending Naghol initiation ceremony on Pentecost Island, Vanuatu, or what has been called land diving... the inspiration for the modern bungee jumping.
Another great and differently romantic way of travel is to give something back, i.e. work together as volunteers at some cause that is important to both of you.
And there is Africa. There is no place like Africa, you either love it or hate it. We love it. Everything about it. There is wildlife, outstanding natural beauty, lively people and exciting cultures... all in abundance.
The pyramids in Egypt, the mountain gorillas in Uganda, afternoon tea on top of the Victoria falls in Zambia, the amazing sand dunes in Namibia or just making it to Timbuktu (which we believed to be the end of the world when we were growing up)...
Africa is amazing continent for those that like that sort of hot romance and exotic romantic travel destinations.
Top Hot Romance Travel Story
Our most romantic experience is likely to be someone's worst romantic nightmare - but a dream come true for others.
When we were on our around the world trip we visited wonderful islands in the Pacific Ocean, named Vanuatu. We had the most amazing time in Vanuatu visiting different islands, experiences new adventures and meeting the friendly islanders.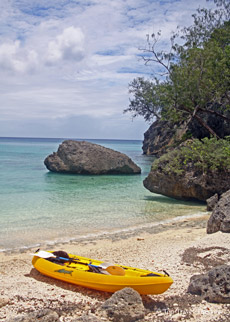 At the end of our journey we went on a 24 hour private beach safari and it was the most amazing, the most romantic experience we have ever encountered.
We were taken by a small boat to this secluded private beach and left there... with a kayak, snorkeling kit, a tent and a big truck full of food. There were big lobsters, chocolate, bottle of cold champagne and all kinds of exotic fruits and vegetables - many of them we had never seen before.
We spent the most amazing 24 hours just us... alone in the world under the stars. We spent the whole day kayaking and snorkeling and in the evening we cooked the most wonderful meal on open fire under the stars. We slept like babies in our tent... with the waves playing in the background.
For us this was just perfect. We seriously doubt that we will ever experience another hot romance holiday like this - but we nevertheless enjoy searching!