Luxury Romantic Travel Destinations
Where Are They?
When thinking about luxury romantic travel destinations it is likely you first think of luxury travel resorts and first class flights... a fine romance.
It's easy to imagine romantic feelings blossoming when you think of sipping champagne in your private outdoor hot tub watching the stars. It's easy to see yourself dining on your private veranda with a beautiful view over the sea. You can almost smell the flowers and taste the fruit the fill your beautiful hotel suite.
Fortunately, there are many luxury romantic travel destinations in the world, where you can let these dreams come true.
The Most Popular
Luxury Romantic Travel Destinations
Islands offer many popular luxury romantic resorts. The combination of sea, sun, sand and exotic culture is always a winning formula. The Maldives, Seychelles, Mauritius, Bahamas, Barbados, Hawaii, Bali, Bora Bora, Santorini are just a few beautiful luxury romantic settings that shouldn't disappoint any romantic couples.
Islands are popular romantic destinations
There are also many beautiful coastlines and beaches in the world that offer romance and luxury in abundance.
Famous beaches in Europe include the French Riviera and the amazingly beautiful Amalfi Coast in Italy.
There are many renowned luxury romantic destinations found on the coastline of eastern Australia and eastern Africa. Great luxury romantic travel destinations are also along the California coastline as well as in Mexico and Central America. Let's not forget one of the most famous beaches in the world, the Copacabana in Brazil.
Luxury cruises are also very popular, where you biggest problem is to decide which cocktail to have before your gourmet dinner. Luxury cruise ships sail every sea in the world. You can take a cultural luxury cruise in the Mediterranean Sea, enjoy the relaxing way of life in the Caribbean Sea or explore exotic culture the Pacific Ocean.
Alternatively, you could put on your warmest clothes and take a luxury cruise to visit the most northern or southern places in the world... if lucky you might even see the Aurora Borealis or the Northern Lights.
Luxury Ski Vacation is a great choice for the active romantic couple. There are few things more rejuvenating than spending the days on the ski slope and then relax with glass of champagne in the hot tub back at your luxury resort.
Luxury Spa Vacations are another popular way to rejuvenate body and soul. Many romantic couples enjoy being pampered together, to relax and life in the moment.
Many cities in the world are excellent luxury romantic resorts. Most big cities offer number of first class hotels and gourmet restaurants. Popular cities for romantic break include Paris, Venice, Rome, Istanbul, New York, San Francisco, Buenos Aires, Rio de Janeiro... and many more.
There are so many choices available when looking for luxury romantic travel destinations.
Luxury Romantic Resorts
For Weddings, Honeymoons And Anniversaries
Luxury romantic destinations are though something that most of us can only dream of. We might let that dream come true on the big occasion in our life, like when getting married, on our honeymoon or when celebrating big anniversary or other important milestones in our relationships.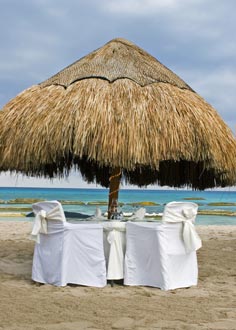 Table for two?
Romantic destinations that wedding travel tips sites tend to recommend include the islands and beaches mentions earlier.
Why not get married in a castle in Europe? Maybe a honeymoon on your private little luxury boat sailing between the Greek Islands is something for the two of you.
How about getting married in a castle in Europe? How about a honeymoon on your private little luxury boat sailing between the Greek Islands?
How about getting married in the African bush and go on luxury safari for your honeymoon?
Only your imagination is the limit when looking for romantic wedding or honeymoon destination.
Luxury Travel Deals For A Fine Romance
A fine romance and traveling in luxury does not have to cost you arm and leg if you do your homework and plan your trip well in advance. Luxury travel deals can usually be found if you know where and how to look.
Ps. it is how we behave on our vacation, rather than the travel destination, that makes our vacation romantic or not. See Top Travel Tips on How To Make Your Vacation Romantic.