Free Romance Ideas
Budget Romantic Travel Destinations
Looking for free romance ideas to go on a romantic vacation... on a budget? Budget romantic travel... can budget travel and romantic travel really go together?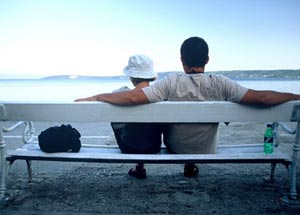 Sure it can, because romance is all about feelings, not about the travel destination or the accommodation.
Of course you will not be sipping champagne in a private hot tub under the stars on your budget travel... or what?
It might have to be cheap fizzy and it might be hot natural spring but the feelings could easily be the same... the feelings and the stars are free and they are vital in making the moment romantic - otherwise it's just a champagne and a hot tub.
It might be cheap fizzy and it might be hot natural spring but the feelings could easily be the same. The feelings and the stars are free and they are vital in making the moment romantic... otherwise it is just champagne and a hot tub.
You Can Do Romantic Travel For Less
Top Budget Romantic Travel Destinations
You can do romantic holidays on budget in most parts of the worlds, apart from maybe the most exclusive romantic destinations. It's likely to be challenging to find romantic holidays to places like Bora Bora on a tight budget.
What is budget varies though between countries, you can travel on budget in France but it will cost you more than if travelling on budget in India.
Most travel agents and budget airlines offers budget deals to various locations worldwide. Spain and Portugal offer good selection of budget accommodation in Europe.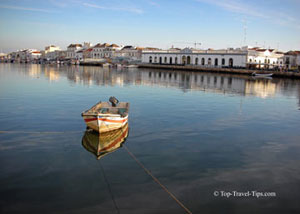 Tunis and Morocco can be excellent choices for those that are looking for something exotic and great off peaks deals can often be found for some romantic destinations in the Caribbean.
Asia is though the budget travelers dream, not least if looking for budget romantic travel destinations.
There are many beautiful romantic places that are still off the beaten track and therefore will not break the bank. In most cases this means less tourist infrastructure but for many that only adds to their romantic appeal. If you are flexible then you might be able to get excellent value last minute deals.
Free Romance Ideas
When looking for free romance ideas and romantic travel on budget you might want to do things a little bit differently. Instead of staying in cheap hostel in an expensive romantic resort like St. Tropez in France or in the Maldives... why not go off the beaten track, for example find remote beach in Cambodia.
Just few free romance ideas...
If you like the outdoors then there are so many beautiful romantic travel destinations where you can go hiking and camping with your loved one. Few things are more romantic than cooking a meal together under the stars... before climbing into your sleeping bags together.
You could use public ferries and do island hopping between the Greek islands on a relatively tight budget. You can search for beaches or small fishing villages favored by the locals, the prices tend to be lower if there are few international tourists around. Or you could rent a motorbike in Laos and do the Loop... that literally is a dirty way of travelling.
Remember, how romantic our vacation is will have more to do with how we behave on our holiday then our travel destination. See our Romantic Travel Tips for inspiration.
Top Free Romance Ideas Travel Story
We have done the Loop in Laos on a small motorbike. It was really cheap, dirty and very romantic experience.
It was cheap as you can hardly spend any money while doing it... the choices of accommodation and food are very limited. It was dirty because of the dust on the road and limited washing facilities.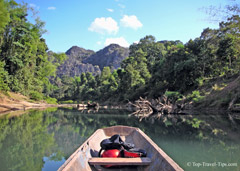 It was romantic for number of reasons... being together in a beautiful landscape in exotic country experiencing amazing adventure together and challenging ourselves - that's pretty romantic in our books.
The Loop is a 475 km roundtrip usually started and ended in Tha Khaek in mid Laos. Doing the Loop on a motorbike usually takes three to four days and there are number of interesting caves to be found on the way. The Konglor cave is the highlight of the Loop and the boat trip on the way to the cave is one of the most memorable boat trips we have ever done - the landscape is just breathtaking. We really enjoyed our Loop adventure... it was defiantly different and definitely romantic.
Ps. don't forget to check out our Top 10 Romantic Travel Tips.