Foreign Office Travel Advice
Find The Latest Visa And Passport Requirements
Our foreign office travel advice gives you practical tips about passports and visa requirements for different countries of the world. Here you will also find useful links to government and other official websites for up to date visa requirements for your nationality and travel destination.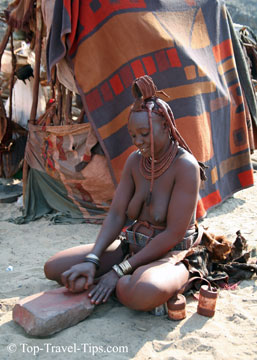 Himba woman in Northern Namibia
You can face a range of problems if you do not have the correct and required travel documents with you when travelling.
In the worst-case scenario, you could be refused entry upon arrival and sent back to where you came from.
Make sure well in advance that:
• Your passport is valid (ideally for at least six months beyond the date of entry to the country)
• You have all the necessary travel visas for entering the country of destination
• You have all the vaccinations required and the relevant travel documents to proof it
You can find lot of travel tips and visa information on the internet. International travel requirements however change frequently so it can be challenging to keep up with the latest changes. If you are relying on on-line information, you must be sure that the information is up-to-date.
We therefore recommend always to double check important travel information like this with your own foreign office.
Travel Visa
Governments issue travel visa guidelines for their nationals. Their guidance can change so you should always check directly with your foreign office travel advice body.
There are different types of travel visa to suit different purposes, e.g. tourist, business and student visa. Visa can also be valid for one or more trips and it usually expires within certain time.
Our Travel Visa Guide offers more detailed visa advice and direct links to the main foreign offices in the English-speaking world.
Passports
Valid passport is required for travelling to most countries. Your passport is extremely valuable document and you are likely to encounter various problems if you lose it. Make sure you are familiar with our passport security tips before you travel.
Passports are also the most reliable identification document and they are universally accepted. It is therefore advisable to bring valid passport on all international travel.
Our Passports Guide offers more detailed passport advice, as well as passport security tips and direct links to the main foreign offices in the English-speaking world.
The Latest International Travel Requirements
IATA Travel Centre* offers centralized database where you can search for the latest international visa and passports requirements for your destination - and they take your nationality into account when doing so.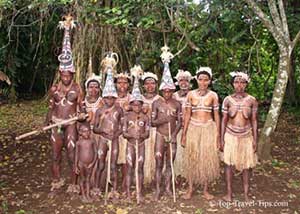 Vanuatu family dressed in traditional costumes
The IATA Travel Centre delivers accurate, reliable and most importantly up-to-date passport, visa and health requirement information at a glance.
The information is based on the IATA's Timatic database. This database is used by almost all airlines in the world to determine international travel document requirements.
The airlines are responsible for passengers that do not fulfill the entry requirements, so they insist on up-to-date information.
It is quick and easy to use and a great way to get an overview of all your International Travel Document Requirements.
You should still double check these information's with your local foreign office travel advice body.
* IATA stands for International Air Transport Association