Passports
What You Need To Know
Passports and travel tickets are the most important travel documents. Without them, you are likely to experience problems on your journey. You must also have valid visa to enter some countries.
It is good habit to make sure to check passport and visa requirements well in advance of travelling anywhere.
Do You Always Need Passport?
Valid passports are required for travel to most countries. There are though some important exceptions, these are two of them:
US Passport Card
US Passport Card can be used to enter the United States from Canada, Mexico, the Caribbean and Bermuda at land border crossings or sea ports-of-entry. This card is more convenient and less expensive but it cannot be used for international travel by air. Then a valid passport is always required.
European Citizens Travelling Within the European Union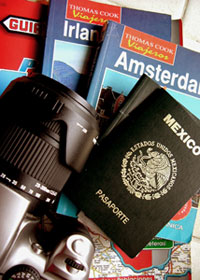 EU citizens need to show a valid passport or ID card when entering or leaving the EU external borders but not when travelling between EU countries.
There are exceptions to most rules - EU citizens must show passport or ID card if travelling to an EU country that is not a full Schengen member.
Non EU citizens always need a valid passport when travelling within the European Union.
For up-to-date information about passport requirements when travelling within EU visit Europa, the official website of the European Union.
Passports are though the most reliable identification document and they are universally accepted. We therefore recommend bringing valid passport on all international travel (even if only just in case).
At least, always check beforehand with your foreign office if you are planning any travel without a valid passport.
Do You Know When Your Passport Expires?
Do not leave it to the last minute to check when your passport expires. Many countries require a passport to be valid for at least six months beyond the date of entry to the country.
Therefore if you are planning to travel and your passport is due to expire in less than a year, you may want to renew your passport.
You should also make sure you have at least one clear visa page in your passport for immigration stamps.
To Apply, Renew or Replace Your Passport
Contact your foreign office for information how to apply, renew or replace your passport. Also double check all passport information with them prior to travelling.
For direct links to the main foreign offices in the English-speaking world...
United States - Passports Information
Canada - Passports Information
United Kingdom - Passports Information
Australia - Passports Information
New Zealand - Passports Information
Passport Security Tips
There are few simple but important passport security steps that you can take to reduce significantly the risk of losing your passport. These tips are also useful if you happen to lose your passport or if it gets stolen.
Always make a note of your passport number and take a photocopy of the personal details page

Always keep this separately from the passport
This will speed up the replacement process if the original passport is lost or stolen

Leave copy of your passport identification page with a friend or family member

You should also leave your travel itinerary and insurance policy details with them

Always keep your passport in as secure place as possible

Safety boxes are recommended when available

When "out and about" always keep your passport in a secure place out of sight

Never carry your passport in your pocket or leave it on a table in public place
Never carry your passport in a loose bag that could be snatched from you

Always travel with additional means of photo identification with you

This will be useful if your passport gets lost or stolen

Never hand your passport over to anyone

Many hotels ask to make a photocopy of your passport but never allow them to keep the passport as a guarantee while you stay with them - always insist they take photocopy instead
If your passport is lost or stolen, report it immediately to the policy and then contact your nearest embassy as they can replace passports.