Flying With A Dog
How Best To Prepare Your Dog For Flying
Flying can be very traumatic experience for dogs, especially if they have to be separated from their owners and travel in the cargo hold. There are things you can do to make flying with a dog less traumatic for your dog... and you.
Do Your Homework Well In Advance
Make sure you know exactly what is required for you to fly with your dog. Not only what your airline requires, you must also know the requirements at your travel destination. This includes knowing all about health certificates, pet passports, booking flights and hotels, etc.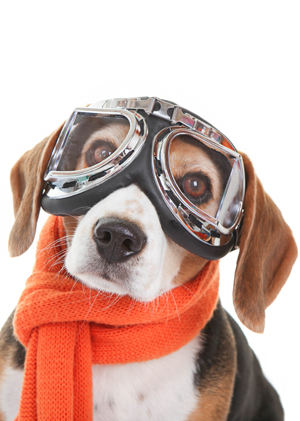 Make sure you have all the necessary paperwork handy. Take copy of all the documents and keep the originals safe with your own travel documents.
Book Your Dogs Flight Early
There tends to be limited availability for pets on most commercial flights so make sure you book your dogs flight early. Direct flight is of course always preferable though sometimes stopovers are unavoidable.
Try to avoid travelling during peak periods, e.g. during school holidays and weekends. If your dog is travelling in cargo hold, then you may want to avoid flying during the hottest and coldest time of the year.
Packing For Your Dog
Make sure you pack everything your dogs need for the flight, as well as what he needs during your time away from home. This Packing List For Dogs will make sure you won't forget anything when packing for your dog.
Food And Exercise
It is good idea to exercise your dog thoroughly before flying with a dog. Exercise will help your dog to relax and deal better with the stress associated with flying.
You should not feed your dog before flying (at least 3-4 hours before) but make sure your dog has frequent access to fresh water.
Dog Travel Crate
You need travel crate when flying with your dog. Small dogs may be allowed in the cabin and in those cases soft-sided dog carrier bag that fits under the seat is the best choice. For dogs flying in cargo hold, hard case travel case is required.
Most airlines have strict rules about the dog travel crates they accept so make sure you know the requirements well in advance.
Keep Your Dog Comfortable
It is of course much less stressful for the dog if he is allowed in the cabin with you. Just make sure you have enough of the right toys and treats to keep your little travel companion occupied during the flight.
It is trickier if your dog is flying as cargo. It is important to stay calm when leaving him. Under no circumstances make a big scene. It is good idea to leave something with your smell with your dog. Also, leave something for him to occupy himself with during the flight.
Bear in mind that dogs are unsupervised in the cargo hold so make sure that what you leave in the crate cannot harm your dog.
Calming Aid For Dogs
Most dog experts now recommend against giving dog's tranquilizers or sedatives before / during flights. This is because of the risk of respiratory and cardiovascular problems as the dog is exposed to increased altitude pressures.
Natural calming aid for dogs does not pose the same threat so if you are concerned about your dogs anxiety level during the flight, then you may want to discuss this option with your Vet. For the best results, you should give your dog calming aid for few weeks before flying, so once again, when flying with a dog, you need to prepare well in advance.
Maxxicalm is a high quality calming aid for dogs that promotes positive mood and can help dogs to relax in situations they find stressful… like when flying.
Arriving At Your Destination
If your dog is travelling in cargo hold, then pick him up before you pick up your bag. Don't over fuss but take him for an extra long walk as soon as you can. And enjoy your holiday with your faithful fun friend.
Here you can find more advice about Flying With A Dog.