Packing For Dogs
Because Dogs Do Not Travel Light
Most dog owners are surprised when they pack for their dogs for the first time. Most didn't realize how much stuff their dogs need with them when travelling. This dog packing list may be helpful...
Packing List For Dogs
Make sure you have all the necessary documents with you and store them in a safe place throughout your journey. These include the flight ticket if you are flying, health certificate if going abroad and always have your dog medical records with you when travelling with your dog.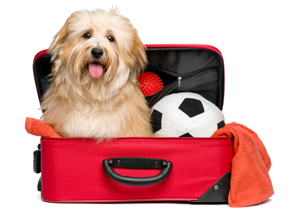 If your dog is on any medication, make sure you have enough supply to last you throughout your journey.
Know in advance the emergency contact information at your destination, i.e. in case your dog becomes ill or has an accident. Have your Vet contact information with you as well. In the case of an emergency you may need information from your Vet.
Have a recent photo of your dog on you. This can be vital if your dog is lost or stolen.
The same applies about a dog collar with ID tag. Make sure the contact information are correct and relevant, there is little use in giving your home phone number if no one is home to take the call.
You need to bring enough food to last at least until you can restock at your destination (check in advance that you can get what you need or bring more supplies with you).
Pack food and water bowls, you may want to use special travel bowls when travelling.
It is also good idea to pack a travel water dispenser.
Bring enough toys and treats to keep your dog occupied, both during your trip and during your holiday.
You and your dog will be out and about so don't forget the dog leash. It is a good idea to bring both long and short leash.
And you will of course not forget to pack enough poo bags.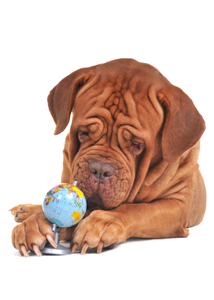 Your dog needs something to sleep on, ideally a dog bed. You can get lightweight and compact travel beds. If packing space is an issue and you not away for too long, then your dog can make do with a good blanket.
You want your dog to look good on the photos so don't forget to bring his grooming products, like brush, wipes, shampoo, etc. Actually, it is not about looking good, it is about keeping your dog clean and healthy.
Good stain remover is also a good idea if your dog is prone to "accidents", including vomitting.
Research your travel destination in advance and make a list of dog friendly places and attractions at your destination.
Dog Travel Bags
So what do you pack your dog belongings in? You can of course pack your dog things with your own personal belongings but most dog owners prefer to have a separate bag for their dogs.
Any old backpack or day bag will do but you can get special Dog Travel Bags
to hold the dog's necessities for travelling, like water and food bowls, etc. This can be very convenient, especially for shorter trips, or if you travel frequently with your dog. It definitely makes packing for dogs super convenient.
And as you love dogs, why not get your own travel case with a photo of your dog. To do your own bag visit Luggage Pros
.