Top 10 Family Travel Tips
For The Perfect Family Getaway
These top ten family travel tips are for those planning, or going on a family vacation. Family vacation usually means travelling with children and therefore needs to be planned accordingly.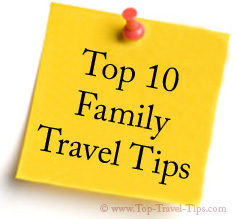 Everyone will enjoy the vacation more if you plan it with your children's age, physical ability and interest in mind... without forgetting the vacation needs of the adults.
Travelling with your family is great privilege and creates memories that will last all family members during their lifetime.
When adults think back to their childhood they tend to remember the good times shared with their family, not the things they owned or the clothes they wore.
1. Choose Family Friendly Travel Destination
Family travel tips recommend choosing your family travel destinations carefully, i.e. with the needs of all family members in mind. Family vacations tend to center around the kids needs. It is though vital that all family members can enjoy their vacation, children and adults alike.
For example, if some family members dislike some activities, then you must make sure there is enough on offer to suit their needs as well. It could be access to spa and galleries at your ski resort for the ski phobic, or adding few relaxing days at the beach at the end of your cultural vacation for those that prefer relaxation to sightseeing.
How well your family travel destinations fulfill your children needs can however make or break your family vacation. Family travel tips recommend considering the following factors:
Are the right age appropriate activities available for your children?
Will they be able to make new friends?
Will they be safe?
If you have young children, then you might also want to consider if suitable childcare is available. Our Top Travel Tips article on Family Travel Destinations offers more family travel tips, including what makes travel destination family friendly.
2. Adventure Travel Is Still Possible
Travelling with children does not have to include only beaches and theme parks... of course most children enjoy those but most children also love adventures and physical activities.
You can travel with your family off the beaten track and try new exciting things with your children. Actually, you are likely to find this less hassle than you anticipated beforehand.
Family travel tips however recommend you plan your trip with your children's needs and age in mind. Usually it is better to cover less ground than if only adults were travelling. It is also important to make sure there is ample time for relaxation and playing with friends incorporated into the travel itinerary.
Our article on Family Adventure Travel explains the benefits of adventure travels. They tend to be educational by nature and experiencing new things together is very bonding for those involved.
3. Involve Your Kids
In The Travel Preparation - As Appropriate
Family travel tips recommend to involve your children as much as possible in the family travel preparation, including what to see and do at your travel destination.
This will make them feel ownership of the plan, which is likely to make them enjoy the vacation more as few of us complain about our own plans. It also teaches your children valuable organizational skills that will benefit them in the future.
4. Use Packing Checklists
Family travel tips recommend using packing checklists when travelling with your family. Travelling with children usually means lots of stuff to pack, especially for the younger ones. Packing list will remind you of items that might be good to bring along as well as reduce the risk of forgetting any "must haves".
We at Top Travel Tips have put together Travel Packing Checklists for children of different age groups, i.e. babies, toddlers, school age children and teenagers. They are free and you can download and print them.
5. Allow Enough Time And Make Travelling Fun
Always allow enough time for your family travels, not least if flying with children. Airports tend to be busy and stressful environments so always allow enough time at the airport. Most children do not like to be rushed and they tend to pick up stress easily.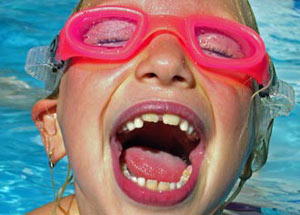 If you are travelling by car, make sure you allow time for regular pit stops to stretch the legs and let off some steam.
Try to keep the mood light when travelling. The best way is to keep your kids occupied and interested throughout your journey, i.e. when not resting.
Always try to get your children to rest for part of the journey, that way they will not be tired and cranky when you arrive at your destination.
Prepare in advance and make adventure out of your travel. Point out interesting things on the way and tell them stories about what you are seeing / experiencing. Read for them, sing with them, make up games, etc. For inspiration, have a look at these free printable Travel Games For Children.
Always bring more snack and drinks than you expect to need. There are so many possible situations when it can come handy - no matter what age your children are.
6. Keep Your Travel Plans Flexible
It is important to keep your family travel plans flexible enough to allow you to change the plans if something is not working out for your family. For example, if your kids eyes are glazing over then you know it is time to change the plan.
Your family travel plan should include things to see and do at your travel destination, like sightseeing or shared activities. It is though important that your schedule also includes enough time for your kids to play with their friends, or just to relax.
7. Define The Ground Rules In Advance
You are on vacation so the normal everyday rules are unlikely to apply. Being on a vacation should though not mean that there are no rules.
Family travel tips recommend letting your children know what the vacation rules are in advance, as you don't want to be arguing about them throughout your vacation. You might even want to agree on them with your older children, especially on the use of electronic equipments, spending money, when to come in, etc.
8. Put Safety First
Always put your family safety first. Before booking any vacation, check the relevant Travel Advisories to make sure your chosen travel destination is safe. Then make sure your kids are safe while travelling, i.e. in cars seats and safety belts as appropriate for their age.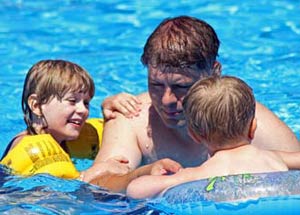 If you are travelling with young children then you must "childproof" everything, i.e. your travel mode, the accommodation, the play area, etc.
Make sure your kids know where they are staying while on vacation, i.e. the address and contact number. If they are too young, then mark them somehow... ID bracelets are ideal.
Take care of what your children eat and drink, and make sure they follow the family travel tips Sun Safety Tips, i.e. apply sun block, avoid the midday sun, play in shades, wear sun protective clothing, etc.
Being worried all the time can however ruin the vacation for you and your family. Keep things in perspective, use your common sense and be alert at all times... and enjoy spending time with your family.
9. Annual Family Travel Insurance
All travelers should get adequate travel insurance prior to travelling. Saving money by not taking out travel insurance is not real money saving... if something goes wrong you could end up seriously out of pocket. If you cannot afford travel insurance, then you cannot afford to travel.
Annual Family Travel Insurance can be better value then single trip family insurance, especially those that allow family members to travel separately as well.
10. Bring First Aid Kit
First aid kit is like travel insurance. We must have them, but we hope we will never have to use them. However, first aid kit can literally save our life if we have to use it. That is why everyone should find a space in his or her bag for first aid kit.
You are though more likely to have to use the kit for minor incidents. Kids tend to be more accident-prone than adults so even more reason to pack the First Aid Kit.
We hope these top 10 family travel tips are useful and wish you and your family a safe and happy journey. Please share your favorite family travel tips with us.