How To Choose Best Luggage Sets
For Your Travel Needs
Luggage sets are excellent option for families and frequent travelers. The sets include different size of luggage items to accommodate different packing needs. Carryon luggage might be sufficient for short business trips while larger suitcases are usually required for your annual family vacation.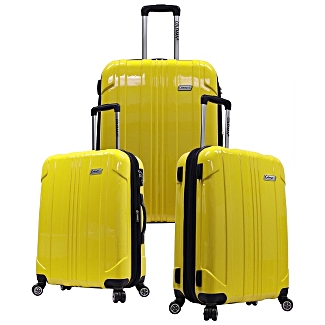 3 Pieces Set
Some travelers like to travel with matching luggage pieces but maybe the best reason is the price. Luggage travel sets tend to be good value - in most cases you will pay substantially more if you bought all the pieces separately.
Luggage sets come in different sizes and price ranges. The most common sets come in 3 or 5 pieces, but you can also get 2, 4, 6, 7 or 8 pieces.
Most luggage travel sets include 2 - 3 suitcases, as well as some smaller pieces (like duffel bag, tote bag, garment bag, makeup case), depending on the size of the luggage set.
Most luggage brands have collection of luggage sets to suit different travel needs and tastes. The sets can be conservative, practical, fashionable, trendy, multifunctional, and so on.
They appeal to different types of travelers. One set might be perfect for family travels, while other would suit business travelers and yet another would be great for adventure travels. Everyone should be able to find a set to fit his or her taste and travel needs.
What To Look For
When Buying Luggage Sets
When you are buying luggage sets you will be looking for similar things as when buying single piece of luggage, or:
The size and number of the pieces in the set
Light weight luggage is always preferable
Good quality Luggage Wheeling System is a must, look for in-line skate wheels
Telescoping pull handles, ideally with rubber ergonomic handle which provides comfortable and effective handling
The quality of the material used is important, whether it is hard or soft case
The overall quality, i.e. durability as you want something that lasts you a while
Nested or non nested sets, nested is ideal when storage space is limited
The style, you should ideally like the look of your new travel set
The brand might give you confidence that your expectations will be fulfilled
The price, it can be worth spending a bit more for better quality luggage as you do not want to be buying luggage on regular basis
Most luggage online sale sites allow customers to leave luggage reviews. Reading luggage reviews can be very helpful when trying to make up your mind about different types or brands.
In addition, before buying anything always check the luggage warranty, the cover tends to be quite similar but the warranty period can vary greatly (usually between 3 to 10 years).
Most Popular Luggage Sets Combinations
The most common luggage travel sets come in 3 or 5 pieces, but you can also get sets for special purposes, for example golf and snow travel sets. So what is usually included in the most popular travel sets combinations?
3 Piece Luggage Sets
Most 3 piece sets have either three wheeled suitcases of different size (the smallest one is suitable as carryon luggage), or two wheeled suitcases and one small tote to carry with you.
If you prefer duffel bags, then you can get 3 piece duffel luggage set. They usually include two wheeled duffel bags and one small soft piece for carryon luggage. Duffels are usually expandable and can therefore carry more. Duffels are not very practical if you need to put your suits or dresses in them.
There are also travel sets that appeal especially to business travelers, as they are light weight luggage made from more durable fabrics. Business sets will fit business suits and shirts nicely in them. Soft shell versions usually have several external pockets which are great for quick access.
If you are a golfer, then there are special travel sets for golfers which are very useful sets. They consist of large bag for the golf set, a smaller shoe bag, and a duffel bag. Make sure you can strap the duffel bag on top of the larger bag for easier transportation.
5 Piece Luggage Sets
The 5 piece sets usually includes 2 or 3 wheeled suitcases and 3 or 2 smaller bags (duffel, tote and personal travel kit).
There are light weight luggage travel sets to appeal to the frequent traveler.
There are also nested sets but they are great for storage purposes. Nested sets are called so because all the pieces fit neatly inside the largest piece so they can be stored as one piece. This is actually very handy because storing 3 to 5 bags separately takes up lot of space.
More Luggage Sets
Though 3 and 5 piece sets might be most popular there are many more luggage travel sets available, with both more and fewer pieces.
Ps. you can find more information about what to have in mind when Choosing The Right Travel Luggage.