Vacation Packing Checklist
For School Age Children
School age kids in many ways travel lighter than younger children do but vacation packing checklist is still a good idea, e.g. could help you to stay within the luggage weight limit if flying.
You will however need to pack more than clothes and toiletries. Make sure you pack enough books, toys and travel games to keep your child occupied.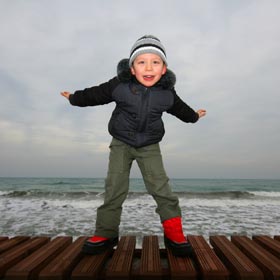 Packing checklist for children
helps you pack all the things they need
Consider leaving expensive or favorite toys at home, things that you do not want to risk losing. This is getting increasingly important as electronic gadgets and toys are getting more popular, and can be costly to replace.
Children's Luggage
School age children have reached the age where they know what they like... as well as what they do not like. It is therefore a good idea to involve your kids as much as appropriate in the travel preparation and the decision-making.
Part of this is to give them their own children's luggage to pack what they want to take with them. The benefits of them having their own bag(s) are that it gives them a bit of privacy and the feeling of being part of the travel planning.
Our children vacation packing checklist will be handy in this respect, i.e. to keep the packing focused and within the luggage weight limit. You might also want to check our article about the Benefits Of Children's Luggage. It is full of advice on what to keep in mind when buying children luggage.
Luggage Packing Game
Why not play luggage packing game with your children. You tell them what their luggage weight allowance is, and then give them the task of staying within that limit. Make sure you set the allowance less than the airlines allowance, that way you can always trade with them if they want to bring more than their allowance.
Packing Organizers
There are various packing products available aimed at making your packing more efficient. Packing Cubes ensure better use of the available space in your bags and help you stay organized during your travels.
Vacation Packing Checklist
For School Age Children
We at Top Travel Tips have put together a special vacation packing list for school age children. You can download and print the vacation packing checklist template by clicking on the download button at the bottom of this article.
Travel Documents
Make sure well in advance that all your travel documents are in order and that your insurance policy provides adequate cover for your child.
Travel tickets
Passport and visa (if applicable)
Medical card
International vaccination card (if applicable)
Photocopy of all travel documents
Copy of doctor's prescriptions (if applicable)
List of all medicines your baby is taking (if applicable)
Your doctors (at home) phone number (in case of emergencies)
Emergency contact information (at your destination)
Carry-On Luggage
You will not need to carry around as much in your hand luggage as when flying with younger children. Travel tips for packing luggage however recommend the following items in carry-on luggage for school age children:
Toys, travel games and books to keep your child entertained during the flight
Extra clothes to deal with changes in temperature inside and outside the plane (think layers)
Snack and drinks (always bring more than you think you will need)
Check-In Luggage
Travel tips for packing luggage recommend the following items in your school age child luggage:
Enough appropriate clothes for your travel destination climate (think layers)
Appropriate outerwear
Pajamas
Socks, shoes and underwear
Sun hat and sunblock (SPF 30 or higher)
Swimwear
Beach toys, i.e. snorkling gear, inflatable matresess (for beach holidays)
More toys, travel games and books
Children toiletries, i.e. creams, soap, cotton pads, etc.
Schoolwork (if travelling outside school holidays)
Friends at home addresses
Always take sun safety seriously and pay special attention to children, they are special risk group. Check our Sun Safety Tips article
Top Travel Tips vacation packing checklist is for guidance only - you should add and delete items as applicable for your trip and your child's needs.
For your convenience, you can download and print your vacation packing checklist for school age children by clicking on the download button below. You can also find vacation packing list for other family members at Top Travel Tips.

Now you got packing list for your child, check out our practical school age Children Travel Tips. It offers lot of useful travel tips that are always handy to know.