Meeting People When Travelling Solo
Dealing With Loneliness
Travelling solo has many benefits. You are in control. You can go wherever you want, do whatever you like, whenever you like. It can however feel lonely at times.
You might enjoy your own company but there are likely to be times when you want to meet up with other people. We all need to have conversations with another human being occasionally. To share our travel experience, to seek advice, to learn about what is going on in the world and catch up on the latest rumors.
What Is The Best Way To Go About
Meeting People When Travelling Solo?
There is no simple answer to this question. If you are very outgoing person you are likely to meet new people everywhere you go. The shy person will also meet these new people... she is just less likely to get to know them.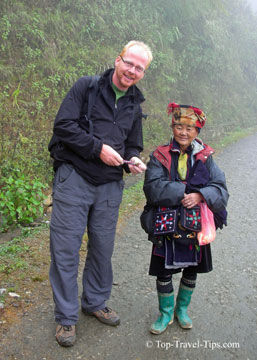 Top Travel Tips Owner Buying
Souvenir In Sapa Vietnam
Luckily, most solo travelers find meeting new people not as difficult as they anticipated beforehand. It is however vital that you have your Travel Safety in mind at all times.
When travelling solo meeting new people is all about talking to strangers and that is easier for outgoing people than the shy ones. Introvert people will have to push themselves but practice makes perfect so the best advice for them is... just do it.
If you find it difficult to address strangers then you should try asking them questions. Ask for directions, for restaurant recommendations, for interesting things to do or see, etc.
You can ask the employees were you are staying, were you are dining, other guests were you are staying, people in the street, etc. Even if it doesn't lead to a lasting friendship it will get you talking to strangers.
In many widely travelled spots are well established bases for tourists to meet up with other tourists which can be great news for those travelling solo. This is especially common in places frequented by backpackers and young people. Maybe the most famous one is Khaosan Road or Khao Sarn Road in central Bangkok, Thailand.
This can be great option for many but even though people are foreigners like you... and maybe especially if they are the same nationality as you... that doesn't mean you can automatically trust them. Always be alert and careful around strangers, no matter what nationality they are.
Meeting new people in busy tourist place can though be one of the worst places for introvert people to meet new people. They might be better off by heading off the beaten track. It does not matter how shy you are, when you meet the only other tourist for miles, the two of you will talk.
Did You Know?
Did you know that there is a name for the phobia of eating alone? The answer is hidden somewhere in this article!
You might also want to consider carefully where you stay when you are travelling solo. Large hotels tend to be impersonal while small guesthouses or friendly bed and breakfast might offer more opportunities to chat with employees and other guests.
You could easily meet other people travelling solo and hook up with them for a drink or even a meal. You might even team up with someone for a day or two, checking out the local sights.
Organized day trips or short trips can be a great way to meet new people when travelling solo. Another good travel advice for solos it to go on some local courses where you can learn some new skills as well as meeting people, e.g. cooking course, take salsa lessons or learn scuba diving. Few days in company like that can make you more than happy to continue on your own.
Top Travel Tips Story
Even though there were two of us travelling around the world we sometimes felt the need to meet other people. We went on a four day cruise around the southern tip of South America. We got allocated fixed dining table and we ate breakfast, lunch and dinner with the same small group of people for whole four days...
We felt like we were saying good-bye to our closest friends at the end of the journey - so intense can meeting new people feel like when travelling alone or in small group like we did.
Dining alone is maybe what most solo travelers dread the most. There's even a name for it: Solomangarephobia.
Many solo travelers take book with them when dining alone. You can of course just enjoy reading it over dinner. However, leaving it closed on your table can indicate to other travelers that you are on your own and maybe someone will ask if they can join you.
The same applies if you see someone with a closed book or paper on his or her table. Maybe they are hoping you will ask if you can join them. If you want company, why not try it. They will only say no thank you if they want to be on their own.
If you want to find someone to dine with, then look out for busy places with other people dining alone. Outdoor cafes and dining at the bar table can also be good choice. The informal atmosphere makes it easier to start chatting with the people next to you.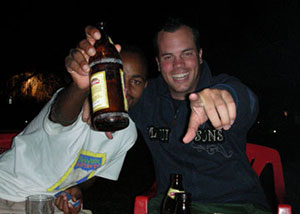 It Is Easy To Make New Friends In Bars Or Cafes
If you are staying in a hostel or guesthouse with shared cooking facility... why not offer other guests to cook a meal for them one evening.
If they are students or budget travelers they will "love" you for it but if they are not on tight budget they might even dip in and who knows... it might turn into an international feast of massive proportions.
You might also want to invite someone to dinner, e.g. couple of local students that want to practice their English or some helpful local you met. As always with strangers be alert at all times but dining with some local people could easily become one of the highlights of your trip.
Maybe the best way to meet other people when travelling solo is just smile. Smiling is internationally recognized, it makes you more likeable and approachable. Smiling person will meet more new people than person that does not smile. It is as simple as that.
Travelling Solo Top Tips
Modern technology makes it so much easier and cheaper to contact people all over the world. So if you feel loneliness coming over you... head off to the next internet cafe and hook up with friends and family back home. You can even talk to them for free through internet telephone services like SKYPE and possible see them through video links. This could ease the loneliness of travelling solo... or it could really make you homesick!
Good travel advice for solos travelling off the beaten track is to have pre-recorded audio message from home with them, i.e. mobile phone, iPod or even tape recorder. Though if traveling very remotely this might not even be possible, then few photos from home might help when dealing with loneliness.
Ps. For more advice for solo travel, don't forget to check out Top 10 Solo Travel Tips.