Prior To Making Your Travel Booking
Recommended Read
Are you ready to make your travel booking? There are few practical tips that are good to be aware of prior to making the actual booking.
Should You Book Your Travel Early Or Late?
Many studies show that most of us book our travels relatively late. One recent study showed that most people book within a week of their travel date. Women tend to book few days earlier than men do.
This could be the result of our modern hectic lifestyle. We do not feel comfortable with booking too far in advance, as so many things in our life that can change at short notice.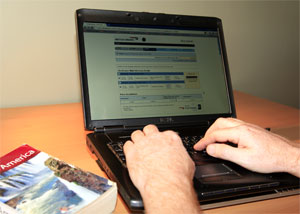 There might be possible changes at work, we might finally sell the house and move to another city, the operation we have been waiting for might finally take place, etc.
Booking last minute can be a good idea, especially if your travel plans are flexible. Waiting to book until last minute is however risky strategy... if you have a specific travel destination in mind and can only travel on certain dates.
All travel sites recommend booking well in advance in some cases. For example if you want, or have to, travel over busy periods like Christmas or Easter, or if you are doing something on a set dates, like when going to a festival or family reunion.
You might achieve the best result by booking somewhere between late and early. Unless you are following last minute travel tips then you might want to book at least one month in advance... as availability becomes less during the last few weeks and prices therefore tend to go up.
Booking 6 - 8 weeks in advance should be sufficient in most cases to give you satisfying and money saving results. For more information see When To Book Your Trip.
Practical Travel Booking Tips
There are some practical booking tips that are valid when you are booking any travel related commodity, whatever its flight, accommodation or entertainment.
Always Read The Small Print
Make sure you know what is included in the price and what is not. For example is breakfast included in your room price, is there a cancellation fee if you don't cancel your hotel booking within a certain time, how much does it cost to change your ticket, do you need to confirm your booking, etc.
Be Careful Not To Make Mistake When Making Your Travel Booking Online
It is easy to make mistake when making your travel booking online, like putting in a wrong date, misspell name or just click the wrong button. Mistakes like these are actually quite common. Some estimate that up to fifth of air passengers have made a mistake when booking their travels online. More than half of them lost some money as a result - some even had to buy new tickets at full cost.
Before you can complete your travel online booking, you have to accept the terms and conditions, usually by actively clicking a box. When you have done this, you have accepted the rules for any future amendments.
It is therefore important to take your time when making the actual travel online booking and carefully review all details prior to entering them. It is good practice to have someone with you when you make the actual booking online.
Air Transport Users Council (AUC) has actively been campaigning for so called "24 hours rule" which would allow passengers to change a reservation or get a refund within 24 hours of making a booking. A number of airlines have since introduced this rule, so do check this out if you do make a mistake when making booking online.
Ask Questions
Asking questions is of course easier if buying through a travel agent or over the phone but most commercial websites have a FAQ section (frequently asked questions) on their websites. If you cannot find the answer there, then you can usually contact them by either phone or through e-mail.
Typical questions you should always ask:
Are all taxes included in the price?
Is there a booking fee?
Do you have to confirm your booking?
What is the cancellation policy?
You might also want to ask about the baggage allowance if flying, about check-in and checkout time when booking hotels, what time to arrive when booking restaurant reservation, etc. Do not be afraid to ask, you are the customer.
For more travel booking tips, see Top Travel Tips money saving advice for Booking Flights Online and Hotel Travel Tips.