Toddler Travel Tips
Why Not Just Leave Them At Home?
Our toddler travel tips make travelling with your toddler a more enjoyable experience. You just need to prepare your travel with your toddler in mind and master the art of child friendly distractions.
In this article, we give tips for flying with your toddler and how to keep him occupied on short and long car journeys.
Why Travelling With Toddler?
Travelling with toddler is by most parents considered the most demanding time to travel with a child. Choosing Family Friendly Travel Destination is important when travelling with toddler. Toddlers tend to be enthusiastic about their environment - sometimes a little bit too enthusiastic.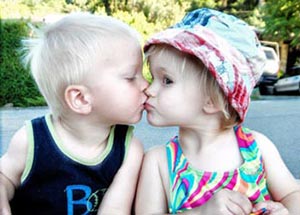 Travelling With Toddlers Is Fun
Their curiosity can easily get them into trouble. They tend to wander off, they put things in their mouth, they can even get various body parts stuck in the strangest places.
You must be extra careful when travelling with a toddler and childproof everything... your accommodation, your mode of travel, their play area, etc.
You will need to be extra vigilant around balconies and swimming pools - even around paddling pools.
And we haven't said anything about tantrums yet... you will have to master diversions. Toddlers love new things and sights but they have short attention span and get easily bored. You must be able to provide child friendly distractions at short notice to keep them busy and happy.
The bottom line is that travelling with toddler can still be enjoyable experience. You just need to pack your patience and lot of it - and you will need eyes in the back of your head when travelling with a toddler in tow.
Practical Toddler Travel Tips
Following these practical toddler travel tips can make a big difference and make your travelling with toddler a truly enjoyable experience.
Toddlers tend to find long travels frustrating, especially when their movements are restricted like when flying with toddler or on long car journeys. Shorter journeys might therefore be more suitable during this phase of your child's life.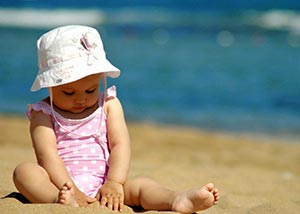 Remember To Pack Everything For Your Toddler
Our Toddler Packing Checklist Will Assist You
There are many toddler travel products available, which can make your travels easier.
That however means more luggage so staying in one place might be preferable when travelling with toddler.
Established base with lots of child friendly distractions would be ideal.
Toddlers do not "travel light". Toddler travel tips therefore recommend preparing packing checklist for toddlers well in advance is therefore strongly recommended.
We here at Top Travel Tips have put together a very handy Toddler Packing Checklist.
Feel free to download and print it out. It will assist you with your travel preparation when travelling with a toddler. There are just so many things you can forget to pack when travelling with toddler.
It does not matter if you flying with toddler or driving - always try to schedule the actual travelling around your child. Travelling off-peak, during daytime in the middle of the week not only makes your travels cheaper, it might also make your travel more enjoyable. And if that fits with your toddler naptime - even better.
When travelling internationally toddler travel tips recommends to make sure well in advance that you have all the right travel documents in place. If flying with toddler apply for a passport well in advance and check if you need any visa.
Non-stop flights are preferable when flying with toddler. More air travel with children tips include bringing chewing gum along as it can help to alleviate discomfort caused by the change in the cabin air pressure during take-offs and landings.
Toddler Travel Tips
When flying with toddler long haul or overnight - toddler travel tips recommend dressing your toddler in pajamas for extra comfort. Your toddler could wear them under the outdoor clothes or you could keep them in your carry-on for changing into later.
The benefit of doing this is that you simulate something like their bedtime rituals at home. Getting into their pajamas, brushing their teeth, have a bedtime story read to them... and to everyone's delight you might end up with a glorious sleeping travelling toddler
When flying with toddler you might want to buy child aviation restraint harness (available through Amazon) for your toddler. It is significantly less bulky than car safety seat, it's light, easy to use and straightforward to pack and store in your hand luggage.
If you are travelling with a car seat to be used only at your destination, then check it in along with your luggage at the airport. To reduce your luggage, you might want to consider renting one at the other end.
Hungry or thirsty toddler is not fun travel companion so always bring more snack and drinks then you think you will need for your journey. You never know when it will become handy, e.g. if you experience some travel delays. Try to choose fun and healthy snack with minimal mess potential, especially if flying with toddler.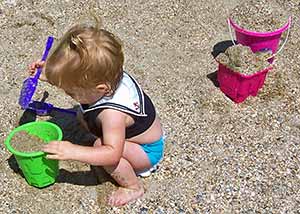 Toddlers Like Playing But Mishaps Happen
Bring Along Travel First Aid Kit
All children can have minor accidents or medical problems while travelling but no more than toddlers can. Never travel with children without bringing along your Travel First Aid Kit.
Make as long list as you can of child friendly distractions in advance and keep it with you at all times. Bring games to play, toys to distract, books to read and know interesting stories to tell.
Some new toy might keep your toddler's attention en-route, it does not have to be expensive, just something that can engage them for a while.
If your toddler has some comfort object, like favorite stuffed toy or blanket - never ever forget to bring it along.
Toddler Travel Tips
When travelling with toddler try to view the journey through your child's eyes. What time of the day would suit your toddler best? Will he be too excited to sleep at all? What would he like to eat? What kind of child friendly distractions are likely to keep him entertained?
You are the expert when it comes to your toddler's personality and travelling needs.
Always allow plenty of time for your travels, especially if flying with toddler. Most toddlers don't like to be rushed and they tend to quickly pick up any nervousness or stress you may be feeling during the trip. So try to keep your own mood light and excited when travelling with toddler, as he or she is likely to mirror your mood.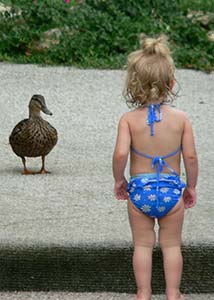 Meeting A Duck Can Be
Big Adventure To Your Toddler
Toddler travel tips recommend making a big adventure out of your travel. When flying with toddler show him all the new and exciting things at the airport - like the luggage belt, how the planes are being loaded, how planes take off.
If travelling by car point out interesting sights on the way and make sure to take regular pit stops to give the adventurous spirit a boost.
Most fellow travelers enjoy the sight of little travelers but try to be considerate to those around you. Most people are sympathetic if your toddler cries or shows off some tantrums. Many may even help you to provide child friendly distractions for your toddler.
It is however your responsibility to keep your toddler occupied and comfortable when travelling, so be prepared.
Some say that all air travel with children tips should include one simple advice... bring along some chocolate, just in case if you need to score some points with your fellow passengers!
Toddler Travel Tips
Have you considered labeling your toddler with an ID bracelet? Can you imagine how valuable this could be if you lost your child in busy crowd, like at the airport or in a busy shopping mall.
So just in case and for your piece of mind... toddler travel tips recommends ID bracelet that includes your child's name, your name, your destination, home address and your contact numbers.
Ps. As you know, toddlers can be accident prone so make sure your Family Travel Insurance covers your toddler adequately.