Cabin Luggage Or Check-In Luggage?
The Different Types Of Luggage Available
There are many different types of cabin luggage and check-in luggage available. There are suitcases, trunks, trolley cases, spinner luggage, roller cases, garment carriers, totes, duffel bags, mobile offices, etc.
Below is comprehensive overview of different types of luggage and the benefits of each type.
Wheeled luggage is the most popular choice now-a-days, whether it is check-in or carryon luggage you are looking for.
This is because they offer great ease of use when you have to walk with your luggage between your travel destinations.
Cabin Luggage
When choosing the size of cabin luggage / carry-on baggage make sure it's also suitable for international flights (many bags sold in the US are too big).
The maximum size for cabin luggage can vary between airlines but it is usually:
Carry-On Baggage Size
Height 56 cm. or 22 inches
Width 45 cm. or 17.7 inches
Depth 25 cm. or 10 inches
Airline Luggage Restrictions vary and change from time to time, so we at Top Travel Tips always recommend to checking the exact dimensions allowed on the relevant airline web site. Some airlines also impose weight restriction for carry-on baggage.
Trolley Case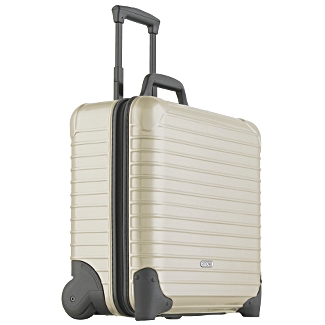 Trolley cases are very popular choice for cabin luggage now-a-days. Trolley case is a wheeled upright travel bag that features an extendable handle and a set of either two or four wheels.
The trolley cases are convenient because many of them have padded compartment for laptops, hence eliminating the need to have two carry-on bags (which some airlines don't allow).
Spinner Luggage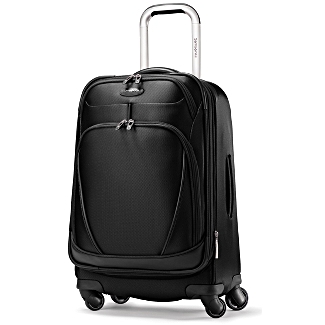 A trolley case with four wheels is called spinner luggage as it is easy to maneuver it in any direction and it can be pushed as well as pulled.
The benefit of the spinner luggage is that it does not put any weight on your arms when you move them in any direction.
Roller Case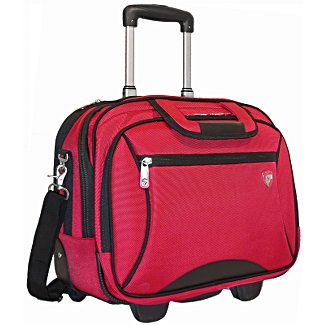 Roller cases are not necessarily an upright travel bags but they do usually have wheels for easy travelling and good maneuverability.
These bags are mainly used for carrying laptops. They often come with good variety of pockets for storing the different accessories that you normally have to carry with your laptop (charger, cables, mouse, etc.).
Look for one that is gives good protection to your laptop, opens up easily and has good selection of different sized pockets.
Garment Carriers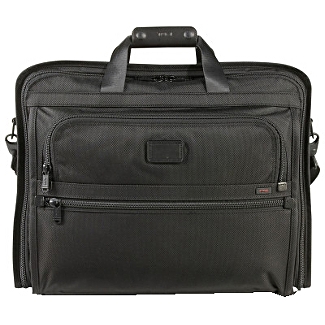 Garment Carrier is a travel bag that folds over on itself. It allows long garments, like suits or dresses to be packed flat to reduce creasing.
Most garment bags have hangers and separate compartments for shoes and other accessories. They come as both wheeled luggage and non-wheeled models.
Garments carriers are most popular with business travelers.
Tote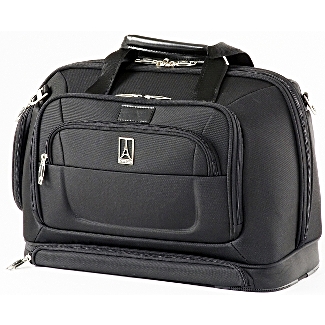 Tote is a small cabin luggage bag, usually worn on the shoulder though wheeled luggage models with extending handles have become more popular in recent years.
These bags tend to be lightweight and offer more casual look.
Some models have compartment to carry small to medium sized laptops. If choosing one of those, make sure the bag is padded or lined in order to provide extra protection to your laptop.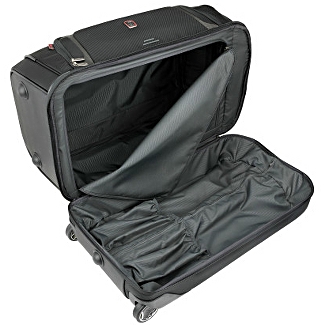 Duffel Bag
Duffel bag, or duffle, is a barrel shaped travel bag that is well suited for casual travel.
It usually has very little organization inside. Duffle bag, like tote, is usually worn on the shoulder though wheeled models are also available.
Mobile Office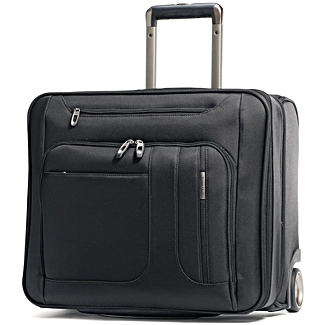 Mobile office case is ideal for carrying laptops as it is specially designed to protect your laptop and keep your work in order.
They are kind of must have if you are travelling with your laptop or iPad. They are available as carrying or wheeled luggage option.
Check-In Luggage
Suitcases
Suitcases are the most common and practical option for check-in luggage. They come in all shapes and sizes but the main types are:
Wheeled luggage or non-wheeled luggage
Soft or hard sided luggage
Wheeled luggage and soft sided suitcases tend to be more popular as they are lighter and easier to carry (drag) around. Wheeled luggage is very useful if you travel by train or buses as luggage trolleys are rare in train and bus stations. They can also save you money in places that charge you for using luggage trolley.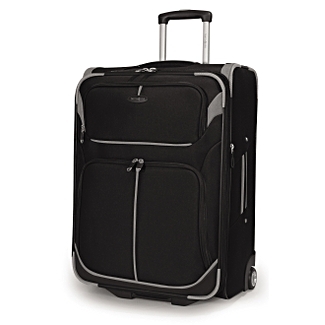 Soft-sided suitcases are usually expandable which can be very beneficial - especially on the way back home.
The most popular suitcases now-a-days are the so called luggage wheeled uprights, which is a suitcase with an extendable handle on the top that allows you to pull the luggage in an upright position. Wheeled luggage is convenient to handle and easy to pull wherever you are.
Those with sturdy handles allow you even to put small bags, like laptops, on top of it making it easier to carry your smaller bags as well.
When choosing suitcases make sure they are lightweight. Most airlines impose strict luggage weight restrictions, and you don't want to spend most of your luggage weight allowance on just the suitcase itself.
Think about, some empty suitcases can weigh up to 25-30% of your luggage allowance. Though some lightweight cases might sometimes be little more expensive, you will quickly save money on overweight charges.
Trunks
Trunks are hardly ever used now-a-days, nor recommended for the regular traveler. They are usually too heavy to be a practical type of travel luggage. They tend to be durable and are therefore still popular for storage or when moving, i.e. can easily be shipped.