Check Your Airline Flight Status
Before You Fly
It has never been easier to check your airline flight status, thanks to the internet. It therefore comes as a bit of a surprise how many travelers do not know how to find airline flight information online.
If you are one of them, please read on. Flight delays can be very inconvenient and tracking airline flights can save you both time and hassle.
Best Place To Find
Airline Flight Information On-line
Most airports offer information about flights status and delays on their websites. You might want to look up your local airport and bookmark it for your future use.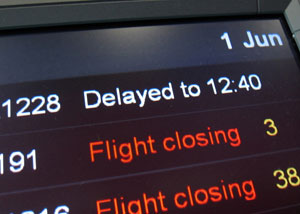 Flight Delayed - Not The Information You
Want To See When Arriving At Your Airport
Unless you are always travelling to the same destination, you will need to look up various airports for your return flight.
It would save time and be very convenient to be able to access all airline flight information in one place. FlightStats allows you to do exactly that.
FlightStats is a flight information website that tracks airline flights, as well as offers interesting and useful air travel statistics and information. They track around 150 thousand scheduled flights per day in real time. The data comes from variety of sources, like airlines, airports and civil aviation authorities.
FlightStats is not only used by air travelers, many professionals within the travel industry are also avid users. Everyone looking for reliable flight information can, and does, rely on FlightStats, including travel agents, search engines and the media.
Tracking Airline Flight Status Online
The FlightStats airline flight tracker is very user friendly. You can access all the basic airline flight information, including flight delays and air travel statistics without registering with them.
You will however have to register with FlightStats to access some of the advanced capabilities FlightStats offers. Like information about flight availability and to take advantage of some of their free services, like tracking your flight. Registering with FlightStats is free and straightforward to do.
You can search for airline flight status by flight, airport or route. Whatever is the most convenient way for you to conduct your search.
You can track airline flights. The tracking begins upon the flights departure. You can sign up with FlightStats and receive e-mails about your airline flight status.
You can check flights availability (if registered), it will inform you about number of available seats in each class.
You can also see historical on-time performance rating for airlines, based on flights, routes or the time of the day.
This is not all, far from it. You can as well find lot of airport information, like airport overview, airport weather, airport terminal guide (including printable map) and list of the airports of the world. And of course information about flight departures and flight arrivals.
Top Travel Tips Story
We "live abroad" so we receive fair share of international visitors every year. We are less than one-hour drive away from the main airport so we always use flight information websites like FlightStats to check the flight arrival time before leaving the comfort of our home.
We have lost count of the times it has saved us unnecessary wait at the airport, and cost of short term parking fees at the airport. It has also allowed us to arrive in time if the flight is too early... it does happen!
FlightStats also offers airlines overview and list of airlines of the world. The airline information include scorecard and rating for each airline, which can be very useful when choosing between airlines.
While their flight delays section allows you to view the air travel delays worldwide. The global cancellation and delay tracker shows total number of flight delayed or cancelled worldwide, sorted by airlines, arrival airports and departure airports.
FAA airport delays on the other hand show all the airports in the US that currently have FAA Air Traffic Control issued delays.
FlightStats is unquestionably impressive website, offering great valuable information for free to air travelers. Tracking airline flights has never been easier or more fun.
Airline Flight Status Maps
You can access the FlightStats website directly or you can press on the relevant map below to go directly to the airport that you are flying or picking up visitors from.
We wish you a save and enjoyable journey. Remember, What You Wear When Flying can greatly affect how comfortable you feel during the flight.
View airport delay map for: North America, Europe, Oceania, Japan
Airport Delay Map - North America
Flight information is provided by FlightStats, and is subject to the FlightStats Terms of Use.
Back to list of Airport Delay Maps.
Airport Delay Map - Europe
Flight information is provided by FlightStats, and is subject to the FlightStats Terms of Use.
Back to list of Airport Delay Maps.
Airport Delay Map - Oceania
Flight information is provided by FlightStats, and is subject to the FlightStats Terms of Use.
Back to list of Airport Delay Maps.
Airport Delay Map - Japan
Flight information is provided by FlightStats, and is subject to the FlightStats Terms of Use.
Back to list of Airport Delay Maps.