Vermont Ski Resorts
For Luxury New England Ski Vacation
Vermont ski resorts are among the finest for New England ski vacation. Vermont's rugged hills and mountains are legendary and there are many good Vermont ski areas, both for Alpine and Nordic skiing.
Popular Vermont ski areas include Bromley Mountain, Magic Mountain, Smugglers Notch and Suicide Six. As well as Stowe Mountain Resort and Okemo Mountain Resort where you can find some of the most luxurious Vermont ski resorts.
Stowe Mountain Lodge - Stowe
Stowe Mountain Resort is the ski capital of the East. It is located on Mt. Mansfield, Vermont's highest peak at 4,395 feet above sea level.
Stowe has well over one hundred trails. Approximately 25% are for advanced skiers, 60% for intermediates and 15% for beginners.
With high-speed lifts, getting to the top of Stowe is fast and easy and there is fully automated snowmaking system for when nature needs a little helping hand. All this makes Stowe one of the best Vermont ski areas and skiing in Vermont a pleasure.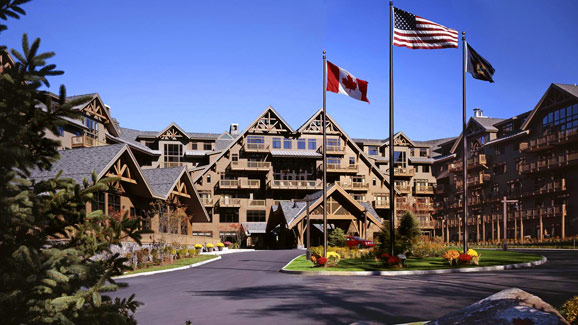 The luxuriously rustic Stowe Mountain Lodge adds luxury to the ski Vermont experience.
The rooms are spacious and furnished with a sense of New England warmth and tradition in mind. The rooms have large windows and oversized balconies so each guestroom at the lodge takes full advantage of the remarkable mountain landscape.
The service and amenities are exceptional, as you would expect from a luxury ski resort. It is easy to feel privileged when being pampered at their luxurious spa and wellness centre after busy day skiing and then indulge in some artisan inspired fine dining.
Their Alpine Concierge service offers an exclusive and unsurpassed level of customized service and personal attention... making your stay the ultimate luxury experience. Take all this into account and Stowe Mountain Lodge
has to be a contender as one of the finest Vermont ski resorts.
Topnotch Resort and Spa - Stowe
Topnotch Resort and Spa is another luxury ski resort in Stowe, the heart of Vermont ski areas.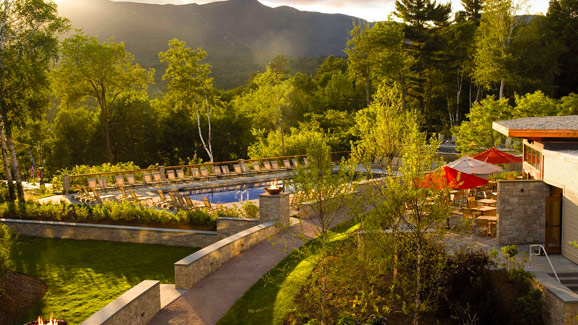 Topnotch is a member of Preferred Hotels and Resorts and blends rustic charm and unsurpassed luxury effortlessly.
The hotel is part of 120-acre wooded estate and offers beautiful mountain views. The rooms are charming and provide personal retreat that blends country luxury with thoroughly modern touches.
All the amnesties are topnotch. The Spa at Topnotch boasts of 30 treatment rooms, private lounges and cozy refreshment area and is ranked among the nation's best. Norma's is the signature restaurant of the resort and combines New England finest cuisines with magical views of the mountains.
There is no question about it, Topnotch Resort and Spa
is one of the topnotch Vermont ski resorts.
Castle Hill Resort and Spa - Ludlow
Ludlow is another popular New England Ski Vacation destination. Castle Hill Resort and Spa is hidden away in the heart of Vermont's scenic Green Mountains and offers tranquil luxury in spectacular setting.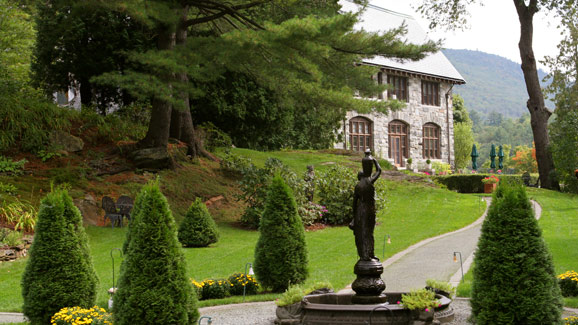 Castle Hill Resort and Spa is a member of the prestigious Small Luxury Hotels of the World and Historic Hotels of America.
It combines elegant resort accommodations, an intimate ambiance, gracious service, generous amenities and warm hospitality.
Each guest room is individually decorated and blends classic elegance with modern technology. Dining at Castle Hill Resort and Spa is an experience all on its own. The menu is a creation of French-influenced American cuisine.
There are number of ski areas to choose from but Okemo Mountain is located just three miles from the resort. Okemo Mountain offers 119 trails with more than 600 acres of skiable terrain with 96% snowmaking coverage and a vertical drop of 2,200 feet.
Castle Hill Resort and Spa is among the finest Vermont ski resorts and makes skiing in Vermont a luxury experience.
Top Vermont Ski Resorts Travel Tips
The ultimate luxury tends to come at a price. This is why Luxury Link travel auctions are so popular, they allow you to bid on luxury ski vacations and if you are successful you could secure luxury ski vacation for the fraction of the retail price.
Travel auctions usually start at up to 65% off retail prices. Bear in mind that placing a bid is a commitment to purchase the package if your bid is accepted and auctions are nonrefundable.
Luxury Link also offers fixed price Buy Now deals that can still secure you a great discount from the retail price.
Luxury Link offers all the accommodation mentioned in this article