Rain Poncho, Rain Jacket Or An Umbrella
Which Is Best When Travelling?
Should you bring rain poncho or do you need to pack a proper rain jacket? This is a common question people ask when considering travel rain gear for their trip. The answer of course depends mainly on your travel destination, the season you are travelling in and the purpose of your trip.
We of course all hope for dry and nice weather when we are travelling, especially when we are on vacation. Weather however can be very unpredictable so it always makes sense to pack some form of rain gear... at least a rain umbrella. Hopefully you will not have to use it... but pack it just in case.
Rain Poncho For Light Rainy Days
Poncho is great "just in case" travel companion, i.e. when going to places where you do not expect heavy rains but there might be occasional downpours. Having poncho in your daypack means sudden downpours does not have to spoil your day.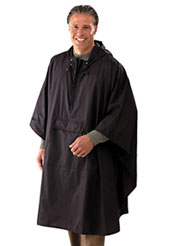 Rain Poncho
One of the biggest benefits of rain poncho is how lightweight and compact they are, making them perfect choice for travelling. The better ponchos come with their own zip pouch, so it is easy to put them back into your daypack after use, i.e. without getting all your other belongings wet.
The best rain poncho is not only waterproof. It should also be breathable, i.e. allow vapor from sweat to evaporate, making you drier, warmer and more comfortable. The material should be strong enough to withstand some rough conditions (rip-stop nylon is ideal).
Adjustable drawstring hood is great to cover you head and covered zipper is beneficial in windy conditions. Your poncho should be big enough to cover not only you, but also your belongings, e.g. backpack.
Unisex Rain Poncho
fulfills everything that best rain poncho should. It looks good and can be handy on all occasions, i.e. not only when travelling. Do not forget to read the customers reviews, they seem to agree with us.
Top Rain Poncho Travel Tips
Rain poncho can actually have multi functional use and is therefore favored garment by those that rely on their survival skills when travelling. Your poncho can become excellent shelter, wind deflector (when cooking), rain catcher, used to keep your sleeping bag off the damp ground and your might even be able to use it as sleeping bag...
Rain Jackets For Travelling
Rain ponchos are great for travelling. However, nothing beats good rain jackets, so if you expect some rain and even windy conditions, then bring your best rain jacket along.
Everyone that likes being outdoors should own good pair of rain jacket and rain pants. There are many excellent rain jackets available, in all shapes, sizes and budget ranges. Some products are though more suitable for travelling than others.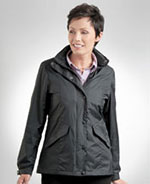 Stowable Rain Jacket
The best rain jackets for travelling are lightweight and take up as little space in your luggage as possible.
Look for rain gear that can be packed into itself.
All rain gear should be breathable, and your rain jacket is definitely no exception. It is also important to have fully taped seams, i.e. do not leak.
Good shielding drawstring hood, wind blocking neck guard, storm flap and multiple cord-lock closures are all important features. Sizable pockets, ideally some hidden from sight, are also ideal when travelling.
The fit should be relaxed, i.e. allowing you to wear layers of clothing underneath your rain jacket.
Amazon offers very good range of Rain Gear for Travelling
.
Rain Umbrella Is Essential Travel Accessory
No matter where you are going or when, there should always be a rain umbrella in your luggage (okay, maybe not if you are going to the parts of the Atacama Desert that have not received any rain in over 400 years).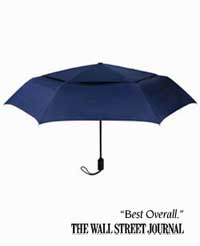 Windproof Rain Umbrella
You can of course buy rain umbrella almost anywhere in the world, but maybe not exactly when you need it. Street sellers usually sell low quality umbrellas, but at high prices compared to the quality. This is because you are at a disadvantage when it starts to rain and you need an umbrella.
It makes perfect sense to own a good travel rain umbrella, something that is easy to slip into your bag every time you travel. Buying a good one before you travel will save you money.
We like windproof Windproof Rain Umbrella
. They usually have flat frame construction that makes them easy to pack. But the best bits are the specially designed vents that allow wind to escape, preventing it from blowing inside out during windy conditions.
Where Best To Buy Rainwear On-Line
Amazon offers wide range of rainwear for both sexes. They offer free shipping on orders over certain amount and their return and refund policy is as good as it gets. You can't go wrong shopping on Amazon.
Top Travel Tips
It is important to stay dry in the rain and good raingear helps you with that, whether you prefer rain poncho, jacket or umbrella.
It is however also important to stay warm and wearing Clothing Layers is the best way to regulate your temperature in any weather, and not least in damp and cold conditions